Aristolochic acid A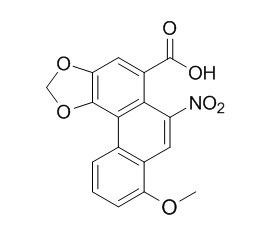 Aristolochic acid A is a potent nephrotoxin, which strongly induced toxic damage during ovarian maturation by inhibiting Akt phosphorylation-mediated suppression of apoptosis.

Inquire / Order: manager@chemfaces.com
Technical Inquiries: service@chemfaces.com
Tel: +86-27-84237783
Fax: +86-27-84254680

Address:
1 Building, No. 83, CheCheng Rd., Wuhan Economic and Technological Development Zone, Wuhan, Hubei 430056, PRC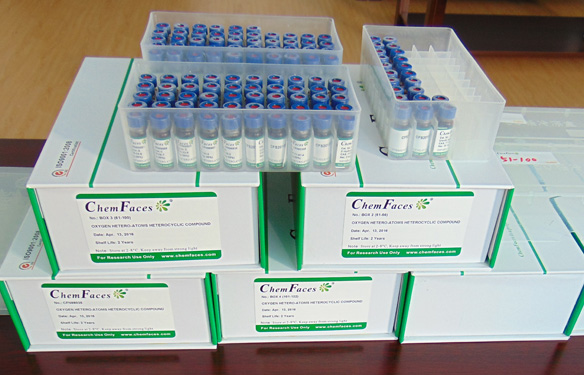 Providing storage is as stated on the product vial and the vial is kept tightly sealed, the product can be stored for up to
24 months(2-8C)
.
Wherever possible, you should prepare and use solutions on the same day. However, if you need to make up stock solutions in advance, we recommend that you store the solution as aliquots in tightly sealed vials at -20C. Generally, these will be useable for up to two weeks. Before use, and prior to opening the vial we recommend that you allow your product to equilibrate to room temperature for at least 1 hour.
Need more advice on solubility, usage and handling? Please email to: service@chemfaces.com
The packaging of the product may have turned upside down during transportation, resulting in the natural compounds adhering to the neck or cap of the vial. take the vial out of its packaging and gently shake to let the compounds fall to the bottom of the vial. for liquid products, centrifuge at 200-500 RPM to gather the liquid at the bottom of the vial. try to avoid loss or contamination during handling.
J Sep Sci.2018, 41(7):1682-1690
Phytother Res.2019, 33(5):1490-1500
Int J Mol Sci.2015, 16(8):18396-411
Planta Med.2019, 85(3):217-224
Evid Based Complement Alternat Med.2017, 2017:7383104
Anticancer Res.2018, 38(4):2127-2135
Biol Pharm Bull.2018, 41(1):65-72
J Chromatogr A.2017, 1518:46-58
Phytomedicine.2019, 65:153089
Exp Parasitol.2018, 194:67-78
Chem Res Toxicol. 2014 Dec 15;27(12):2128-35.
Aristolochic Acid A induces ovarian toxicity by inhibition of akt phosphorylation.[Pubmed:
25406029
]
Aristolochic acids are natural products found in Chinese herbs of the Aristolochiaceae family. Aristolochic acid I (Aristolochic acid A,AAI) is a potent carcinogen and was found to be toxic in animal and clinical studies. Apoptosis is a rapid, selective process of physiological cell deletion that regulates the balance between cell proliferation and cell death and is induced by various kinds of damage. However, the toxicity of AAI during ovarian maturation in the mouse is unclear and is the subject of the present investigation.
METHODS AND RESULTS:
We used Chinese hamster ovary-K1 (CHO-K1) cells and an AAI injection mouse model: MTT assay was used to assess AA toxicity to cells; ovary size and weight were measured to determine the toxicity of AA to mouse ovary; western blot was used to assess apoptosis; TUNEL assay was used to evaluate apoptotic cell death; and immunohistochemistry was used to examine the local expression of apoptotic proteins in ovary tissue. We found that AAI significantly inhibits the viability of CHO-K1 cells and strongly induces apoptotic cell death in CHO-K1 cells and in mouse ovary. In addition, we observed that AAI markedly increases the expression of pro-apoptotic proteins, including Bax, caspase-3, caspase-9, and poly(ADP) ribose polymerase (PARP). In contrast, anti-apoptotic proteins, such as Bcl-2 and survivin, were decreased by AAI treatment. Furthermore, we observed that ovary size and weight were significantly reduced and that the number of ovulated oocytes was markedly suppressed in AAI-treated mice.
CONCLUSIONS:
These results suggest that AAI strongly induces toxic damage during ovarian maturation by inhibiting Akt phosphorylation-mediated suppression of apoptosis.
Zhong Yao Cai. 2010 Aug;33(8):1228-33.
The determination of aristolochic acid A in different processed Aristolochia manshuriensis and the test of influence about renal function in rats.[Pubmed:
21213532
]
To study and approach the processing methods and mechanism which can markedly reduce the content of aristolochic acid in Aristolochia manshuriensis and lighten the nephrotoxicity of aristolochic acid.
METHODS AND RESULTS:
A traditional "attenuation" processing method was used and 30 types of samples which contain one crude and 29 types of processed sample were obtained. The contents of Aristolochic acid A in every sample were determined by HPLC. According to the Rat's acute renal injury test, the influence of animal's renal function was investigated for representative samples. The content of aristolochic acid in six types of samples depressed markedly (30% or more depressed) which processing with boiling in the limewater, steaming with limewater, boiling in the juice of liquorice, boiling in the decoction of black soybean, boiling in the soda water and stir-baked with talcum powder, the content of aristolochic acid in other processed samples also depressed with a large discrepancy. The toxicology test results showed that the above-mentioned 6 samples all can relieve renal injury of rats. There could be some associativity between the degree of renal injury relieving and the content of Aristolochic acid A in the samples.
CONCLUSIONS:
The content of aristolochic acid can be reduced and the nephrotoxicity for animals can be lightened with some eligible processing methods for the traditional Chinese medicines containing aristolochic acid with the representative of Aristolochia manshuriensis.