Hydroxytyrosol 1-O-glucoside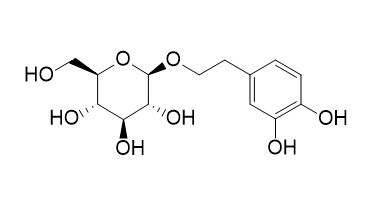 Hydroxytyrosol 1-O-glucoside plays a key role in the tolerance of X. fastidiosa to cv. Hydroxytyrosol 1-O-glucoside has antioxidant activity.
Inquire / Order: manager@chemfaces.com
Technical Inquiries: service@chemfaces.com
Tel: +86-27-84237783
Fax: +86-27-84254680

Address:
1 Building, No. 83, CheCheng Rd., Wuhan Economic and Technological Development Zone, Wuhan, Hubei 430056, PRC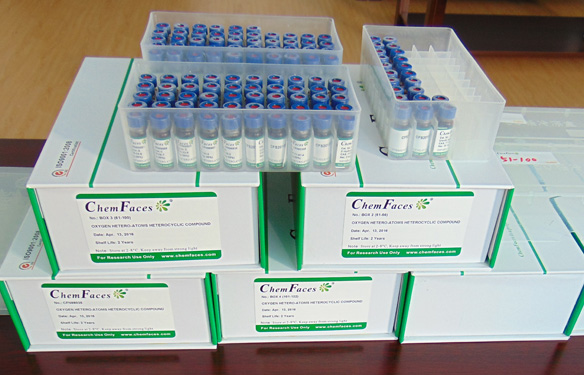 Providing storage is as stated on the product vial and the vial is kept tightly sealed, the product can be stored for up to
24 months(2-8C)
.
Wherever possible, you should prepare and use solutions on the same day. However, if you need to make up stock solutions in advance, we recommend that you store the solution as aliquots in tightly sealed vials at -20C. Generally, these will be useable for up to two weeks. Before use, and prior to opening the vial we recommend that you allow your product to equilibrate to room temperature for at least 1 hour.
Need more advice on solubility, usage and handling? Please email to: service@chemfaces.com
The packaging of the product may have turned upside down during transportation, resulting in the natural compounds adhering to the neck or cap of the vial. take the vial out of its packaging and gently shake to let the compounds fall to the bottom of the vial. for liquid products, centrifuge at 200-500 RPM to gather the liquid at the bottom of the vial. try to avoid loss or contamination during handling.
Horticulturae2020, 6(4),76.
J of Applied Biological Chem.2020, 63(2):147-152
Molecules.2022, 27(7):2116.
Plos One.2020, 10.1371
Appl. Sci.2020, 10(4),1304
Earth Environ. Sci. 2021, 905:012080.
Molecules.2021, 26(18):5665.
Life Sci.2021, 270:119074.
Int J Biol Macromol.2021, 199:189-200.
Process Biochemistry2019, 87:213-220
J Plant Physiol . 2018 Jan;220:60-68.
Xylella fastidiosa induces differential expression of lignification related-genes and lignin accumulation in tolerant olive trees cv. Leccino[Pubmed:
29149645
]
Recently, Xylella fastidiosa was reported in Italy, associated with the "Olive Quick Decline Syndrome". The cv. Leccino exhibits an evident tolerance with a slow disease progression compared with the other cultivars. Between the mechanisms proposed to explain the putative tolerance of some hosts to X. fastidiosa diseases, lignin deposition plays an important role. Analysis of phenolic compounds in healthy and infected Leccino and Cellina di Nardò leaves showed, in the two cultivars, a reduction of hydroxytyrosol glucoside (usually associated with drought and cold stress) and, only in Leccino, an increase of quinic acid, precursor of lignin. To determine if lignin biosynthesis is involved in defence response, we investigated the expression of genes coding for entry-point enzymes in different branches of the phenylpropanoid pathway. In stems of Cellina di Nardò infected plants, Cinnamate-4-Hydroxylase (C4H) and 4-Coumarate:CoA Ligase (4CL) resulted strongly down-regulated, indicating a plant disease response since the inhibition of C4H is reported to promote the accumulation of benzoic acid and salicylic acid as defence signals. Instead, in the cv. Leccino, Cinnamoyl-CoA Reductase (CCR, reported to be strongly induced during the formation of lignin defence response associated) was up-regulated in the stem of infected plants; moreover, Polyphenol oxidase (PPO), coding for an enzyme involved in the hydroxytyrosol biosynthesis, was down-regulated. The quantification of lignin in healthy and infected branches of both cultivars, showed a significant increase of total lignin in infected Leccino compared with the sensitive cultivar; moreover, histochemical observations of stem sections exhibited a different lignin distribution in the sclerenchyma and in the xylem tissue of infected Leccino plants compared to sections of healthy ones. Results suggest a critical role for lignin in X. fastidiosa tolerance of cv. Leccino.
Chem Pharm Bull (Tokyo) . 2004 May;52(5):615-617.
Antioxidative phenylethanoid and phenolic glycosides from Picrorhiza scrophulariiflora[Pubmed:
15133218
]
One new phenylenthanoid glycoside, scroside D (2), was isolated from the roots of Picrorhiza scrophulariiflora (Scrophulariaceae), together with nine known phenylethanoid and phenolic glycosides: 2-(3,4-dihydroxyphenyl)-ethyl-O-beta-D-glucopyranoside (1), 2-(3-hydroxy-4-methoxyphenyl)-ethyl-O-beta-D-glucopyranosyl (1-->3)-beta-D-glucopyranoside (3), scroside B (4), hemiphroside A (5), plantainoside D (6), scroside A (7), androsin (8), piceoside (9), and 6-O-feruloyl-beta-D-glucopyranoside (10). The structures of these compounds were elucidated using spectroscopic methods. The antioxidative activities of these isolated compounds were evaluated based on their scavenging effects on hydroxyl radicals and superoxide anion radicals, respectively. Compounds 1, 2, and 6 showed potent antioxidative effects as those of ascorbic acid and the structure-activity relationship is discussed.
Biol Pharm Bull . 2001 Nov;24(11):1338-1341.
Antiproliferative constituents in the plants 7. Leaves of Clerodendron bungei and leaves and bark of C. trichotomum[Pubmed:
11725977
]
The constituents of the leaves of Clerodendron bungei STEUD. (Verbenaceae) and leaves and bark of C. trichotomum THUNB. were investigated guided by the antiproliferative activity against three tumor cell lines (MK-1: human gastric adenocarcinoma, HeLa: human uterus carcinoma, and B16F10: murine melanoma). Two phenylethanoid glycoside caffeic acid esters, acteoside and isoacteoside, were isolated as the constituents which selectively inhibit the growth of B16F10 cells. The antiproliferative activities against B16F10 cells of acteoside (GI50: 8 microM), isoacteoside (8 microM) and their methanolysis products, methyl caffeate (26 microM), 3,4-dihydroxyphenethyl alcohol (8 microM), 3,4-dihydroxyphenethyl glucoside (10 microM), desrhamnosyl acteoside (6 microM), and desrhamnosyl isoacteoside (6 microm) suggested that the 3,4-dihydroxyphenethyl alcohol group might be more responsible for the activities of acteoside and isoacteoside than the caffeoyl group. The activities of chlorogenic acid, 3,4-dihydroxyphenylacetic acid, 3-(3,4-dihydroxyphenyl) alanine, 3,4-dihydroxy-phenethylamine hydrochloride, ferulic acid, sinapic acid, and five dihydroxybenzoic acids were also determined and compared with those of the above compounds.
J Food Drug Anal . 2019 Jan;27(1):249-258.
In vitro α-amylase and pancreatic lipase inhibitory activity of Cornus mas L. and Cornus alba L. fruit extracts[Pubmed:
30648578
]
Less-common fruits from Cornus spp. (Cornaceae), also named dogwoods, have shown antidiabetic, antibacterial and anti-allergic properties and are thus considered a source of phytochemicals that are beneficial to human health. The study aimed to compare the chemical compositions of the aqueous and ethanolic extracts of lyophilized fresh-picked and commercially available dried fruits of Cornus mas (Cm, cornelian cherry) and Cornus alba (Ca) fruits using HPLC-DAD-MS/MS method. Simultaneously, the α-amylase and pancreatic lipase (PL) inhibitory activities of the prepared extracts were compared by in vitro fluorescence assay based on the kinetic hydrolysis of starch or oleate ester of 4-methylumbelliferone (MUO), respectively. Additionally, a bio-assay guided identification of compounds potentially responsible for the inhibition of pancreatic enzymes was performed. Iridoids (loganic acid, cornuside) and anthocyanins (pelargonidin 3-O-galactoside) were identified in the Cm fruit extracts. Flavonoids, such as quercetin and kaempferol derivatives, were detected in the Ca fruit extracts. The chromatographic separation of the constituents of Ca fruit provided a fraction containing phenolic acids derivatives, which inhibited PL activity by 69.9 ± 4.5% at a concentration of 7.5 μg·mL-1. The IC50 of hydroxytyrosol glucoside, isolated from the most active Ca fraction, was 0.99 ± 0.10 mg·mL-1 indicating other constituents responsible for the fraction activity. The most active subfraction from Cm fruit (7.5 μg·mL-1), which inhibited PL activity by 28.3 ± 1.5%, contained pelargonidin 3-O-galactoside. Loganic acid and cornuside in highly pure form did not inhibit lipase activity. The phytochemical constituents of Cm, and particularly of Ca fruit extracts, can inhibit pancreatic enzymes and thus might be considered effective preparations in the prevention and control of hyperlipidemia related diseases.
Zhongguo Zhong Yao Za Zhi . 2010 Apr;35(7):861-864.
[Chemical constituents from fruits of Ligustrum lucidum][Pubmed:
20575386
]
Objective: To study the chemical constituents from the fruits of Ligustrum lucidum. Method: The chemical constituents from the ethanol extract of L. lucidum were isolated and purified by silica gel, Sephadex LH-20, ODS column chromatographic methods. Their structures were identified on the basis of spectroscopic data and physico-chemical properties. Result: Twenty compounds were isolated and identified as oleanolic acid (1), crategolic acid (2), acetyl oleanolic acid (3), lupeol (4), betulin (5), dammarenediol-II (6), 3beta-acetyl-20, 25-epoxydammarane-24alpha-ol (7), 25-epoxydammarane-3beta, 24alpha-diol (8), dammar-24-ene-3beta-acetyl-20S-ol) (9), 20S, 24R-dammarane-25-ene-24-hydroperoxy-3beta, 20-diol (10), fouquierol (11), oliganthas A (12), dammarenediol II 3-O-palmitate (13), ocotillol II 3-O-palmitate (14), (E) -25-hydroperoxydammar-23-ene-3beta,20-diol (15), verbascoside (16), cimidahurinine (17), 2-(3,4-dihydroxyphenyl)-ethyl-O-beta-D-glucopyranoside (18), osmanthuside H (19), 2-(3,4-dihydroxyphenyl) ethanol (20). Conclusion: Compounds 4, 16,17, 19 were isolated from this plant for the first time, andcompounds 12-15 were isolated from this genus for the first time.
Zhongguo Zhong Yao Za Zhi . 2010 Apr;35(8):992-996.
[Phenolic and phenylethanoidal glycosides from branch of Fraxinus sieboldiana][Pubmed:
20617678
]
Objective: To investigate chemical constituents from an ethanolic extract of the branch of Fraxinus sieboldiana (Oleaceaue) Method: The constituents were isolated and purified by a combination of various chromatographic techniques including silica gel, macroporous adsorbent resin, Sephadex LH-20, and preparative HPLC. Structures of the isolates were elucidated by spectroscopic methods including 1D and 2D NMR and MS techniques. Result: Four phenolic and twelve phenylethanoidal glycosides were obtained and their structures were identified as 2,6-dimethoxy-p-hydroquinone-4-O-beta-D-glucopyranoside (1), 2,6-dimethoxy-p-hydroquinone-1-O-beta-D-glucopyranoside (2), 4-hydroxy-3-methoxyphenyl beta-D-glucopyranoside (3), 4-hydroxy-3-methoxyphenyl beta-D-xylopyranosyl (1-->6)-O-beta-D-glucopyranoside (4), osmanthuside H (5), 2-(4-hydroxyphenyl) ethyl beta-D-glucopyranoside (6), 2-(3, 4-dihydroxyphenyl) ethyl beta-D-glucopyranoside (7), 2-hydroxy-4-(2-hydroxyethyl)-phenyl beta-D-glucopyranoside (8), 4-(2-hydroxyethyl)-2-methoxyphenyl beta-D-glucopyranoside (9), calceolarioside B (10), calceolarioside A (11), ferruginoside A (12), isolugrandoside (13), acteoside (14), chiritotoside C (15), and plantasisoside (16). Conclusion: Compounds 1-4,9,12, 13 and 16 were obtained from the genus Fraxinus for the first time.