Verbasoside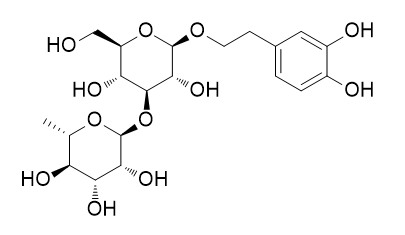 Verbasoside is a phenolic compound from lemon verbena.
Inquire / Order: manager@chemfaces.com
Technical Inquiries: service@chemfaces.com
Tel: +86-27-84237783
Fax: +86-27-84254680

Address:
1 Building, No. 83, CheCheng Rd., Wuhan Economic and Technological Development Zone, Wuhan, Hubei 430056, PRC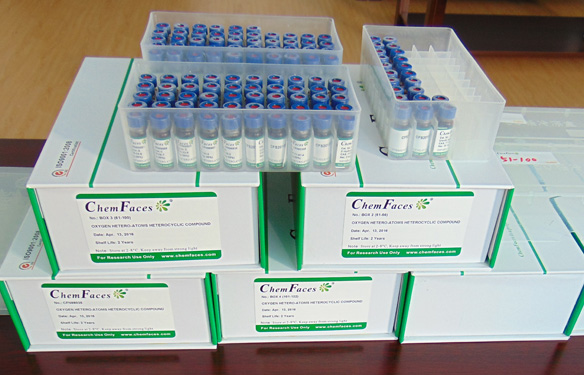 Providing storage is as stated on the product vial and the vial is kept tightly sealed, the product can be stored for up to
24 months(2-8C)
.
Wherever possible, you should prepare and use solutions on the same day. However, if you need to make up stock solutions in advance, we recommend that you store the solution as aliquots in tightly sealed vials at -20C. Generally, these will be useable for up to two weeks. Before use, and prior to opening the vial we recommend that you allow your product to equilibrate to room temperature for at least 1 hour.
Need more advice on solubility, usage and handling? Please email to: service@chemfaces.com
The packaging of the product may have turned upside down during transportation, resulting in the natural compounds adhering to the neck or cap of the vial. take the vial out of its packaging and gently shake to let the compounds fall to the bottom of the vial. for liquid products, centrifuge at 200-500 RPM to gather the liquid at the bottom of the vial. try to avoid loss or contamination during handling.
Journal of Functional Foods2022, 99: 105331.
Elife.2021, 10:e68058.
Foods.2021, 10(6):1378.
Food Sci Biotechnol.2021, 30(2):217-226.
Iranian Journal of Pharmaceutical Sciences2021, 17(2):25-36
Asian J Beauty Cosmetol2016, 14(3):249-257
Br J Pharmacol.2016, 173(2):396-410
Int J Mol Sci.2022, 23(1):538.
J Nat Med.2017, 71(4):745-756
J Pharm Biomed Anal.2021, 196:113931.
Molecules. 2017 Feb 23;22(3). pii: E347.
Is Gamma Radiation Suitable to Preserve Phenolic Compounds and to Decontaminate Mycotoxins in Aromatic Plants? A Case-Study with Aloysia citrodora Paláu.[Pubmed:
28241497
]
This study aimed to determine the effect of gamma radiation on the preservation of phenolic compounds and on decontamination of dry herbs in terms of ochratoxin A (OTA) and aflatoxin B1 (AFB1), using Aloysia citrodora Paláu as a case study.
METHODS AND RESULTS:
For this purpose, artificially contaminated dry leaves were submitted to gamma radiation at different doses (1, 5, and 10 kGy; at dose rate of 1.7 kGy/h). Phenolic compounds were analysed by HPLC-DAD-ESI/MS and mycotoxin levels were determined by HPLC-fluorescence. Eleven phenolic compounds were identified in the samples and despite the apparent degradation of some compounds (namely Verbasoside), 1 and 10 kGy doses point to a preservation of the majority of the compounds. The mean mycotoxin reduction varied between 5.3% and 9.6% for OTA and from 4.9% to 5.2% for AFB1.
CONCLUSIONS:
It was not observed a significant effect of the irradiation treatments on mycotoxin levels, and a slight degradation of the phenolic compounds in the irradiated samples was observed.
J Chromatogr A. 2009 Jul 10;1216(28):5391-7.
High-performance liquid chromatography with diode array detection coupled to electrospray time-of-flight and ion-trap tandem mass spectrometry to identify phenolic compounds from a lemon verbena extract.[Pubmed:
19500792
]
High-performance liquid chromatography with diode array and electrospray ionization mass spectrometric detection was used to carry out the comprehensive characterization of a lemon verbena extract with demonstrated antioxidant and antiinflammatory activity.
METHODS AND RESULTS:
Two different MS techniques have been coupled to HPLC: on one hand, time-of-flight mass spectrometry, and on the other hand, tandem mass spectrometry on an ion-trap. The use of a small particle size C18 column (1.8 microm) provided a great resolution and made possible the separation of several isomers. The UV-visible spectrophotometry was used to delimit the class of phenolic compound and the accurate mass measurements on time-of-flight spectrometer enabled to identify the compounds present in the extract. Finally, the fragmentation pattern obtained in MS-MS experiments confirmed the proposed structures.
CONCLUSIONS:
This procedure was able to determine many well-known phenolic compounds present in lemon verbena such as verbascoside and its derivatives, diglucuronide derivatives of apigenin and luteolin, and eukovoside. Also gardoside, Verbasoside, cistanoside F, theveside, campneoside I, chrysoeriol-7-diglucuronide, forsythoside A and acacetin-7-diglucuronide were found for the first time in lemon verbena.