Rosavin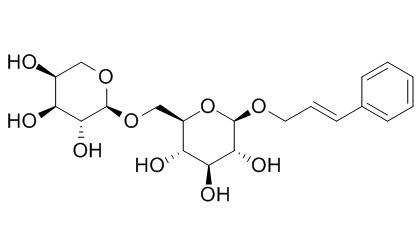 Rosavin possesses anti-fatigue, antidepressant and anxiolytic activities, it decreased neovascular reaction on cutaneous angiogenesis induced in mice after grafting of syngeneic tumor cells.
Inquire / Order: manager@chemfaces.com
Technical Inquiries: service@chemfaces.com
Tel: +86-27-84237783
Fax: +86-27-84254680

Address:
1 Building, No. 83, CheCheng Rd., Wuhan Economic and Technological Development Zone, Wuhan, Hubei 430056, PRC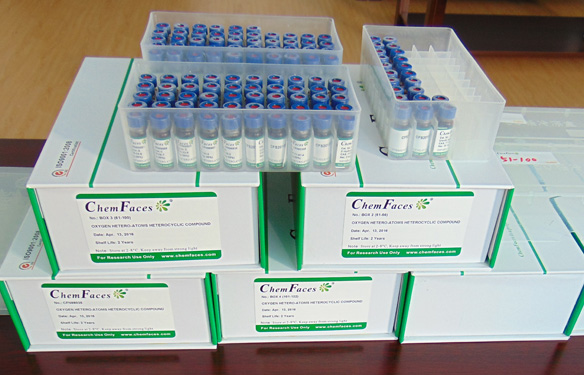 Providing storage is as stated on the product vial and the vial is kept tightly sealed, the product can be stored for up to
24 months(2-8C)
.
Wherever possible, you should prepare and use solutions on the same day. However, if you need to make up stock solutions in advance, we recommend that you store the solution as aliquots in tightly sealed vials at -20C. Generally, these will be useable for up to two weeks. Before use, and prior to opening the vial we recommend that you allow your product to equilibrate to room temperature for at least 1 hour.
Need more advice on solubility, usage and handling? Please email to: service@chemfaces.com
The packaging of the product may have turned upside down during transportation, resulting in the natural compounds adhering to the neck or cap of the vial. take the vial out of its packaging and gently shake to let the compounds fall to the bottom of the vial. for liquid products, centrifuge at 200-500 RPM to gather the liquid at the bottom of the vial. try to avoid loss or contamination during handling.
Front Pharmacol.2021, 12:615157.
Int Immunopharmacol.2022, 106:108603.
Evid Based Complement Alternat Med.2022, 9767292,2.
Cell Prolif.2021, 54(8):e13083.
Analytical Letters 2021, 54(4).
Agronomy2020, 10(3),388.
Biochem Biophys Res Commun.2020, 530(1):4-9.
Microchemical Journal2018, 137:168-173
Biochem Biophys Res Commun.2020, 522(1):40-46
Wageningen University & Research2018, January 2018
Science & Technology of Food Industry, 2013, 34(6):357-9.
Anti-fatigue effects of rosavin extracted from Rhodiola rosea L.[Reference:
WebLink
]
To study the anti-fatigue effects of Rosavin extracted from Rhodiola rosea L. in mice.
METHODS AND RESULTS:
The mice were randomly divided into five groups including the control group administered with physiological saline,three Rosavin groups administered with doses of 60,180,360mg/kg mb Rosavin and salidroside group(180mg/kg mb) for 30 consecutive days,respectively. And the level of muscle lactate,liver and muscle glycogen,serum urea nitrogen and the exhaustive swimming time were determined after swimming test. Results:Compared with control group,different doses of Rosavin significantly extended the swimming time(p0.05) and increased the contents of liver(p0.05)and muscle glycogen,while reducing that of lactate in muscle significantly(p0.05). Salidroside was slightly better than Rosavin in the anti-fatigue effects of the same dose. But there was no significant difference in Rosavin and salidroside(p0.05).
CONCLUSIONS:
Rosavin had anti-fatigue effect on mice.
Central-European Journal of Immunology, 2008, 33(3):102-7.
The influence of Rhodiola rosea extracts and rosavin on cutaneous angiogenesis induced in mice after grafting of syngeneic tumor cells[Reference:
WebLink
]
Anticancer research on the plant species Rhodiola rosea L. (Crassulaceae) has begun in animal models in 1987. In combination with cyclophosphamide, R. rosea extract enhanced the anti-tumor and anti-metastatic effects of drug treatment and reduced drug-induced toxicity. Combined with Adriamycin®, it improved inhibition of tumor dissemination and prevented liver toxicity.
METHODS AND RESULTS:
The aim of the present work was to study the effect of Rosavin and aqueous and 50% hydroalcoholic extracts of R. rosea roots and rhizomes on neovascular reaction induced in the skin of Balb/c mice after grafting of L-1 sarcoma cells. Mice were treated per os with 50, 100, 200 and 400 μg of extracts, or were fed Rosavin in daily doses 2, 4 and 8 μg. After 72 hours mice were sacrificed with lethal dose of Morbital. All newly formed blood vessels were identified and counted in dissection microscope. Both extracts in 100-400 μg daily doses and Rosavin in the highest dose highly significantly decreased neovascular reaction.
Biotechnol Lett. 2014 Mar;36(3):649-56.
Biotransformation of cinnamyl alcohol to rosavins by non-transformed wild type and hairy root cultures of Rhodiola kirilowii.[Pubmed:
24190481
]
Non-transformed wild type (NTWT) and hairy root cultures of Rhodiola kirilowii were grown in medium supplemented with 2.5 mM cinnamyl alcohol as a precursor and/or sucrose (1 %) on the day of inoculation or on the 14th day of culture. Rosarin, Rosavin, and rosin were produced by NTWT root culture but only rosarin and Rosavin by hairy roots. Approximately 80 and 95 % of the glycosides were released into the medium for NTWT and hairy root cultures, respectively. The highest Rosavin yield, 505 ± 106 mg/l, was in hairy root culture when cinnamyl alcohol was applied on the day of inoculation with the addition of sucrose on the 14th day of culture. For rosin production, supplementation with cinnamyl alcohol alone on day 14 was more favourable with the highest amount 74 ± 10 mg/l in NTWT root culture. Only traces of rosarin were detected.