5,6,7,3',4',5'-Hexamethoxyflavanone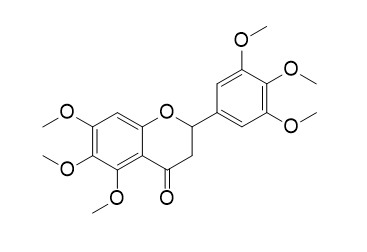 5,6,7,3',4',5'-hexamethoxyflavone has antiproliferative activity against four human cancer cell lines (Aspc-1, HCT-116, HepG-2 and SUN-5).
Inquire / Order: manager@chemfaces.com
Technical Inquiries: service@chemfaces.com
Tel: +86-27-84237783
Fax: +86-27-84254680

Address:
1 Building, No. 83, CheCheng Rd., Wuhan Economic and Technological Development Zone, Wuhan, Hubei 430056, PRC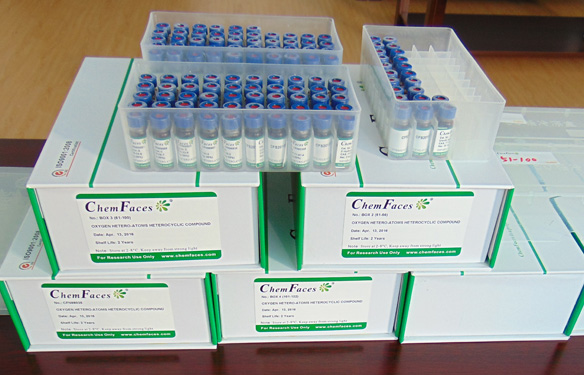 Providing storage is as stated on the product vial and the vial is kept tightly sealed, the product can be stored for up to
24 months(2-8C)
.
Wherever possible, you should prepare and use solutions on the same day. However, if you need to make up stock solutions in advance, we recommend that you store the solution as aliquots in tightly sealed vials at -20C. Generally, these will be useable for up to two weeks. Before use, and prior to opening the vial we recommend that you allow your product to equilibrate to room temperature for at least 1 hour.
Need more advice on solubility, usage and handling? Please email to: service@chemfaces.com
The packaging of the product may have turned upside down during transportation, resulting in the natural compounds adhering to the neck or cap of the vial. take the vial out of its packaging and gently shake to let the compounds fall to the bottom of the vial. for liquid products, centrifuge at 200-500 RPM to gather the liquid at the bottom of the vial. try to avoid loss or contamination during handling.
Oncol Rep.2019, 41(4):2453-2463
Acta Physiologiae Plantarum2016, 38:7
J Herbmed Pharmacol.2018, 7(4):280-286
Biomed Pharmacother.2019, 116:108987
Int J Pharmacol2020, 16:1-9
Pharmacogn Mag.2015, 11(43):562-6
Exp Parasitol.2017, 183:160-166
Front Pharmacol.2016, 7:460
Biomedicines.2022, 10(2):463.
BMC Plant Biol.2021, 21(1):60.
Nat Prod Res . 2021 Aug 5;1-6.
Synthesis and anti-proliferative activities of 5,6,7-trimethoxyflavones and their derivatives[Pubmed:
34353180
]
A series of 5,6,7-trimethoxyflavones 1a-1g and their derivatives 2a-2g, 3a-3d, 4 and 5, including the natural products 5,6,7-trimethoxy-4'-hydroxyflavone (1a), 5,6,7,3',4' -pentamethoxyflavone (sinensetin, 1 b), 5,6,7-trimethoxy-3',4'-methyl enedioxy flavone (1c), 5,6,7,3'-tetramethoxy-4,5'-methylenedioxyflavone (1e), 5,6,7, 3',4',5'-hextamethoxyflavone (1 g), 5-hydroxy-3,4,2',3',4'-pentamethoxy chal-cone (2 b), 5,4'-dihydroxy-6,7-dimethoxy flavone (cirsimaritin, 3a) and 5-hydroxy-6,7,3', 4'-tetramethoxyflavone (5-demethylsinensetin, 3 b), 3,5,6,7,3',4'-hexamethoxyflavone (3-methoxysinensetin, 4) and 5'-hydroxy-3,6,7,3',4'-pentamethoxyflavone (5) were synthesized. Their anti-proliferative activity in vitro was evaluated against a panel of four human cancer cell lines (Aspc-1, HCT-116, HepG-2 and SUN-5) by the CTG assay. The results showed that most of the synthetic compounds exhibited moderate to high anti-proliferative activities. In particular, compound 3c possess IC50 (5.30 μM) values below 10 μM against Aspc-1 cells and are worthy of further investigation.