Silybin A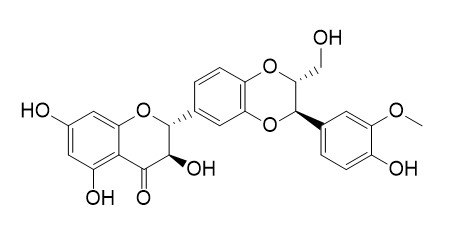 Silybin A has oxidative effects, it shows stronger effects on cell growth inhibition and apoptosis induction than silybin.
Inquire / Order: manager@chemfaces.com
Technical Inquiries: service@chemfaces.com
Tel: +86-27-84237783
Fax: +86-27-84254680

Address:
1 Building, No. 83, CheCheng Rd., Wuhan Economic and Technological Development Zone, Wuhan, Hubei 430056, PRC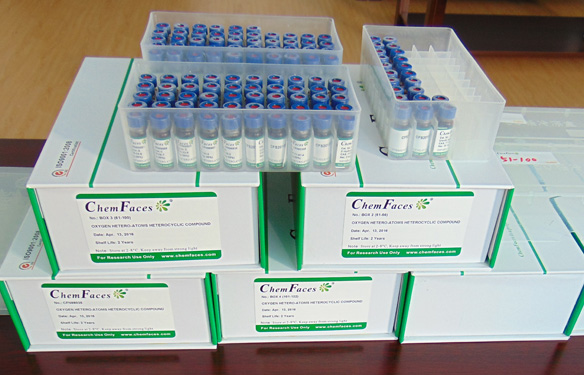 Providing storage is as stated on the product vial and the vial is kept tightly sealed, the product can be stored for up to
24 months(2-8C)
.
Wherever possible, you should prepare and use solutions on the same day. However, if you need to make up stock solutions in advance, we recommend that you store the solution as aliquots in tightly sealed vials at -20C. Generally, these will be useable for up to two weeks. Before use, and prior to opening the vial we recommend that you allow your product to equilibrate to room temperature for at least 1 hour.
Need more advice on solubility, usage and handling? Please email to: service@chemfaces.com
The packaging of the product may have turned upside down during transportation, resulting in the natural compounds adhering to the neck or cap of the vial. take the vial out of its packaging and gently shake to let the compounds fall to the bottom of the vial. for liquid products, centrifuge at 200-500 RPM to gather the liquid at the bottom of the vial. try to avoid loss or contamination during handling.
University of Limpopo2016, 1-237
Plant Physiol Biochem.2021, 160:166-174.
Int J Mol Sci.2021, 22(21):11447.
J Cell Physiol.2020, 10.1002
Food Res Int.2020, 128:108778
Nutrients.2020, 12(11):3448.
Nature Ecology & Evolution2020, doi: 10.1038
PLoS One.2017, 12(3):e0173585
BMC Complement Altern Med.2019, 19(1):339
University of Central Lancashire2017, 20472
Natural Product Communications, 2011, 6(6):1653-1656.
A Comparison of the Diastereoisomers, Silybin A and Silybin B, on the Induction of Apoptosis in K562 cells[Pubmed:
22224281
]
Two diastereoisomers of silybin, Silybin A and silybin B, were separated from silymarin by HPLC in our previous study.
METHODS AND RESULTS:
The present study assessed the effects of the diastereoisomers on cell apoptosis, and compared these with their mixture, silybin, in human chronic myeloid leukemia K562 cells. Both isomers showed stronger effects on cell growth inhibition and apoptosis induction than silybin. Compared with silybin B, Silybin A showed higher effects on the production of intracellular reactive oxygen species and Ca2+.
CONCLUSIONS:
These results suggest that Silybin A and silybin B have similar potency on apoptosis induction with different oxidative effects. Antagonistic effects may exist between Silybin A and silybin B, partially through ROS production and Ca2+ increase.
J Nat Prod. 2003 Sep;66(9):1171-4.
Molecular structure and stereochemistry of silybin A, silybin B, isosilybin A, and isosilybin B, Isolated from Silybum marianum (milk thistle).[Pubmed:
14510591
]

METHODS AND RESULTS:
Two pairs of diastereoisomeric flavonolignans, Silybin A, silybin B, isoSilybin A, and isosilybin B, were successfully separated from Silybum marianum by sequential silica gel column chromatography, preparative reversed-phase HPLC, and recrystallization. Complete stereochemical assignments at C-2, C-3, C-7', and C-8' of these flavonolignans have been achieved.
CONCLUSIONS:
On the basis of X-ray crystallographic analysis and optical rotation data, coupled with comprehensive (1)H and (13)C NMR spectral data interpretation including COSY, HMQC, and HMBC, the stereochemistry of these diastereoisomers was determined unambiguously as Silybin A (4), 2R, 3R, 7'R, 8'R; silybin B (5), 2R, 3R, 7'S, 8'S; isoSilybin A (6), 2R, 3R, 7'R, 8'R; and isosilybin B (7), 2R, 3R, 7'S, 8'S.