Apigenin
Apigenin is a potent inhibitor of CYP2C9, which has anti-inflammatory, antiangiogenic, and anti-cancer effects, it may inhibit EV71 replication through suppressing viral IRES activity and modulating cellular JNK pathway.
Inquire / Order: manager@chemfaces.com
Technical Inquiries: service@chemfaces.com
Tel: +86-27-84237783
Fax: +86-27-84254680

Address:
1 Building, No. 83, CheCheng Rd., Wuhan Economic and Technological Development Zone, Wuhan, Hubei 430056, PRC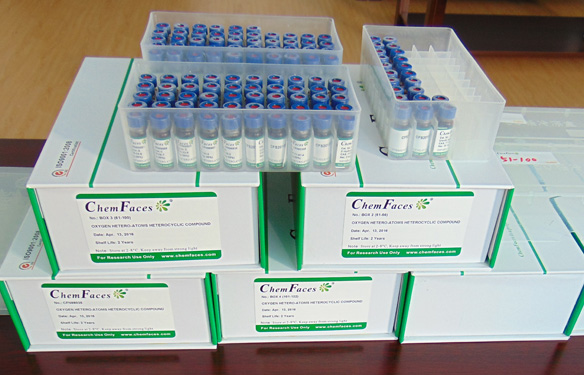 Providing storage is as stated on the product vial and the vial is kept tightly sealed, the product can be stored for up to
24 months(2-8C)
.
Wherever possible, you should prepare and use solutions on the same day. However, if you need to make up stock solutions in advance, we recommend that you store the solution as aliquots in tightly sealed vials at -20C. Generally, these will be useable for up to two weeks. Before use, and prior to opening the vial we recommend that you allow your product to equilibrate to room temperature for at least 1 hour.
Need more advice on solubility, usage and handling? Please email to: service@chemfaces.com
The packaging of the product may have turned upside down during transportation, resulting in the natural compounds adhering to the neck or cap of the vial. take the vial out of its packaging and gently shake to let the compounds fall to the bottom of the vial. for liquid products, centrifuge at 200-500 RPM to gather the liquid at the bottom of the vial. try to avoid loss or contamination during handling.
Anal Chim Acta.2018, 1039:162-171
Korean J Dent Mater.2018, 45(2):139-146
J Cell Physiol.2020, 10.1002
J Drug Target.2016, 24:1-28
J Ethnopharmacol.2019, 244:112074
Saudi Pharm J.2019, 27(1):145-153
ACS Nano.2018, 12(4):3385-3396
Drug Invention Today2019, 12(6):1303-1306
J Herbmed Pharmacol.2018, 7(4):280-286
PLoS One.2017, 12(3):e0173585
Antiviral Res. 2014 Sep;109:30-41.
Apigenin inhibits enterovirus 71 replication through suppressing viral IRES activity and modulating cellular JNK pathway.[Pubmed:
24971492
]
Enterovirus 71 (EV71) is a member of genus Enterovirus in Picornaviridae family, which is one of the major causative agents for hand, foot and mouth disease (HFMD), and sometimes associated with severe central nervous system diseases in children. Currently there are no effective therapeutic medicines or vaccines for the disease.
METHODS AND RESULTS:
In this report, we found that Apigenin and luteolin, two flavones that differ only in the number of hydroxyl groups could inhibit EV71-mediated cytopathogenic effect (CPE) and EV71 replication with low cytotoxicity. Both molecules also showed inhibitory effect on the viral polyprotein expression. They prevented EV71-induced cell apoptosis, intracellular reactive oxygen species (ROS) generation and cytokines up-regulation. Time-of-drug addition study demonstrated that Apigenin and luteolin acted after viral entry. We examined the effect of Apigenin and luteolin on 2A(pro) and 3C(pro) activity, two viral proteases responsible for viral polyprotein processing, and found that they showed less inhibitory activity on 2A(pro) or 3C(pro). Further studies demonstrated that Apigenin, but not luteolin could interfere with viral IRES activity. Also, Apigenin inhibited EV71-induced c-Jun N-terminal kinase (JNK) activation which is critical for viral replication, in contrast to luteolin that did not.
CONCLUSIONS:
This study demonstrated that Apigenin may inhibit EV71 replication through suppressing viral IRES activity and modulating cellular JNK pathway. It also provided evidence that one hydroxyl group difference in the B ring between Apigenin and luteolin resulted in the distinct antiviral mechanisms. This study will provide the basis for better drug development and further identification of potential drug targets.
Br J Nutr. 2015 Feb 28;113(4):618-26.
Intestinal anti-inflammatory activity of apigenin K in two rat colitis models induced by trinitrobenzenesulfonic acid and dextran sulphate sodium.[Pubmed:
25654996
]
Flavonoids are polyphenolic compounds that are widespread in nature, and consumed as part of the human diet in significant amounts. The aim of the present study was to test the intestinal anti-inflammatory activity of Apigenin K, a soluble form of Apigenin, in two models of rat colitis, namely the trinitrobenzenesulfonic acid (TNBS) model and the dextran sulphate sodium (DSS) model.
METHODS AND RESULTS:
Apigenin K (1, 3 and 10 mg/kg; by the oral route; n 4-6 per group) was administered as a pre-treatment to rats with TNBS and DSS colitis, and colonic status was checked by macroscopic and biochemical examination. Apigenin K pre-treatment resulted in the amelioration of morphological signs and biochemical markers in the TNBS model. The results demonstrated a reduction in the inflamed area, as well as lower values of score and colonic weight:length ratio compared with the TNBS group. Myeloperoxidase (MPO) activity was reduced by 30 % (P< 0·05). Moreover, Apigenin K pre-treatment ameliorated morphological signs and biochemical markers in the DSS model. Thus, macroscopic damage was significantly reduced and the colonic weight:length ratio was lowered by approximately 10 %, while colonic MPO and alkaline phosphatase activities were decreased by 35 and 21 %, respectively (P< 0·05). Apigenin K pre-treatment also tended to normalise the expression of a number of colonic inflammatory markers (e.g. TNF-α, transforming growth factor-β, IL-6, intercellular adhesion molecule 1 or chemokine (C-C motif) ligand 2).
CONCLUSIONS:
In conclusion, Apigenin K is found to have anti-inflammatory effects in two preclinical models of inflammatory bowel disease.
Mol Carcinog. 2014 Aug;53(8):598-609.
Apigenin inhibits TGF-β-induced VEGF expression in human prostate carcinoma cells via a Smad2/3- and Src-dependent mechanism.[Pubmed:
23359392
]
Cancer progression relies on establishment of the blood supply necessary for tumor growth and ultimately metastasis. Prostate cancer mortality is primarily attributed to development of metastases rather than primary, organ-confined disease. Vascular endothelial growth factor (VEGF) is a key regulator of angiogenesis in prostate tissue. Our previous studies have demonstrated that the chemopreventive bioflavonoid Apigenin inhibited hypoxia-induced elevation of VEGF production at low oxygen conditions characteristic for solid tumors.
METHODS AND RESULTS:
Low oxygen (hypoxia) and transforming growth factor-β (TGF-β) are two major factors responsible for increased VEGF secretion. In the present study, experiments were performed to investigate the inhibitory effect of Apigenin on TGF-β-induced VEGF production and the mechanisms underlying this action. Our results demonstrate that VEGF expression is induced by TGF-β1 in human prostate cancer PC3-M and LNCaP C4-2B cells, and treatment with Apigenin markedly decreased VEGF production. Additionally, Apigenin inhibited TGF-β1-induced phosphorylation and nuclear translocation of Smad2 and Smad3. Further experiments demonstrated that specific transient knockdown of Smad2 or Smad3 blunted Apigenin's effect on VEGF expression. We also found that Apigenin inhibited Src, FAK, and Akt phosphorylation in PC3-M and LNCaP C4-2B cells. Furthermore, constitutively active Src reversed the inhibitory effect of Apigenin on VEGF expression and Smad2/3 phosphorylation. Taken together, our results suggest that Apigenin inhibits prostate carcinogenesis by modulating TGF-β-activated pathways linked to cancer progression and metastases, in particular the Smad2/3 and Src/FAK/Akt pathways.
CONCLUSIONS:
These findings provide new insights into molecular pathways targeted by Apigenin, and reveal a novel molecular mechanism underlying the antiangiogenic potential of Apigenin.
Exp Mol Pathol. 2014 Oct;97(2):211-7.
Exposure of breast cancer cells to a subcytotoxic dose of apigenin causes growth inhibition, oxidative stress, and hypophosphorylation of Akt.[Pubmed:
25019465
]
Epidemiological studies show that fruit- and vegetable-rich diets are associated with a reduced risk of developing certain forms of cancer, including breast cancer.
METHODS AND RESULTS:
In this study we demonstrate that a subcytotoxic concentration of Apigenin, which is a flavone found at high concentrations in parsley, onions, grapefruit, oranges, and chamomile tea, inhibited DNA synthesis in a panel of human breast cancer cell lines (MDA-MB-231, MBA-MB-468, MCF-7, SK-BR-3). Decreased proliferation of MDA-MB-468 cells in the presence of Apigenin was associated with G2/M phase cell cycle arrest and the production of reactive oxygen species. Apigenin-treated MDA-MB-468 cells also showed reduced phosphorylation of Akt (protein kinase B), which is an essential effector serine/threonine kinase in the phosphatidylinositide 3-kinase pathway that promotes tumor growth and progression. However, exposure to the antioxidant reduced glutathione failed to reverse Apigenin-mediated inhibition of Akt phosphorylation and cell proliferation, indicating that these effects were not due to oxidative stress.
CONCLUSIONS:
Taken together, these findings suggest that low-dose Apigenin has the potential to slow or prevent breast cancer progression.