Dihydrolicoisoflavone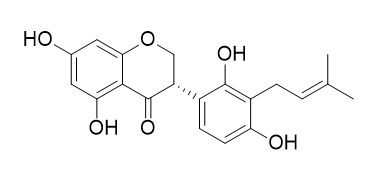 Dihydrolicoisoflavone A possesses weaker anti-H. pylori activity, it may be useful chemopreventive agents for peptic ulcer or gastric cancer in H. pylori-infected individuals.
Inquire / Order: manager@chemfaces.com
Technical Inquiries: service@chemfaces.com
Tel: +86-27-84237783
Fax: +86-27-84254680

Address:
1 Building, No. 83, CheCheng Rd., Wuhan Economic and Technological Development Zone, Wuhan, Hubei 430056, PRC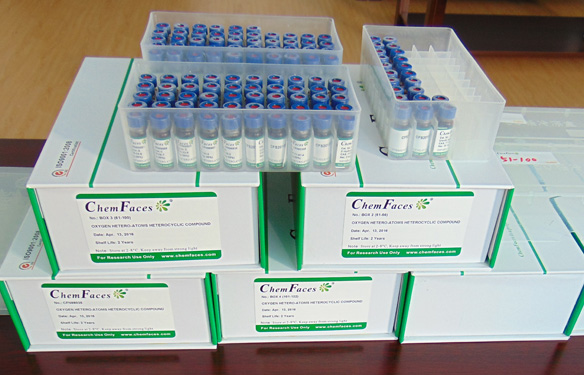 Providing storage is as stated on the product vial and the vial is kept tightly sealed, the product can be stored for up to
24 months(2-8C)
.
Wherever possible, you should prepare and use solutions on the same day. However, if you need to make up stock solutions in advance, we recommend that you store the solution as aliquots in tightly sealed vials at -20C. Generally, these will be useable for up to two weeks. Before use, and prior to opening the vial we recommend that you allow your product to equilibrate to room temperature for at least 1 hour.
Need more advice on solubility, usage and handling? Please email to: service@chemfaces.com
The packaging of the product may have turned upside down during transportation, resulting in the natural compounds adhering to the neck or cap of the vial. take the vial out of its packaging and gently shake to let the compounds fall to the bottom of the vial. for liquid products, centrifuge at 200-500 RPM to gather the liquid at the bottom of the vial. try to avoid loss or contamination during handling.
Food Res Int.2018, 106:909-919
Antioxidants.2022, 11(3):491.
J Ethnopharmacol.2020, 249:112381
J of Food Quality2020, 8851285.
Nat Prod Sci.2014, 20(3):182-190
Biol Pharm Bull.2020, 43(10):1534-1541.
Int J Mol Sci. 2014, 15(5):8443-57
PLoS One.2021, 16(9):e0257243.
Int J Biol Macromol.2021, 199:189-200.
JLiquid Chromatography & Related Tech.2021, 10826076.
Life Sci. 2002 Aug 9;71(12):1449-63.
Anti-Helicobacter pylori flavonoids from licorice extract.[Pubmed:
12127165
]
Licorice is the most used crude drug in Kampo medicines (traditional Chinese medicines modified in Japan). The extract of the medicinal plant is also used as the basis of anti-ulcer medicines for treatment of peptic ulcer. Among the chemical constituents of the plant, glabridin and glabrene (components of Glycyrrhiza glabra), licochalcone A (G. inflata), licoricidin and licoisoflavone B (G. uralensis) exhibited inhibitory activity against the growth of Helicobacter pylori in vitro. These flavonoids also showed anti-H. pylori activity against a clarithromycin (CLAR) and amoxicillin (AMOX)-resistant strain. We also investigated the methanol extract of G. uralensis. From the extract, three new isoflavonoids (3-arylcoumarin, pterocarpan, and isoflavan) with a pyran ring, gancaonols A[bond]C, were isolated together with 15 known flavonoids.
CONCLUSIONS:
Among these compounds, vestitol, licoricone, 1-methoxyphaseollidin and gancaonol C exhibited anti-H. pylori activity against the CLAR and AMOX-resistant strain as well as four CLAR (AMOX)-sensitive strains. Glycyrin, formononetin, isolicoflavonol, glyasperin D, 6,8-diprenylorobol, gancaonin I, Dihydrolicoisoflavone A, and gancaonol B possessed weaker anti-H. pylori activity. These compounds may be useful chemopreventive agents for peptic ulcer or gastric cancer in H. pylori-infected individuals.
J Nat Prod. 1995 Apr;58(4):629-32.
Dihydrolicoisoflavone, a new isoflavanone from Swartzia polyphylla.[Pubmed:
7623042
]
Fractionation of an ethanolic extract of Swartzia polyphylla, guided in part by an assay for inhibition of protein kinase C, led to the isolation of the known flavonoids biochanin A, dihydrobiochanin A, ferreirin, dalbergioidin, and naringenin, and one new prenylated isoflavonone, Dihydrolicoisoflavone [1].