Eschweilenol C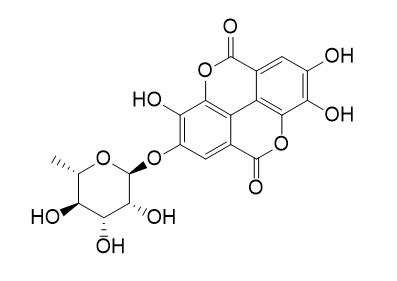 Eschweilenol C has antifungal, anti-inflammatory, antioxidant, antidiabetic activity. 4-(alpha-rhamnopyranosyl)ellagic acid is an inhibitor of human recombinant aldose reductase HRAR (IC50 = 4.1 x 10(-8) M).
Inquire / Order: manager@chemfaces.com
Technical Inquiries: service@chemfaces.com
Tel: +86-27-84237783
Fax: +86-27-84254680

Address:
1 Building, No. 83, CheCheng Rd., Wuhan Economic and Technological Development Zone, Wuhan, Hubei 430056, PRC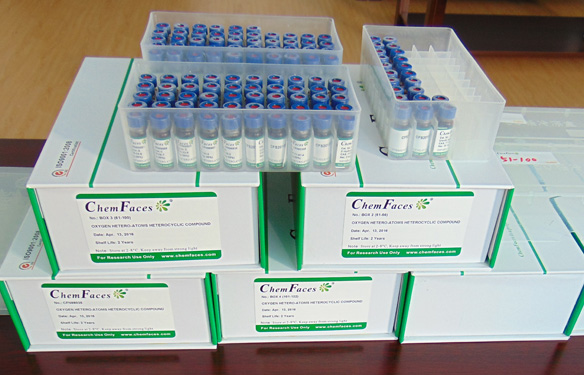 Providing storage is as stated on the product vial and the vial is kept tightly sealed, the product can be stored for up to
24 months(2-8C)
.
Wherever possible, you should prepare and use solutions on the same day. However, if you need to make up stock solutions in advance, we recommend that you store the solution as aliquots in tightly sealed vials at -20C. Generally, these will be useable for up to two weeks. Before use, and prior to opening the vial we recommend that you allow your product to equilibrate to room temperature for at least 1 hour.
Need more advice on solubility, usage and handling? Please email to: service@chemfaces.com
The packaging of the product may have turned upside down during transportation, resulting in the natural compounds adhering to the neck or cap of the vial. take the vial out of its packaging and gently shake to let the compounds fall to the bottom of the vial. for liquid products, centrifuge at 200-500 RPM to gather the liquid at the bottom of the vial. try to avoid loss or contamination during handling.
Arch Biochem Biophys.2018, 644:93-99
Nat Prod Sci.2019, 25(3):238
Evid Based Complement Alternat Med.2021, 2021:5319584.
Molecules.2019, 24(19):E3417
SCOPUS.2020, 836-847.
Horticulture Research2023, uhad164.
J Pharm Biomed Anal.2019, 164:119-127
Evid Based Complement Alternat Med.2017, 2017:6360836
J Sep Sci.2018, 41(7):1682-1690
Nutrients.2019, 12(1)
Food Chem . 2014 Dec 15;165:140-148.
Psidium cattleianum fruit extracts are efficient in vitro scavengers of physiologically relevant reactive oxygen and nitrogen species[Pubmed:
25038660
]
Psidium cattleianum, an unexploited Brazilian native fruit, is considered a potential source of bioactive compounds. In the present study, the in vitro scavenging capacity of skin and pulp extracts from P. cattleianum fruits against reactive oxygen species (ROS) and reactive nitrogen species (RNS) was evaluated by in vitro screening assays. Additionally, the composition of phenolic compounds and carotenoids in both extracts was determined by LC-MS/MS. The major phenolic compounds identified and quantified (dry matter) in the skin and pulp extracts of P. cattleianum were ellagic acid (2213-3818 μg/g extracts), ellagic acid deoxyhexoside (1475-2,070 μg/g extracts) and epicatechin gallate (885-1,603 μg/g extracts); while all-trans-lutein (2-10 μg/g extracts), all-trans-antheraxanthin (1.6-9 μg/g extracts) and all-trans-β-carotene (4-6 μg/g extracts) were the major carotenoids identified in both extracts. P. cattleianum pulp extract showed higher scavenging capacity than skin extract for all tested ROS and RNS. Considering the potential beneficial effects to human health, P. cattleianum may be considered as a good source of natural antioxidants and may be useful for the food and phytopharmaceutical industry.
Phytomedicine . 2004 Nov;11(7-8):652-656.
Aldose reductase inhibitors from the leaves of Myrciaria dubia (H. B. & K.) McVaugh[Pubmed:
15636180
]
Ellagic acid (1) and its two derivatives, 4-O-methylellagic acid (2) and 4-(alpha-rhamnopyranosyl)ellagic acid (3) were isolated as inhibitors of aldose reductase (AR) from Myrciaria dubia (H. B. & K.) McVaugh. Compound 2 was the first isolated from the nature. Compound 3 showed the strongest inhibition against human recombinant AR (HRAR) and rat lens AR (RLAR). Inhibitory activity of compound 3 against HRAR (IC50 value = 4.1 x 10(-8) M) was 60 times more than that of quercetin (2.5 x 10(-6) M). The type of inhibition against HRAR was uncompetitive.
J Ethnopharmacol . 2019 Aug 10;240:111941.
Antifungal and anti-inflammatory potential of eschweilenol C-rich fraction derived from Terminalia fagifolia Mart[Pubmed:
31100435
]
Ethnopharmacological relevance: Folk knowledge transmitted between generations allows traditional populations to maintain the use of medicinal plants for the treatment of several diseases. In this context, the species Terminalia fagifolia Mart., native to Brazil, is used for the treatment of chronic and infectious diseases. Plants rich in secondary metabolites, such as this species and their derivatives, may represent therapeutic alternatives for the treatment of diseases that reduce the quality of life of people. Aim of the study: The aim of this study was to evaluate the antifungal and anti-inflammatory potential of aqueous fraction from ethanolic extract of T. fagifolia, with in silico study of the major compound of the fraction. Material and methods: The phytochemical study of the aqueous fraction was performed by HPLC, LC/MS and NMR. The antifungal activity was evaluated against yeasts, by determination of the minimum inhibitory concentration and minimum fungicidal concentration. The effect on Candida albicans was analyzed by AFM. The antibiofilm potential against biofilms of C. albicans was also tested. The anti-inflammatory potential of the aqueous fraction was evaluated in vivo by the carrageenan-induced paw edema and peritonitis. A microglial model of LPS-induced neuroinflammation was also studied. Further insights on the activation mechanism were studied using quantum chemistry computer simulations. Toxicity was evaluated in the Galleria mellonella and human erythrocytes models. Results: Eschweilenol C was identified as the major constituent of the aqueous fraction of the ethanolic extract of T. fagifolia. The aqueous fraction was active against all Candida strains used (sensitive and resistant to Fluconazole) with MICs ranging from 1000 to 0.4 μg/mL. By AFM it was possible to observe morphological alterations in treated Candida cells. The fraction significantly (p < 0.05) inhibited paw edema and decreased levels of malondialdehyde induced by carrageenan. In a microglial cell model, aqueous fraction demonstrated the ability to inhibit NF-κB after induction with lipopolysaccharide. The theoretical studies showed structural similarity between Eschweilenol C and indomethacin and an excellent antioxidant potential. The aqueous fraction did not present toxicity in the studied models. Conclusion: The results indicate that the aqueous fraction of T. fagifolia has potential for biomedical applications with low toxicity. This finding can be attributed to the predominance of Eschweilenol C in the aqueous fraction.
Fitoterapia . 2018 Nov;131:91-95.
N-myristoyltransferases inhibitory activity of ellagitannins from Terminalia bentzoë (L.) L. f. subsp. bentzoë[Pubmed:
30342177
]
N-myristoylation (Myr) is an eukaryotic N-terminal co- or post-translational protein modification in which the enzyme N-myristoyltransferase (NMT) transfers a fatty acid (C14:0) to the N-terminal glycine residues of several cellular key proteins. Depending on the cellular context, NMT may serve as a molecular target in anticancer or anti-infectious therapy, and drugs that inhibit this enzyme may be useful in the treatment of cancer or infectious diseases. As part of an on-going project to identify natural Homo sapiens N-myristoyltransferase 1 inhibitors (HsNMT1), two ellagitannins, punicalagin (1) and isoterchebulin (2), along with Eschweilenol C (3) and ellagic acid (4) were isolated from the bark of Terminalia bentzoë (L.) L. f. subsp. bentzoë. Their structures were determined by means of spectroscopic analyses and comparison with literature data. Punicalagin (1) and isoterchebulin (2) showed significant inhibitory activity towards HsNMT1, and also against Plasmodium falciparum NMT (PfNMT) both in vitro and in cellulo, opening alternative paths for new NMT inhibitors development. This is the first report identifying natural products from a botanical source as inhibitors of HsNMT and PfNMT.