Soyasaponin II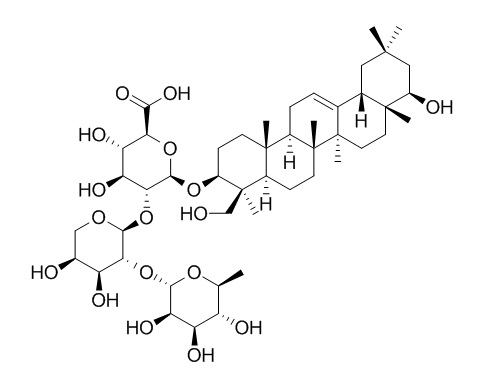 Soyasaponin II has antiviral effects, it can inhibit the replication of human cytomegalovirus, influenza virus, and human immunodeficiency virus type 1. Soyasaponin II has hepatoprotective actions towards immunologically induced liver injury on primary cultured rat hepatocytes. It can inhibit the conversion of fibrinogen to fibrin, it also can promote activation of the fibrinolytic system in a plasminogen-containing fibrin plate. Soyasaponins are a potential antitumor compound and the apoptosis induced by soyasaponins is a key antitumor mechanism.
Inquire / Order: manager@chemfaces.com
Technical Inquiries: service@chemfaces.com
Tel: +86-27-84237783
Fax: +86-27-84254680

Address:
1 Building, No. 83, CheCheng Rd., Wuhan Economic and Technological Development Zone, Wuhan, Hubei 430056, PRC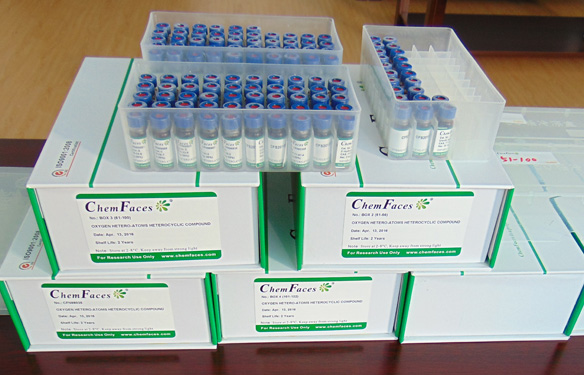 Providing storage is as stated on the product vial and the vial is kept tightly sealed, the product can be stored for up to
24 months(2-8C)
.
Wherever possible, you should prepare and use solutions on the same day. However, if you need to make up stock solutions in advance, we recommend that you store the solution as aliquots in tightly sealed vials at -20C. Generally, these will be useable for up to two weeks. Before use, and prior to opening the vial we recommend that you allow your product to equilibrate to room temperature for at least 1 hour.
Need more advice on solubility, usage and handling? Please email to: service@chemfaces.com
The packaging of the product may have turned upside down during transportation, resulting in the natural compounds adhering to the neck or cap of the vial. take the vial out of its packaging and gently shake to let the compounds fall to the bottom of the vial. for liquid products, centrifuge at 200-500 RPM to gather the liquid at the bottom of the vial. try to avoid loss or contamination during handling.
Acta Physiologiae Plantarum2015, 37:1736
Food Res Int.2018, 106:909-919
J Ethnopharmacol.2019, 241:112025
Chemistry of Plant Materials.2019, 215-222
Int J Mol Sci.2019, 20(8):E1855
Fitoterapia.2015, 100:179-86
Integr Cancer Ther.2018, 17(3):832-843
Biol Pharm Bull.2018, 41(11):1685-1693
Evid Based Complement Alternat Med.2015, 2015:165457
Korean j.of Pharm.2017, 70-76
Planta Med., 1997, 63(2):102-5.
Inhibitory activity of soyasaponin II on virus replication in vitro.[Pubmed:
9140220
]

METHODS AND RESULTS:
The antiviral activities of two saponins, soyasaponin I and II, isolated from soybean (Glycine max Merrill) were studied in vitro against herpes simplex virus type 1 (HSV-1). Soyasaponin II was more potent than soyasaponin I as shown by reduction of HSV-1 production. Soyasaponin II was also found to inhibit the replication of human cytomegalovirus, influenza virus, and human immunodeficiency virus type 1.
CONCLUSIONS:
The action was not due to inhibition of virus penetration and protein synthesis, but might involve a virucidal effect. When acyclovir and Soyasaponin II were evaluated in combination for anti-HSV-1 activity, additive antiviral effects were observed for this virus.
Planta Med., 1998, 64(3):233-6.
Structure-hepatoprotective relationships study of soyasaponins I-IV having soyasapogenol B as aglycone.[Pubmed:
9581521
]
As a part of our study on the leguminous plants, we investigated the constituents of the aerial parts of Glycine soya.
METHODS AND RESULTS:
We isolated and identified four known saponins, soyasaponins I, II, III, and IV which have the same aglycone, soyasapogenol B. As a part of our studies concerning hepatoprotective drugs, we also examined the hepatoprotective actions of these saponins towards immunologically induced liver injury on primary cultured rat hepatocytes. The action of Soyasaponin II was almost comparable with that of soyasaponin I, whereas those of Soyasaponin III and IV were more effective than soyasaponins I and II. This means that the disaccharide group shows greater action than the trisaccharide group. Furthermore, the saponin having a hexosyl unit shows a slightly greater action than that of the pentosyl unit in each disaccharide group or trisaccharide group.
CONCLUSIONS:
Structure-activity relationships suggest that the sugar moiety linked at C-3 may play an important role in hepatoprotective actions of soybean saponins.