N-trans-caffeoyltyramine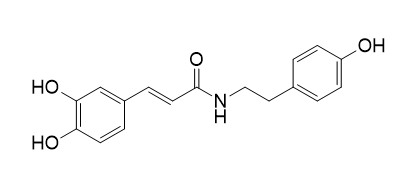 N-trans-caffeoyltyramine is a novel and potent modulator of inflammatory responses.
Inquire / Order: manager@chemfaces.com
Technical Inquiries: service@chemfaces.com
Tel: +86-27-84237783
Fax: +86-27-84254680

Address:
1 Building, No. 83, CheCheng Rd., Wuhan Economic and Technological Development Zone, Wuhan, Hubei 430056, PRC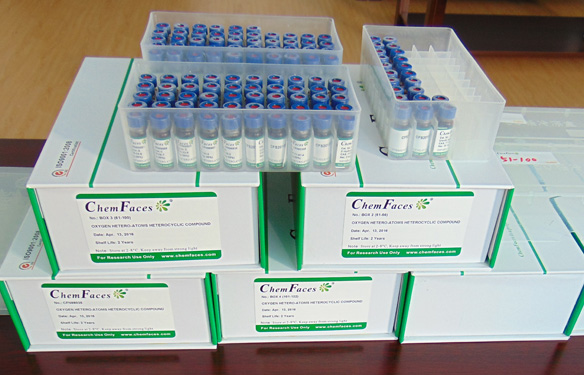 Providing storage is as stated on the product vial and the vial is kept tightly sealed, the product can be stored for up to
24 months(2-8C)
.
Wherever possible, you should prepare and use solutions on the same day. However, if you need to make up stock solutions in advance, we recommend that you store the solution as aliquots in tightly sealed vials at -20C. Generally, these will be useable for up to two weeks. Before use, and prior to opening the vial we recommend that you allow your product to equilibrate to room temperature for at least 1 hour.
Need more advice on solubility, usage and handling? Please email to: service@chemfaces.com
The packaging of the product may have turned upside down during transportation, resulting in the natural compounds adhering to the neck or cap of the vial. take the vial out of its packaging and gently shake to let the compounds fall to the bottom of the vial. for liquid products, centrifuge at 200-500 RPM to gather the liquid at the bottom of the vial. try to avoid loss or contamination during handling.
Microb Biotechnol.2021, 14(5):2009-2024.
Cancers (Basel).2021, 13(17):4327.
Molecules.2021, 26(9):2765.
Mol Pharm.2017, 14(9):3164-3177
mBio.2020, 11(3):e00686-20.
Processes2021, 9(5),831.
J Nat Prod.2018, 81(4):966-975
BMC Plant Biol.2018, 18(1):122
Food Analytical Methods2017, 10:3225-3234
Molecules.2022, 27(19):6651.
International Journal of Molecular Medicine, 2015,3:1042-1048.
N‑trans‑ρ‑caffeoyl tyramine isolated from Tribulus terrestris exerts anti‑inflammatory effects in lipopolysaccharide‑stimulated RAW 264.7 cells.[Reference:
WebLink
]
Inflammation is induced by the expression of cyclooxygenase‑2 (COX‑2), which is an important mediator of chronic inflammatory diseases, such as rheumatoid arthritis, asthma and inflammatory bowel disease. Tribulus terrestris (T. terrestris) is known to have a beneficial effect on inflammatory diseases.
METHODS AND RESULTS:
In this study, we investigated the effects of N‑trans‑ρ‑caffeoyltyramine (N-trans-caffeoyltyramine,CT) isolated from T. terrestris on the production of nitric oxide (NO), and the expression of pro‑inflammatory cytokines and COX‑2 in lipopolysaccharide (LPS)‑stimulated RAW 264.7 cells. We also aimed to elucidate the molecular mechanisms involved. We found that the ethanolic extract of T. terrestris (EETT) and CT inhibited the production of NO, tumor necrosis factor‑α (TNF‑α), interleukin (IL)‑6 and IL‑10 in the LPS‑stimulated RAW 264.7 cells in a dose‑dependent manner. They were determined by reverse transcription-polymerase chain reaction (RT-PCR) and enzyme-linked immunosorbent assay (ELISA). In addition, CT markedly suppressed the expression of COX‑2 and the production of prostaglandin E2 (PGE2) in response to LPS stimulation. Furthermore, CT markedly decreased p‑c‑Jun N‑terminal kinase (p‑JNK) protein expression in LPS‑stimulated RAW 264.7 cells. COX-2 and p-JNK were measured by western blot analysis.
CONCLUSIONS:
Taken together, these findings indicate that CT isolated from T. terrestris is a novel and potent modulator of inflammatory responses. Thus, it may prove benefiical to further evaluate CT as a possible treatment for chronic inflammatory diseases.
Journal of the Chinese Chemical Society, 2013, 44(3):313-319.
The Constituents from the Stems of Annona cherimola.[Reference:
WebLink
]

METHODS AND RESULTS:
Thirty‐five compounds including twenty‐one alkaloids, lysicamine (1 ), liriodenine (2 ), atherospermidine (3 ), oxoxylopine (4 ), oxoanolobine (5 ), oxoglaucine (6 ), (‐)‐anonaine (7 ), (‐)‐asimilobine (8 ), (‐)‐xylopine (9 ), (‐)‐anolobine (10 ), (‐)‐norisocorydine (11 ), (+)‐laurotetanine (12 ), (+)‐isocorydine (13 ), (‐)‐N‐methylasimilobine (14 ), (+)‐N‐methyllaurotetanine (15 ), (‐)‐norushinsunine (16 ), (‐)‐ushinsunine (17 ), (‐)‐N‐formylanonaine (18 ), (+)‐stepharine (19 ), (+)‐orentaline (20 ), and (‐)‐kikemanine (21 ); four kauranes, ent‐kaur‐16‐en‐19‐oic acid (22 ), 16β‐hydroxy‐17‐acetoxy‐ent‐kauran‐19‐al (23 ), 17‐acetoxy‐16β‐ent‐kauran‐19‐oic acid (24 ), and 16β‐hydroxy‐17‐acetoxy‐ent‐kauran‐19‐oic acid (25 ); two amides, N‐trans‐femloyltyramine (26 ), and N-trans-caffeoyltyramine (27 ); one purine, adenosine (28 ); one lactam amide, squamolone (29 ); and six steroids, β‐sitosterol (30 ), stigmasterol (31 ), β‐sitostenone (32 ), stigmasta‐4,22‐dien‐3‐one (33 ), 6β‐hydroxy‐β‐sitosterone (34 ), and 6β‐hydroxystigmasterone (35 ) are isolated from the stems of Annona cherimola.
CONCLUSIONS:
These compounds were characterized and identified by physical and spectral evidence. Among them, (‐)‐norisocorydine (11) was elucidated as a new enantiomer with a levorotary configuration, which is isolated for the first time.