Pedunsaponin C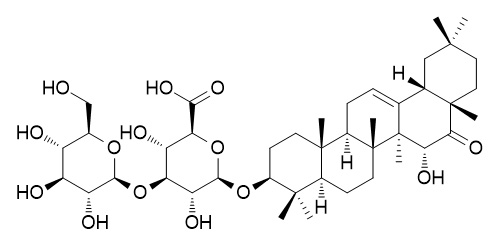 Pedunsaponin C shows strong molluscicidal activity against snails , with LC50 values of 4.252 mg/ L.
Inquire / Order: manager@chemfaces.com
Technical Inquiries: service@chemfaces.com
Tel: +86-27-84237783
Fax: +86-27-84254680

Address:
1 Building, No. 83, CheCheng Rd., Wuhan Economic and Technological Development Zone, Wuhan, Hubei 430056, PRC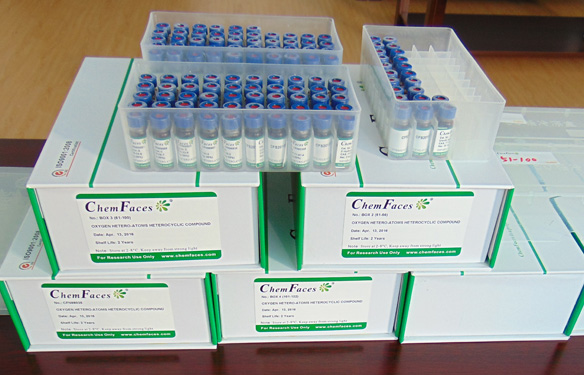 Providing storage is as stated on the product vial and the vial is kept tightly sealed, the product can be stored for up to
24 months(2-8C)
.
Wherever possible, you should prepare and use solutions on the same day. However, if you need to make up stock solutions in advance, we recommend that you store the solution as aliquots in tightly sealed vials at -20C. Generally, these will be useable for up to two weeks. Before use, and prior to opening the vial we recommend that you allow your product to equilibrate to room temperature for at least 1 hour.
Need more advice on solubility, usage and handling? Please email to: service@chemfaces.com
The packaging of the product may have turned upside down during transportation, resulting in the natural compounds adhering to the neck or cap of the vial. take the vial out of its packaging and gently shake to let the compounds fall to the bottom of the vial. for liquid products, centrifuge at 200-500 RPM to gather the liquid at the bottom of the vial. try to avoid loss or contamination during handling.
Int J Mol Sci.2019, 20(11):E2734
Int J Mol Sci.2015, 16(8):18396-411
Evid Based Complement Alternat Med.2016, 2016:4357656
Sci Rep.2019, 9(1):6429
Int J Mol Sci.2019, 20(16):E4015
Int J Mol Med.2015, 35(5):1237-45
Journal of Functional Foods2019, 52:430-441
Molecules.2017, 22(12)
Nutrients.2019, 12(1):E40
Cell Death Dis.2019, 10(12):882
Pest Manag Sci. 2017 Jun;73(6):1143-1147.
Active saponins from root of Pueraria peduncularis (Grah. ex Benth.) Benth. and their molluscicidal effects on Pomacea canaliculata.[Pubmed:
27608163
]
Pueraria peduncularis (Grah. ex Benth.) Benth., which belongs to the Leguminosae family, exhibits resistance to many crop pests in agricultural production. Pomacea canaliculata is an important invasive snail in rice fields and causes severe yield losses. To evaluate the toxicity of P. peduncularis to P. canaliculata, in this study the molluscicidal activity of root extracts of P. peduncularis was tested against P. canaliculata; the active compounds were isolated, and the structures of these compounds were analysed using nuclear magnetic resonance (NMR) analysis and mass spectral analysis.
METHODS AND RESULTS:
Our results showed that the molluscicidal activity of the root crude extract differed between P. canaliculata with different shell diameters after treatment for 72 h. The median lethal concentration (LC50 ) was 5.511 mg L-1 against snails of 1.5 ± 0.2 cm diameter and 12.383 mg L-1 against snails of 2.5 ± 0.2 cm diameter. Furthermore, two active ingredients isolated from root methanol extracts were identified as pedunsaponin A and Pedunsaponin C. Both pedunsaponin A and Pedunsaponin C showed strong molluscicidal activities, with LC50 values of 3.893 and 4.252 mg L-1 , respectively, against snails with shell diameters of 1.5 ± 0.2 cm after treatment for 72 h.
CONCLUSIONS:
Pueraria peduncularis extracts exhibit high molluscicidal activity and have great potential value for exploring a molluscicide to control Pomacea canaliculata.
J Asian Nat Prod Res. 2002 Dec;4(4):253-7.
New oleanene-type triterpene saponins from Pueraria peduncularis.[Pubmed:
12450252
]

METHODS AND RESULTS:
Two new oleanane-type triterpene saponins named pedunsaponin B (2) and Pedunsaponin C (3) were isolated from the roots of Pueraria peduncularis. Their structures were determined to be 3-O-(6-O-methyl)-beta-glucuronopyranosyl-3beta,15alpha-dihydroxyolean-12-en-16-one (2), and 3-O-beta-glucopyranosyl-(1 --> 3)-beta-glucuronopyranosyl-3beta,15alpha-dihydroxyoleana-12-en-16-one (3), on the basis of spectroscopic evidence.