Soyasaponin Bd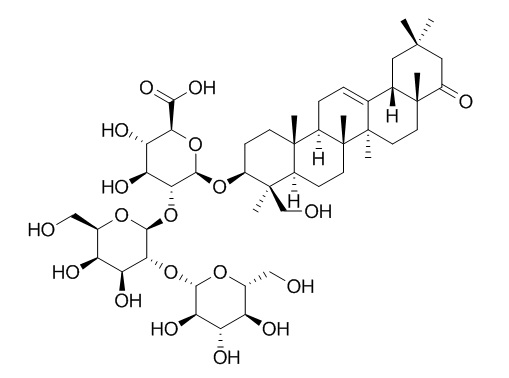 1. Soyasaponins has chemoprevention activities, it prevent H₂O₂-induced inhibition of gap junctional intercellular communication by scavenging reactive oxygen species in rat liver cells.
2. Soyasaponins can significantly decrease blood glucose, improve atherosclerotic index, and inhibit lipid peroxidation and platelet aggregation in diabetic rats, which may be useful in prevention and control of diabetes mellitus and diabetes-associated atherosclerosis.
3. Soyasaponins abundant in soybean have anti-inflammatory activities, low-dose SSs alleviated contact hypersensitivity (CHS) symptoms by attenuating inflammation and improving the intestinal microbiota composition, suggesting that dietary SSs may have beneficial effects on allergic contact dermatitis (ACD).
4. Dietary soyasaponin has inhibitory effects on 2,4-dinitrofluorobenzene-induced contact hypersensitivity in mice.

Inquire / Order: manager@chemfaces.com
Technical Inquiries: service@chemfaces.com
Tel: +86-27-84237783
Fax: +86-27-84254680

Address:
1 Building, No. 83, CheCheng Rd., Wuhan Economic and Technological Development Zone, Wuhan, Hubei 430056, PRC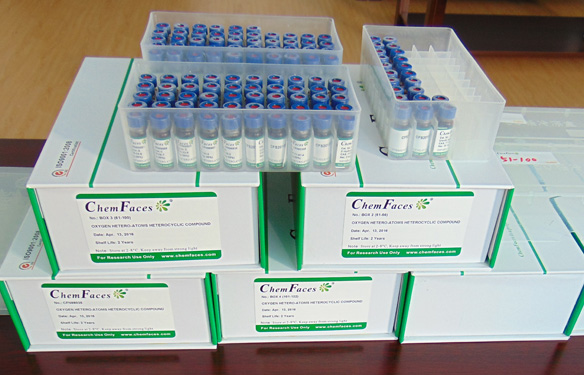 Providing storage is as stated on the product vial and the vial is kept tightly sealed, the product can be stored for up to
24 months(2-8C)
.
Wherever possible, you should prepare and use solutions on the same day. However, if you need to make up stock solutions in advance, we recommend that you store the solution as aliquots in tightly sealed vials at -20C. Generally, these will be useable for up to two weeks. Before use, and prior to opening the vial we recommend that you allow your product to equilibrate to room temperature for at least 1 hour.
Need more advice on solubility, usage and handling? Please email to: service@chemfaces.com
The packaging of the product may have turned upside down during transportation, resulting in the natural compounds adhering to the neck or cap of the vial. take the vial out of its packaging and gently shake to let the compounds fall to the bottom of the vial. for liquid products, centrifuge at 200-500 RPM to gather the liquid at the bottom of the vial. try to avoid loss or contamination during handling.
Evid Based Complement Alternat Med.2018, 2018:1073509
Sci Rep. 2018, 462(8)
Antioxidants (Basel).2020, 9(2): E119
Int. Conference on Med. Sci. and Bio.2017, 17973
Evid Based Complement Alternat Med.2017, 2017:1583185
Biochem Biophys Res Commun.2019, 518(4):732-738
Scientific World Journal.2014, 2014:654193
Integr Cancer Ther.2018, 17(3):832-843
Biosci Biotechnol Biochem.2020, 84(3):621-632
Planta Med.2019, 85(3):217-224
Food Chemistry, 2014, 146:270-277.
Rapid characterisation and comparison of saponin profiles in the seeds of Korean Leguminous species using ultra performance liquid chromatography with photodiode array detector and electrospray ionisation/mass spectrometry (UPLC-PDA-ESI/MS) analysis.[Reference:
WebLink
]

METHODS AND RESULTS:
The present work was reported on investigation of saponin profiles in nine different legume seeds, including soybean, adzuki bean, cowpea, common bean, scarlet runner bean, lentil, chick pea, hyacinth bean, and broad bean using ultra performance liquid chromatography with photodiode array detector and electrospray ionisation/mass spectrometry (UPLC-PDA-ESI/MS) technique. A total of twenty saponins were characterised under rapid and simple conditions within 15min by the 80% methanol extracts of all species. Their chemical structures were elucidated as soyasaponin Ab (1), soyasaponin Ba (2), soyasaponin Bb (3), soyasaponin Bc (4), Soyasaponin Bd (5), soyasaponin αg (6), soyasaponin βg (7), soyasaponin βa (8), soyasaponin γg (9), soyasaponin γa (10), azukisaponin VI (11), azukisaponin IV (12), azukisaponin II (13), AzII (14), AzIV (15), lablaboside E (16), lablaboside F (17), lablaboside D (18), chikusetusaponin IVa (19), and lablab saponin I (20).
CONCLUSIONS:
The individual and total saponin compositions exhibited remarkable differences in all legume seeds. In particular, soyasaponin βa (8) was detected the predominant composition in soybean, cowpea, and lentil with various concentrations. Interestingly, soybean, adzuki bean, common bean, and scarlet runner bean had high saponin contents, while chick pea and broad bean showed low contents.