Solafuranone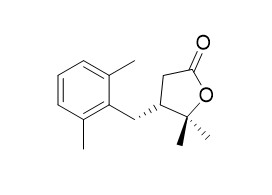 Solafuranone possess cytotoxic activity against human cancer cell lines at concentrations up to 30 μM.
Anti-inflammatory.
Inquire / Order: manager@chemfaces.com
Technical Inquiries: service@chemfaces.com
Tel: +86-27-84237783
Fax: +86-27-84254680

Address:
1 Building, No. 83, CheCheng Rd., Wuhan Economic and Technological Development Zone, Wuhan, Hubei 430056, PRC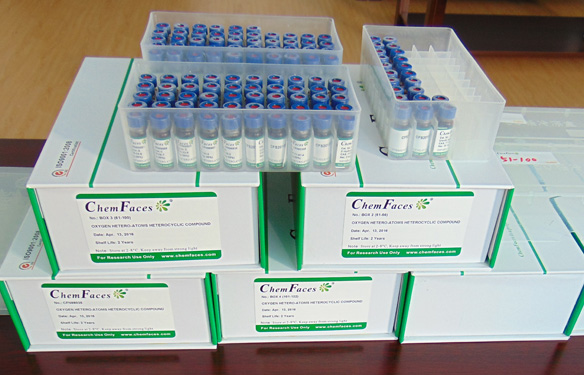 Providing storage is as stated on the product vial and the vial is kept tightly sealed, the product can be stored for up to
24 months(2-8C)
.
Wherever possible, you should prepare and use solutions on the same day. However, if you need to make up stock solutions in advance, we recommend that you store the solution as aliquots in tightly sealed vials at -20C. Generally, these will be useable for up to two weeks. Before use, and prior to opening the vial we recommend that you allow your product to equilibrate to room temperature for at least 1 hour.
Need more advice on solubility, usage and handling? Please email to: service@chemfaces.com
The packaging of the product may have turned upside down during transportation, resulting in the natural compounds adhering to the neck or cap of the vial. take the vial out of its packaging and gently shake to let the compounds fall to the bottom of the vial. for liquid products, centrifuge at 200-500 RPM to gather the liquid at the bottom of the vial. try to avoid loss or contamination during handling.
J Biotechnol.2020, 318:10-19.
Phytochemistry2018, 15:83-92
PLoS One.2020, 15(2):e0220084.
Sci Rep.2017, 7:46299
J. of Med. Plant Research.2013, 90-151
Biomol Ther (Seoul).2019, 10.4062
Oncotarget.2015, 6(31):30831-49
Molecules.2019, 24(11):E2044
Separations2021, 8(1), 1.
Sci Rep.2018, 8:9267
Int J Mol Sci . 2013 Jun 14;14(6):12581-92.
Anti-inflammatory components from the root of Solanum erianthum[Pubmed:
23771024
]
Two new norsesquiterpenoids, solanerianones A and B (1-2), together with nine known compounds, including four sesquiterpenoids, (-)-solavetivone (3), (+)-anhydro-β-rotunol (4), Solafuranone (5), lycifuranone A (6); one alkaloid, N-trans-feruloyltyramine (7); one fatty acid, palmitic acid (8); one phenylalkanoid, acetovanillone (9), and two steroids, β-sitosterol (10) and stigmasterol (11) were isolated from the n-hexane-soluble part of the roots of Solanum erianthum. Their structures were elucidated on the basis of physical and spectroscopic data analyses. The anti-inflammatory activity of these isolates was monitored by nitric oxide (NO) production in lipopolysaccharide (LPS)-activated murine macrophage RAW264.7 cells. The cytotoxicity towards human lung squamous carcinoma (CH27), human hepatocellular carcinoma (Hep 3B), human oral squamous carcinoma (HSC-3) and human melanoma (M21) cell lines was also screened by using an MTT assay. Of the compounds tested, 3 exhibited the strongest NO inhibition with the average maximum inhibition (Emax) at 100 μM and median inhibitory concentration (IC50) values of 98.23% ± 0.08% and 65.54 ± 0.18 μM, respectively. None of compounds (1-9) was found to possess cytotoxic activity against human cancer cell lines at concentrations up to 30 μM.
J Nat Prod . 2001 Sep;64(9):1232-3.
Cytotoxic and novel compounds from Solanum indicum[Pubmed:
11575964
]
Solavetivone (1), cytotoxic to OVCAR-3 cells with an IC(50) value of 0.1 mM, has been isolated from Solanum indicum. In addition, a novel Solafuranone (2) and three known compounds, scopoletin, N-(p-trans-coumaroyl)tyramine, and N-trans-feruloyltyramine, were isolated for the first time from this plant. The structures of the above compounds were established by means of spectroscopic and X-ray analyses.
ChemInform 38(32)
Efficient Approach to 4Benzyl5,5-dimethyldihydrofuranones: Total Synthesis of (.+-.)-Solafuranone[Reference:
WebLink
]
A six-step general and very efficient synthesis of 4-(arylmethyl)-5,5-dialkyldihydrofuranones starting from corresponding aryl aldehyde has been developed. Solafuranone, a novel furanone isolated from the Chinese folk medicine Solanum indicum, has been accomplished starting from 2,6-dimethylbenzaldehyde in six steps in an overall yield of 70%. Contrary to expectations, Solafuranone and its analogue failed to exhibit any significant cytotoxicity against A549 (lung adenocarcinoma) and HL60 (leukemia cells) cell lines.