Trifloroside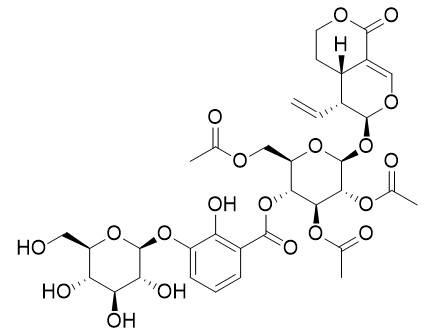 Trifloroside is a bitter iridoid glycoside.
Inquire / Order: manager@chemfaces.com
Technical Inquiries: service@chemfaces.com
Tel: +86-27-84237783
Fax: +86-27-84254680

Address:
1 Building, No. 83, CheCheng Rd., Wuhan Economic and Technological Development Zone, Wuhan, Hubei 430056, PRC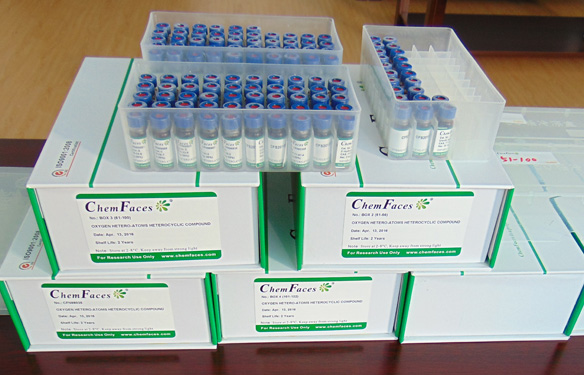 Providing storage is as stated on the product vial and the vial is kept tightly sealed, the product can be stored for up to
24 months(2-8C)
.
Wherever possible, you should prepare and use solutions on the same day. However, if you need to make up stock solutions in advance, we recommend that you store the solution as aliquots in tightly sealed vials at -20C. Generally, these will be useable for up to two weeks. Before use, and prior to opening the vial we recommend that you allow your product to equilibrate to room temperature for at least 1 hour.
Need more advice on solubility, usage and handling? Please email to: service@chemfaces.com
The packaging of the product may have turned upside down during transportation, resulting in the natural compounds adhering to the neck or cap of the vial. take the vial out of its packaging and gently shake to let the compounds fall to the bottom of the vial. for liquid products, centrifuge at 200-500 RPM to gather the liquid at the bottom of the vial. try to avoid loss or contamination during handling.
Nat Prod Communications2018, 10.1177
Appl Microbiol Biotechnol.2018, 102(12):5105-5120
Plant Physiol Biochem.2019, 144:355-364
J. of The Korean Society of Food Culture2017, 144-149
J of Engineering Science&Technology2018, 13(9):2820-2828
J Sep Sci.2020, 201901140
Biomed Pharmacother.2019, 116:108987
PLoS One.2018, 13(11):e0208055
Int J Mol Sci.2019, 20(16):E4015
Inflammation2015, 38(1):445-55
J Ethnopharmacol. 2015 Aug 22;172:219-26.
A bitter herbal medicine Gentiana scabra root extract stimulates glucagon-like peptide-1 secretion and regulates blood glucose in db/db mouse.[Pubmed:
26129938
]
Gentiana scabra root extract (GS) is frequently prescribed as an internal remedy in traditional Korean medicine for treatment of diabetes mellitus. GS contains bitter iridoid glycosides including loganic acid, gentiopicrin, Trifloroside, and rindoside. We previously reported that the intestinal bitter taste sensation stimulates GLP-1 secretion, and thereupon hypothesized that the blood glucose regulatory effect of GS is due to its GLP-1 secreting effect in enteroendocrine L cells.
METHODS AND RESULTS:
We studied GLP-1 secreting effect of GS treatment and its cellular downstream mechanism in human enteroendocrine NCI-H716 cells using the G protein-coupled receptor (GPCR) pathway inhibitors. Intracellular calcium assay also demonstrated the signal transduction pathway stimulated by the GS treatment. Using db/db mice, we performed oral glucose tolerance test (OGTT) to examine the blood glucose lowering effect of GS administration. We also collected the mouse plasma during the OGTT to measure the GLP-1 and insulin levels. We demonstrated dose-dependent GLP-1 secreting effect of GS on the NCI-H716 cells. The GLP-1 secreting effect of GS is mediated by the G protein βγ-subunit and inositol triphosphate. Using db/db mice, we found that the effect of GS on lowering blood glucose is due to its GLP-1 secretion, and consequential insulinotropic effect. The chemical fingerprint of GS was obtained through a direct analysis in realtime mass spectrometry (DART-MS) and high-performance liquid chromatography (HPLC)/MS. Through the GLP-1 secretion study, we found that loganic acid, an iridoid glycoside, contributes to the GLP-1 secreting effect of GS.
CONCLUSIONS:
The findings of this study highlight the potential of exploiting the antidiabetic effect of GS on type 2 diabetes mellitus patients.
Phytochemistry. 1998 Apr;47(7):1223-6.
Secoiridoid glycosides and an antifungal anthranilate derivative from Gentiana tibetica.[Pubmed:
9611826
]

METHODS AND RESULTS:
Repetitive chromatography of the methanol extract of the roots of Gentiana tibetica afforded two new secoiridoid glycosides and a novel antifungal anthranilic acid derivative, together with beta-sitosterol, daucosterol, oleanolic acid, loganic acid, gentiopicroside, sweroside, 2'-(2,3-dihydroxybenzoyl)sweroside, Trifloroside, rindoside and macrophylloside A.
CONCLUSIONS:
The structures of the new products were determined mainly by spectroscopic methods as 8-hydroxy-10-hydrosweroside, isomacrophylloside and ethyl N-docosanoylanthranilate. Ethyl N-docosanoylanthranilate inhibited the growth of the human pathogenic fungi Candida albicans and Aspergillus flavus. The taxonomic significance of the constituent is discussed briefly.