Sweroside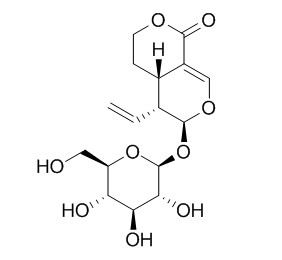 Sweroside possesses wound healing, cytoprotective, skin-whitening , anti-osteoporotic , and hepatoprotective effect. It can inhibit potent melanogenesis in melan-a cells at 300uM without cytotoxicity, also decreases tyrosinase, tyrosinase-related protein-1 (TRP-1) and TRP-2 protein production in melan a cells. It also shows insulin-mimicking effects on the regulation of Pck1 expression.
Inquire / Order: manager@chemfaces.com
Technical Inquiries: service@chemfaces.com
Tel: +86-27-84237783
Fax: +86-27-84254680

Address:
1 Building, No. 83, CheCheng Rd., Wuhan Economic and Technological Development Zone, Wuhan, Hubei 430056, PRC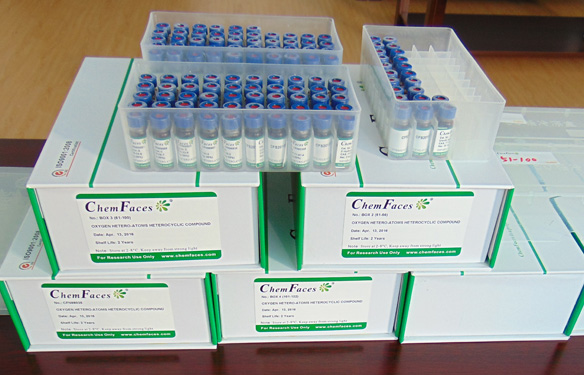 Providing storage is as stated on the product vial and the vial is kept tightly sealed, the product can be stored for up to
24 months(2-8C)
.
Wherever possible, you should prepare and use solutions on the same day. However, if you need to make up stock solutions in advance, we recommend that you store the solution as aliquots in tightly sealed vials at -20C. Generally, these will be useable for up to two weeks. Before use, and prior to opening the vial we recommend that you allow your product to equilibrate to room temperature for at least 1 hour.
Need more advice on solubility, usage and handling? Please email to: service@chemfaces.com
The packaging of the product may have turned upside down during transportation, resulting in the natural compounds adhering to the neck or cap of the vial. take the vial out of its packaging and gently shake to let the compounds fall to the bottom of the vial. for liquid products, centrifuge at 200-500 RPM to gather the liquid at the bottom of the vial. try to avoid loss or contamination during handling.
Front Pharmacol.2019, 10:1355
Acta Edulis Fungi2020, 27(02):63-76.
Appl. Sci.2020, 10(23), 8729
Mol Pharm.2017, 14(9):3164-3177
Biol Pharm Bull.2018, 41(1):65-72
J Ethnopharmacol.2016, 192:370-381
Biosci Rep.2018, 38(4)
Asian Pac J Cancer Prev. 2020, 21(4):935-941.
Phytomedicine.2018, 40:37-47
J Ethnopharmacol.2017, 209:305-316
Planta Med. 2006 Mar;72(4):289-94.
Effects of gentiopicroside, sweroside and swertiamarine, secoiridoids from gentian (Gentiana lutea ssp. symphyandra), on cultured chicken embryonic fibroblasts.[Pubmed:
16557467
]
Wound healing properties of Gentian (Gentiana lutea ssp. symphyandra) extract and its main constituents, gentiopicroside, Sweroside and swertiamarine (compounds 1-3, respectively) were evaluated by comparison with dexpanthenol on cultured chicken embryonic fibroblasts.
METHODS AND RESULTS:
The extract was also analyzed by HPLC to quantify its constituents. Chicken embryonic fibroblasts from fertilized eggs were incubated with the plant extract and its constituents, compounds 1-3. Using microscopy, mitotic ability, morphological changes and collagen production in the cultured fibroblasts were evaluated as parameters. Wound healing activity of Gentian seems to be mainly due to the increase in the stimulation of collagen production and the mitotic activity by compounds 2 and 3, respectively (p < 0.005 in all cases).
CONCLUSIONS:
All three compounds also exhibited cytoprotective effects, which may cause a synergism in terms of wound healing activity of Gentian. The findings demonstrated the wound healing activity of Gentian, which has previously been based only on ethnomedical data.
Chem Biol Interact. 2015 Aug 5;238:33-9.
Modulation effects of sweroside isolated from the Lonicera japonica on melanin synthesis.[Pubmed:
26051519
]
In the course of screening for the melanogenesis inhibitors, Sweroside was isolated from Lonicera japonica. Its chemical structure was determined on the basis of spectroscopic analysis, including mass spectroscopy and nuclear magnetic resonance analysis.
METHODS AND RESULTS:
Sweroside inhibited potent melanogenesis in melan-a cells at 300μM without cytotoxicity. Also, Sweroside decreased tyrosinase, tyrosinase-related protein-1 (TRP-1) and TRP-2 protein production in melan a cells. To identify the signaling pathway of Sweroside, the ability of Sweroside to influence Akt and extracellular signal-regulated protein kinase (ERK) activation was investigated. Sweroside induced Akt and ERK in a dose-dependent manner. In addition, the specific inhibition of the Akt and ERK signaling pathways were studied by specific inhibitor LY294002 and U0126, respectively and it was causing the increased melanin synthesis. Furthermore, Sweroside presented inhibition of the body pigmentation and tyrosinase activity in zebrafish in vivo model.
CONCLUSIONS:
These results suggest that Sweroside isolated from L. japonica may be an effective skin-whitening agent through the regulates the expression of MAP kinase and melanogenic enzymes.
Chem Pharm Bull (Tokyo). 2009 Jan;57(1):79-83.
Determination of sweroside in rat plasma and bile for oral bioavailability and hepatobiliary excretion.[Pubmed:
19122321
]
Sweroside is an active ingredient of iridoid glycoside isolated from the flower buds of Lonicera japonica THUNB. A quantitative HPLC-UV method was developed for monitoring Sweroside in rat plasma, urine, feces and bile. The method was successfully applied for a basic pharmacokinetic study.
METHODS AND RESULTS:
The obtained data of pharmacokinetics were applied to evaluate the oral bioavailabilities of Sweroside and the active ingredients of purified herbal extracts (IGEs-1). The absolute bioavailability was estimated to F(Sweroside) 0.31% and F(IGEs-1) 0.67%. The majority of Sweroside excreted to feces revealed one reason of the low oral bioavailability. The values of F(IGEs-1) much higher than that of F(Sweroside) reveals that ingredients in IGEs-1 such as loganin, secoxyloganin and some phenolic acids may promote the absorption of Sweroside. The study of hepatobiliary excretion was achieved by an in vivo microdialysis sampling method after intravenous administration of Sweroside.
CONCLUSIONS:
The percentage of accumulation of free form Sweroside in bile duct was 31.2+/-7.2% of the total dosage. It may be one reason why Sweroside possesses strong hepatoprotective effect.
Fitoterapia. 2013 Jan;84:174-9.
Protective effects of sweroside on human MG-63 cells and rat osteoblasts.[Pubmed:
23201331
]
Herbal Fructus Corni is a folk medicine with a long history of safe use for treating osteoporosis in postmenopausal women or elderly men in Asia. Sweroside is a bioactive herbal ingredient isolated from Fructus Corni, which has been widely used for the treatment of osteoporosis in traditional Chinese medicine (TCM). Unfortunately, the working mechanisms of this compound are difficult to determine and thus remain unclear.
METHODS AND RESULTS:
The aim of the study was performed to determine the potential molecular mechanism of the anti-osteoporotic effect of Sweroside on the human MG-63 cells and rat osteoblasts. 3-(4,5-dimethylthiazol-2-yl)-2,5-diphenyltetrazolium bromide (MTT) test was used to observe the effect of Sweroside on cell proliferation. The activity of alkaline phosphatase (ALP) and the amount of osteocalcin were also assayed the cell differentiation. Sweroside significantly increased the proliferation of human MG-63 cells and rat osteoblasts (P<0.01). It increased the activity of ALP, and osteocalcin was also elevated in response to Sweroside (P<0.05). Of note, flowcytometer assay showed that Sweroside can attenuate and inhibit apoptosis. Sweroside has a direct osteogenic effect on the proliferation and differentiation of cultured human MG-63 cells and rat osteoblasts in vitro. These data will help in understanding the molecular mechanisms of therapeutic efficacy of Sweroside, and highlight insights into drug discovery.
CONCLUSIONS:
In the current study, Sweroside has been suggested to be a promising osteoporosis therapeutic natural product.
Biochem Cell Biol. 2016 Jun;94(3):270-8.
Gentiopicroside and sweroside from Veratrilla baillonii Franch. induce phosphorylation of Akt and suppress Pck1 expression in hepatoma cells.[Pubmed:
27248905
]
The use of phytochemicals and herbal medicines has accompanied human history. Advances in modern biomedical sciences have allowed us to investigate the functional mechanisms of herbal medicines and phytochemicals. Veratrilla baillonii Franch. has long been used as a medicinal herb in southwestern China.
METHODS AND RESULTS:
Here, we analyzed the effects of an ethanol extract from V. baillonii (VBFE) on the expression levels of the cytosolic form of the phosphoenolpyruvate carboxykinase gene (Pck1) mRNA and components of the insulin signalling cascade in HL1C hepatoma cells. Compared with the insulin control, VBFE treatment inhibited the expression of Pck1 mRNA in a dose-dependent manner. This was associated with the phosphorylation of Akt and Erk1/2 in a time-dependent manner. Further analysis of the purified components of VBFE indicated that gentiopicroside and Sweroside from VBFE, alone and in combination, suppressed Pck1 expression and induced Akt and Erk1/2 phosphorylation.
CONCLUSIONS:
In conclusion, gentiopicroside and Sweroside suppress Pck1 expression and induce phosphorylation of components in the insulin signalling cascade. This is the first study to demonstrate that gentiopicroside and Sweroside show insulin-mimicking effects on the regulation of Pck1 expression. Further studies are warranted to explore the potential of gentiopicroside and Sweroside in the control of blood glucose in animals.