Epivogeloside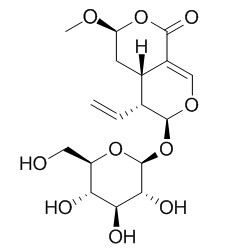 Epivogeloside is a product from Lonicera japonica.
Inquire / Order: manager@chemfaces.com
Technical Inquiries: service@chemfaces.com
Tel: +86-27-84237783
Fax: +86-27-84254680

Address:
1 Building, No. 83, CheCheng Rd., Wuhan Economic and Technological Development Zone, Wuhan, Hubei 430056, PRC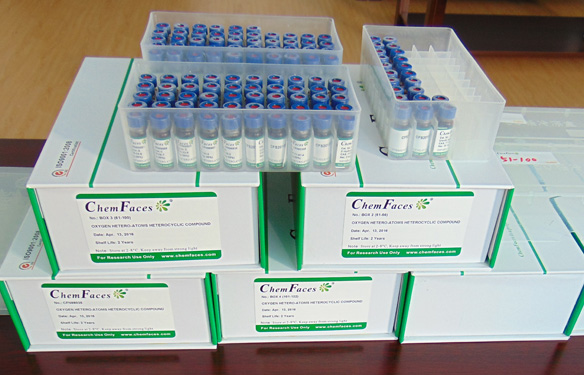 Providing storage is as stated on the product vial and the vial is kept tightly sealed, the product can be stored for up to
24 months(2-8C)
.
Wherever possible, you should prepare and use solutions on the same day. However, if you need to make up stock solutions in advance, we recommend that you store the solution as aliquots in tightly sealed vials at -20C. Generally, these will be useable for up to two weeks. Before use, and prior to opening the vial we recommend that you allow your product to equilibrate to room temperature for at least 1 hour.
Need more advice on solubility, usage and handling? Please email to: service@chemfaces.com
The packaging of the product may have turned upside down during transportation, resulting in the natural compounds adhering to the neck or cap of the vial. take the vial out of its packaging and gently shake to let the compounds fall to the bottom of the vial. for liquid products, centrifuge at 200-500 RPM to gather the liquid at the bottom of the vial. try to avoid loss or contamination during handling.
J Chromatogr B Analyt Technol Biomed Life Sci.2019, 1113:1-13
Sci Rep.2017, 7:40345
J Sep Sci.2018, 41(7):1682-1690
Nat Commun.2019, 10(1):2745
Molecules.2018, 23(10):E2638
Molecules.2018, 23(12):E3103
Mol Immunol. 2016, 78:121-132
Biomed Chromatogr.2019, 8:e4774
Plant Cell,Tissue & Organ Culture2016, 127(1):115-121
Br J Pharmacol.2018, 175(6):902-923
Nat Prod Commun. 2009 Jul;4(7):907-10.
Phytochemical characterization of the leaves of Mitragyna speciosa grown in U.S.A.[Pubmed:
19731590
]
Mitragyna speciosa (Rubiaceae) has traditionally been used in the tropical regions of Asia, Africa and Indonesia as a substitute for opium. Indole alkaloids are the most common compounds that have been isolated.
METHODS AND RESULTS:
We investigated the constituents of the leaves of M. speciosa that was grown at the University of Mississippi. Several alkaloids were isolated, including ajmalicine, corynantheidine, isomitraphylline, mitraphylline, paynantheine, isocorynantheidine, 7-hydroxymitragynine and mitragynine, but their percentages were lower than those in a commercial Thai sample of "kratom". In addition, we isolated the flavonoid epicatechin, a saponin daucosterol, the triterpenoid saponins quinovic acid 3-O-beta-D-quinovopyranoside, quinovic acid 3-O-beta-D-glucopyranoside, as well as several glycoside derivatives including 1-O-feruloyl-beta-D-glucopyranoside, benzyl-beta-D-glucopyranoside, 3-oxo-alpha-ionyl-O-beta-D-glucopyranoside, roseoside, vogeloside, and Epivogeloside.
CONCLUSIONS:
This is the first report of the last group of compounds having been isolated from a Mitragyna species. Biological studies are currently underway to test these compounds for opioid activity.