Rubiadin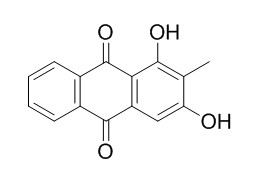 Rubiadin has hepatoprotective, antioxidant, and antitumor promoting effects. Rubiadin can decrease bone loss through the inhibition of osteoclast formation,differentiation and bone resorption.
Inquire / Order: manager@chemfaces.com
Technical Inquiries: service@chemfaces.com
Tel: +86-27-84237783
Fax: +86-27-84254680

Address:
1 Building, No. 83, CheCheng Rd., Wuhan Economic and Technological Development Zone, Wuhan, Hubei 430056, PRC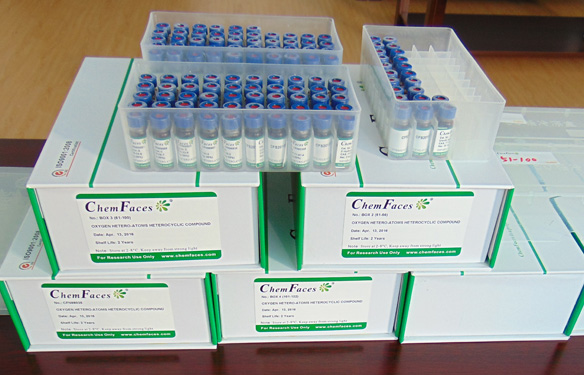 Providing storage is as stated on the product vial and the vial is kept tightly sealed, the product can be stored for up to
24 months(2-8C)
.
Wherever possible, you should prepare and use solutions on the same day. However, if you need to make up stock solutions in advance, we recommend that you store the solution as aliquots in tightly sealed vials at -20C. Generally, these will be useable for up to two weeks. Before use, and prior to opening the vial we recommend that you allow your product to equilibrate to room temperature for at least 1 hour.
Need more advice on solubility, usage and handling? Please email to: service@chemfaces.com
The packaging of the product may have turned upside down during transportation, resulting in the natural compounds adhering to the neck or cap of the vial. take the vial out of its packaging and gently shake to let the compounds fall to the bottom of the vial. for liquid products, centrifuge at 200-500 RPM to gather the liquid at the bottom of the vial. try to avoid loss or contamination during handling.
Molecules.2019, 24(6):E1177
J Clin Med.2019, 8(10):E1664
J. of Med. Plant Research.2013, 90-151
Antioxidants (Basel).2019, 8(8):E307
Bio-protocol2018, 9(14):e3301
J Mol Recognit.2020, 33(2):e2819
Front Pharmacol.2019, 10:1025
Nutrients.2019, 12(1):E40
Evid Based Complement Alternat Med.2016, 2016:4357656
Analytical methods2019, 11(6)
Photodiagnosis Photodyn Ther. 2014 Jun;11(2):182-92.
Photochemotherapy using natural anthraquinones: Rubiadin and Soranjidiol sensitize human cancer cell to die by apoptosis.[Pubmed:
24561303
]
Over the past decade the science has studied synthetic photosensitizers used in photodynamic therapy (PDT) or photochemotherapy as anticancer candidates. In this context, compounds extracted from vegetable species present interesting potential in the cancer field.
METHODS AND RESULTS:
In our laboratory, we studied Heterophyllaea pustulata a phototoxic shrub that habit the northwest of Argentina. From this vegetal, by in vitro germination, we obtained Rubiadin and Soranjidiol, two anthraquinones that exhibited significant photocytotoxicity on human cancer cells. In addition, the fraction obtained from callus cultures allowed us to get a satisfactory content of these compounds compared to those found from the original plant. Under PDT regimen, we found that cell destruction resulted in a dose-dependent manner and occasioned apoptosis on photosensitized cells. Biochemical analysis revealed the involvement of caspase-3, PARP cleavage and DNA fragmentation in Rubiadin induced apoptosis. Moreover, Soranjidiol-PDT led to μ-calpain-induced apoptosis involving caspases-3-independent DNA fragmentation. We also showed that both anthraquinones are cytoplasmatically distributed and out of nucleus. In addition, we demonstrated a synergic cytotoxic effect when we combined them.
CONCLUSIONS:
Our data demonstrated that Rubiadin and Soranjidiol could be further considered as natural photocytotoxic compounds against cancer cells and callus cultures are a plausible source of these anthraquinonic compounds.
Med Chem. 2011 Nov;7(6):639-44.
Free radical scanvenging and antioxidant effects of some anthraquinone derivatives.[Pubmed:
22313303
]

METHODS AND RESULTS:
In this study, the screening of five anthraquinones (purpurin, xanthopurpurin, Rubiadin, kermisic acid and flavokermisic acid), for their free radical scavenging and antioxidant effects was carried out, using three complementary methods. DPPH (2,2'-diphenyl-1-picrylhydrazyl) revealed that purpurin has a scavenging effect with IC50 = 3.491 ± 0.014 µg/ml. Results of β-carotene/linoleic acid assay showed that kermisic and flavokermisic acids have significant inhibition of lipid peroxidation with I % = 76.1 ± 1.5% and 68.6 ± 2.5%, respectively. In addition, the ferrous ion chelating test showed that only purpurin, with small concentrations, interferes in a dose dependant manner with the formation of Fe2+-ferrozine complex.
CONCLUSIONS:
These results are promising for further studies of the biological and pathological effects of these natural products.
Asia-Pacific Journal of Molecular Biology and Biotechnology, 2003, 11(1):3-7.
Antitumor promoting and actioxidant activities of anthraquinones isolated from the cell suspension culture of Morinda elliptica[Reference:
WebLink
]
Six anthraquinones (nordamnacanthal, alizarin-1-methyl ether, Rubiadin, soranjidiol, lucidin-ω-methyl ether and morindone) isolated from the cell suspension culture of Morinda elliptica were assayed for antitumor promoting and antioxidant activities.
METHODS AND RESULTS:
All compounds exhibited strong antitumor promoting activity at the concentration of 2.0 μg/ml when assayed using the inhibition test of Epstein Barr Virus (EBV) activation on Raji cells. At the concentration of 0.4 μg/ml, only nordamnacanthal exhibited strong antitumor promoting activity with the inhibition rate and the cell viability of 75.0% and 75.8%, respectively, which was stronger than the reference compounds genistein and quercetin. In antioxidant assay using ferric thiocyanate (FTC) method, nordamnacanthal and morindone showed stronger antioxidant activity than α-tocopherol. However when the compounds were assayed for scavenging activity of the stable 1,1-diphenyl-2-picrylhydrazyl (DPPH) free radicals, only morindone was considered to be active as free radical scavenger with fifty percent inhibition concentration (IC50) of 40.6 μg/ml.
Pharmaceutical Journal of Chinese Peoples Liberation Army, 2009, 25(6):505-9.
Effects of Rubiadin from Morinda officinalis on Osteoclastic Bone Resorption[Reference:
WebLink
]
To investigate the cellular mechanism of Rubiadin inhibitory effects on bone resorption.
METHODS AND RESULTS:
Multinucleated osteoclasts were induced by 1,25-dihydroxyvitamine D 3 and dexamethasone from bone marrow cells and cocultured with primary osteoblastic cells.The activity of TRAP was measured by p-nitrophenyl sodium phosphate assay.The bone resorption pit area on the bone slices formed by osteoclast was measured by computer image processing.The cathepsin K was measured by fluorescence microplate reader. At the concentration of 0.1,1 and 10μmol · L-1,Rubiadin dose-dependently suppressed the formation of TRAP-positive multinucleated cells,the TRAP activity and the osteoclastic bone resorption.
CONCLUSIONS:
Rubiadin can decrease bone loss through the inhibition of osteoclast formation,differentiation and bone resorption.