3'-Hydroxy-5,7,4',5'-Tetramethoxyflavone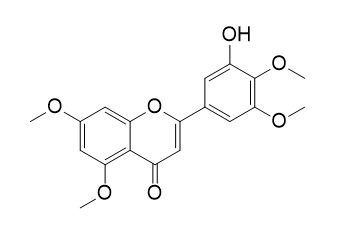 Inquire / Order: manager@chemfaces.com
Technical Inquiries: service@chemfaces.com
Tel: +86-27-84237783
Fax: +86-27-84254680

Address:
1 Building, No. 83, CheCheng Rd., Wuhan Economic and Technological Development Zone, Wuhan, Hubei 430056, PRC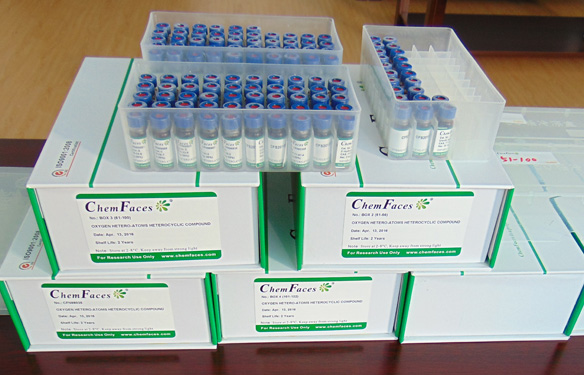 Providing storage is as stated on the product vial and the vial is kept tightly sealed, the product can be stored for up to
24 months(2-8C)
.
Wherever possible, you should prepare and use solutions on the same day. However, if you need to make up stock solutions in advance, we recommend that you store the solution as aliquots in tightly sealed vials at -20C. Generally, these will be useable for up to two weeks. Before use, and prior to opening the vial we recommend that you allow your product to equilibrate to room temperature for at least 1 hour.
Need more advice on solubility, usage and handling? Please email to: service@chemfaces.com
The packaging of the product may have turned upside down during transportation, resulting in the natural compounds adhering to the neck or cap of the vial. take the vial out of its packaging and gently shake to let the compounds fall to the bottom of the vial. for liquid products, centrifuge at 200-500 RPM to gather the liquid at the bottom of the vial. try to avoid loss or contamination during handling.
Nutraceutical Research . 2021, 19(1),p90-105.
Molecules2021, 26(1),230
PLoS One.2022, 17(4):e0267007.
Korean Herb. Med. Inf.2020, 8(2):233-242.
Mol Divers.2022, s11030-022-10586-3.
Front Pharmacol.2021, 12:652860.
Eur Endod J.2020, 5(1):23-27.
Arch Toxicol.2017, 91(10):3225-3245
J Ethnopharmacol.2017, 206:327-336
Ann Transl Med.2019, 7(23):731
J Agric Food Chem . 2021 Apr 7;69(13):3879-3886.
Biotransformation of 5,7-Methoxyflavones by Selected Entomopathogenic Filamentous Fungi[Pubmed:
33780240
]
5,7-Dimethoxyflavone, a chrysin derivative, occurs in many plants and shows very low toxicity, even at high doses. On the basis of this phenomenon, we biotransformed a series of methoxy-derivatives of chrysin, apigenin, and tricetin obtained by chemical synthesis. We used entomopathogenic fungal strains with the confirmed ability of simultaneous hydroxylation/demethylation and glycosylation of flavonoid compounds. Both the amount and the place of attachment of the methoxy group influenced the biotransformation rate and the product's amount nascent. Based on product and semi-product structures, it can be concluded that they are the result of cascading transformations. Only in the case of 5,7,3',4',5'-pentamethoxyflavone, the strains were able to attach a sugar molecule in place of the methoxy substituent to give 3'-O-β-d-(4″-O-methylglucopyranosyl)-5,7,4',5'-tetramethoxyflavone. However, we observed the tested strains' ability to selectively demethylate/hydroxylate the carbon C-3' and C-4' of ring B of the substrates used. The structures of four hydroxyl-derivatives were determined: 4'-hydroxy-5,7-dimethoxyflavone, 3'-hydroxy-5,7-dimethoxyflavone, 3'-Hydroxy-5,7,4',5'-Tetramethoxyflavone, and 5,7-dimethoxy-3',4'-dihydroxyflavone (5,7-dimethoxy-luteolin).