Tessaric acid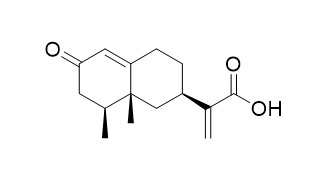 Tessaric acid has antifeedant and allelochemical effects. Tessaric acid derivatives induce G/M cell cycle arrest in human solid tumor cell lines.
Inquire / Order: manager@chemfaces.com
Technical Inquiries: service@chemfaces.com
Tel: +86-27-84237783
Fax: +86-27-84254680

Address:
1 Building, No. 83, CheCheng Rd., Wuhan Economic and Technological Development Zone, Wuhan, Hubei 430056, PRC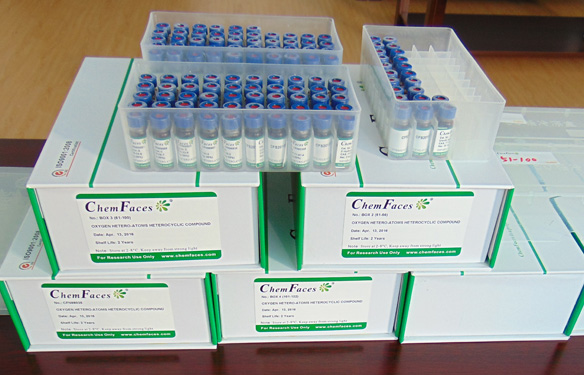 Providing storage is as stated on the product vial and the vial is kept tightly sealed, the product can be stored for up to
24 months(2-8C)
.
Wherever possible, you should prepare and use solutions on the same day. However, if you need to make up stock solutions in advance, we recommend that you store the solution as aliquots in tightly sealed vials at -20C. Generally, these will be useable for up to two weeks. Before use, and prior to opening the vial we recommend that you allow your product to equilibrate to room temperature for at least 1 hour.
Need more advice on solubility, usage and handling? Please email to: service@chemfaces.com
The packaging of the product may have turned upside down during transportation, resulting in the natural compounds adhering to the neck or cap of the vial. take the vial out of its packaging and gently shake to let the compounds fall to the bottom of the vial. for liquid products, centrifuge at 200-500 RPM to gather the liquid at the bottom of the vial. try to avoid loss or contamination during handling.
BMC Complement Altern Med.2018, 18(1):303
Exp Parasitol.2018, 194:67-78
Sci Rep.2018, 8(1):12970
Int. Conference on Med. Sci. and Bio.2017, 17973
Eur Endod J.2020, 5(1):23-27.
Nutrients.2019, 11(11):E2694
Phytomedicine.2015, 22(11):1027-36
Food Chem.2019, 274:345-350
Curr Issues Mol Biol.2022, 44(5):2300-2308.
J Chromatogr B Analyt Technol Biomed Life Sci.2019, 1126-1127:121743
Bioorg Med Chem. 2009 Sep 1;17(17):6251-6.
Tessaric acid derivatives induce G2/M cell cycle arrest in human solid tumor cell lines.[Pubmed:
19664930
]

METHODS AND RESULTS:
A series of analogs were synthesized in a straightforward manner from naturally available sesquiterpenes ilicic acid and Tessaric acid. The in vitro antiproliferative activities were examined in the human solid tumor cell lines A2780, HBL-100, HeLa, SW1573, T-47D and WiDr. The most potent analog induced considerably growth inhibition in the range 1.9-4.5 microM.
CONCLUSIONS:
Cell cycle studies for Tessaric acid derivatives indicated a prominent arrest of the cell cycle at the G(2)/M phase. Damage to the cells was permanent as determine by the so called 24+24 drug schedule.
Z Naturforsch C. 2005 Nov-Dec;60(11-12):855-61.
Antifeedant/insecticidal terpenes from asteraceae and labiatae species native to Argentinean semi-arid lands.[Pubmed:
16402545
]
To validate the potential as added-value resources of Asteraceae and Labiatae species of Argentinean semi-arid lands, we have selected 13 of their major terpenoids belonging to several chemical classes and tested their insect antifeedant and toxic activity on the herbivorous insects Spodoptera littoralis and Leptinotarsa decemlineata.
METHODS AND RESULTS:
The antifeedant effects of the test compounds were structure- and species-dependent. The most active antifeedant to L. decemlineata was the eudesmane sesquiterpene gamma-costic acid (13), followed by the labdane diterpene 2alpha,3alpha-dihydroxycativic acid (8), the clerodane diterpenes 6-acetylteucjaponin B (5), bacchotricuneatin A (1), bartemidiolide (7), butanolide (4), and the sesquiterpenes ilicic acid (11) and Tessaric acid (10) (eudesmane and eremophilane type, respectively). S. littoralis was only affected by the clerodanes and showed the strongest response to salviarin (3) and 5, followed by hawtriwaic acid (6) and 12-epi-bacchotricuneatin A (2).
CONCLUSIONS:
Orally injected S. littoralis larvae were negatively affected by 5. Most of the diterpenes had selective cytotoxic effects to insect-derived Sf9 cells with the clerodane 1 being the most active, followed by the eudesmane costic acid (12), the only cytotoxic sesquiterpene. None of these compounds was cytotoxic to mammalian CHO cells.
J Chem Ecol. 2003 Jan;29(1):175-87.
Allelochemical effects of eudesmane and eremophilane sesquiterpenes on Tribolium castaneum larvae.[Pubmed:
12647861
]

METHODS AND RESULTS:
Eight eudesmane and eremophilane sesquiterpenes administered to Tribolium castaneum larvae caused different allelochemical effects. Topical application of 3-oxo-gamma-costic acid produced the greatest lengthening in the duration of the pupal stage. Morphological deformities were found, specifically when ilicic, costic, and gamma-costic acids and costic aldehyde were used. Ilicic acid exhibited the major toxicity 72 hr following topical application. All compounds were significantly toxic at the end point of the experiment (60 days). Treated surface toxicity was lower than when topical assays were carried out.
CONCLUSIONS:
Responses to Tessaric acid in choice bioassays had the highest attractive effect. Maximum repellency was caused by the 3-oxo-gamma-costic acid. However, experimental series carried out using gamma-costic acid, eremophilan-1(10),2,11(13)-trien-12-oic acid, costic aldehyde, and ilicic aldehyde showed no clear response.