Neochlorogenic acid methyl ester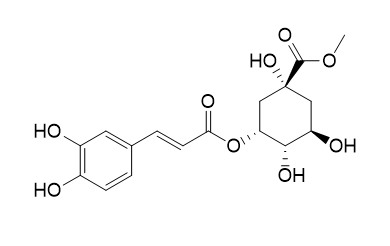 Neochlorogenic acid methyl ester shows anti-HBV, antioxidant and quinone reductase-inducing activities.
Inquire / Order: manager@chemfaces.com
Technical Inquiries: service@chemfaces.com
Tel: +86-27-84237783
Fax: +86-27-84254680

Address:
1 Building, No. 83, CheCheng Rd., Wuhan Economic and Technological Development Zone, Wuhan, Hubei 430056, PRC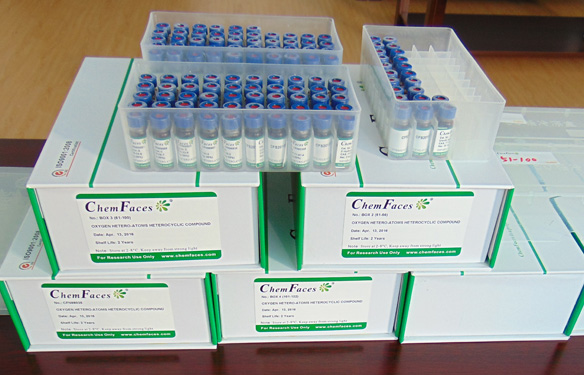 Providing storage is as stated on the product vial and the vial is kept tightly sealed, the product can be stored for up to
24 months(2-8C)
.
Wherever possible, you should prepare and use solutions on the same day. However, if you need to make up stock solutions in advance, we recommend that you store the solution as aliquots in tightly sealed vials at -20C. Generally, these will be useable for up to two weeks. Before use, and prior to opening the vial we recommend that you allow your product to equilibrate to room temperature for at least 1 hour.
Need more advice on solubility, usage and handling? Please email to: service@chemfaces.com
The packaging of the product may have turned upside down during transportation, resulting in the natural compounds adhering to the neck or cap of the vial. take the vial out of its packaging and gently shake to let the compounds fall to the bottom of the vial. for liquid products, centrifuge at 200-500 RPM to gather the liquid at the bottom of the vial. try to avoid loss or contamination during handling.
Plants (Basel).2020, 9(11):1555.
Molecules.2021, 26(16):4722.
ACS Synth Biol.2022, 11(10):3296-3304.
Trop J Nat Prod Res.2019, 3(1):6-9
J Pain Res.2022, 15:3469-3478.
Elife.2021, 10:e68058.
Biomedicines.2022, 10(3):583.
TCI CO.2019, US20190151257A1
Mediators Inflamm. 2016, 2016:6189590
Cell.2018, 172(1-2):249-261
J Ethnopharmacol. 2014 Oct 28;156:147-54.
UFLC/MS-IT-TOF guided isolation of anti-HBV active chlorogenic acid analogues from Artemisia capillaris as a traditional Chinese herb for the treatment of hepatitis.[Pubmed:
25219603
]
Hepatitis B induced by HBV is a serious health problem. Artemisia capillaris (Yin-Chen) has long been used to treat hepatitis in traditional Chinese medicine. Coumarins, flavonoids and organic acids were revealed as its hepatoprotective and choleretic components, but its anti-HBV active components remain unknown. This current study focused on its anti-HBV active constituents by various chromatographic methods.
METHODS AND RESULTS:
LC/MS and bioassay-guided fractionation on the active extract of Artemisia capillaris led to the isolation of nine chlorogenic acid analogues. Structures of the isolates were elucidated by MS/MS and NMR techniques. Anti-HBV assay was performed on HepG 2.2.15 cell line in vitro: reduction of HBsAg and HBeAg secretions was measured by an ELISA method; inhibition of HBV DNA replication was monitored by real-time quantitative PCR and cellular toxicity was assessed by a MTT method. The 90% ethanol extract of Artemisia capillaris (Fr. AC) showed significantly inhibitory activity on HBV DNA replication with an IC₅₀ value of 76.1 ± 3.9 μg/mL and low cytotoxic effects (SI>20.1). To clarify its active constituents, the extract was further separated into 3 sub-fractions (AC-1, AC-2 and AC-3), of which Fr. AC-2 was the most active fraction against HBeAg secretion and HBV DNA replication with IC50 values of 44.2 ± 2.8 and 23.2 ± 1.9 μg/mL. Nine chlorogenic acid analogues were detected from the active part (Fr. AC-2) by a LC/MS technique and further separated by a HPLC method. The isolates were determined as chlorogenic acid (1), cryptochlorogenic acid (2), neochlorogenic acid (3), 3,5-dicaffeoylquinic acid (4), 4,5-dicaffeoylquinic acid (5), 3,4-dicaffeoylquinic acid (6), chlorogenic acid methyl ester (7), cryptochlorogenic acid methyl ester (8), Neochlorogenic acid methyl ester (9). Compounds 1-6 possessed potent activity against HBV DNA replication with IC50 values in the range of 5.5 ± 0.9-13.7 ± 1.3 μM. Di-caffeoyl analogues (4-6) also exhibited activity against the secretions of HBsAg and HBeAg. Esterified analogues (7-9) showed dramatically decreased anti-HBV activity, indicating that carboxyl group is closely associated to the anti-HBV activity.
CONCLUSIONS:
This investigation was focused on the active fractions of Artemisia capillaris and their active compositions, which showed that Fr. AC-2 was the main active section of Artemisia capillaris and chlorogenic acid analogues were the main constituents contributing to its anti-HBV activity. These results support the ethnopharmacological use of Artemisia capillaris as anti-HBV agents.
J Agric Food Chem. 2012 Nov 21;60(46):11551-9.
Antioxidant and quinone reductase-inducing constituents of black chokeberry (Aronia melanocarpa) fruits.[Pubmed:
23131110
]

METHODS AND RESULTS:
Using in vitro hydroxyl radical-scavenging and quinone reductase-inducing assays, bioactivity-guided fractionation of an ethyl acetate-soluble extract of the fruits of the botanical dietary supplement, black chokeberry (Aronia melanocarpa), led to the isolation of 27 compounds, including a new depside, ethyl 2-[(3,4-dihydroxybenzoyloxy)-4,6-dihydroxyphenyl] acetate (1), along with 26 known compounds (2-27). The structures of the isolated compounds were identified by analysis of their physical and spectroscopic data ([α](D), NMR, IR, UV, and MS).
CONCLUSIONS:
Altogether, 17 compounds (1-4, 9, 15-17, and 19-27) showed significant antioxidant activity in the hydroxyl radical-scavenging assay, with hyperin (24, ED(50) = 0.17 μM) being the most potent. The new compound (1, ED(50) = 0.44 μM) also exhibited potent antioxidant activity in this assay. Three constituents of black chokeberry fruits doubled quinone reductase activity at concentrations <20 μM, namely, protocatechuic acid [9, concentration required to double quinone reductase activity (CD) = 4.3 μM], Neochlorogenic acid methyl ester (22, CD = 6.7 μM), and quercetin (23, CD = 3.1 μM).
Zhong Yao Cai. 2014 Jul;37(7):1190-3.
Caffeoylquinic acid derivatives from stems of Akebia trifoliata.[Pubmed:
25566654
]
To study the chemical constituents from Akebia trifoliata stems.
METHODS AND RESULTS:
The compounds were isolated and purified by column chromatography, and their structures were determined through spectroscopic techniques and physicochemical properties. Six compounds were isolated from the stems of Akebia trifolita and identified as cryptochlorogenic acid methyl ester (1), Neochlorogenic acid methyl ester (2), chlorogenic acid methyl ester (3), methyl 3,5-di-O-caffeoyl quinate (4), methyl 3,4-di-O-caffeoyl quinate (5) and methyl 4,5-di-O-caffeoyl quinate (6).
CONCLUSIONS:
All compounds are isolated from Akebia genus for the first time. Compounds 1,5 and 6 demonstrate obvious inhibitory activities against α-glucosidase.