Rhein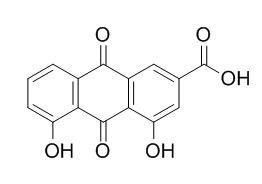 Rhein has many pharmacological effects, including epatoprotective, nephroprotective, anti-inflammatory, antioxidant, anticancer, and antimicrobial activities, it has been proved effective in treatment of experimental diabetic nephropathy , one of the mechanism is the Inhibition of the hexosamine pathway. Rhein has protective effect on liver injury, the mechanisms possibly contribute to its action of antioxidant and anti-inflammatory activity, also associated with its effect of inhibiting TGF-β1 and suppressing the activation of hepatic stellate cells.
Inquire / Order: manager@chemfaces.com
Technical Inquiries: service@chemfaces.com
Tel: +86-27-84237783
Fax: +86-27-84254680

Address:
1 Building, No. 83, CheCheng Rd., Wuhan Economic and Technological Development Zone, Wuhan, Hubei 430056, PRC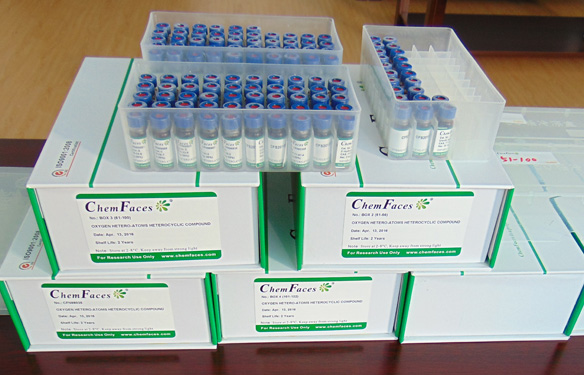 Providing storage is as stated on the product vial and the vial is kept tightly sealed, the product can be stored for up to
24 months(2-8C)
.
Wherever possible, you should prepare and use solutions on the same day. However, if you need to make up stock solutions in advance, we recommend that you store the solution as aliquots in tightly sealed vials at -20C. Generally, these will be useable for up to two weeks. Before use, and prior to opening the vial we recommend that you allow your product to equilibrate to room temperature for at least 1 hour.
Need more advice on solubility, usage and handling? Please email to: service@chemfaces.com
The packaging of the product may have turned upside down during transportation, resulting in the natural compounds adhering to the neck or cap of the vial. take the vial out of its packaging and gently shake to let the compounds fall to the bottom of the vial. for liquid products, centrifuge at 200-500 RPM to gather the liquid at the bottom of the vial. try to avoid loss or contamination during handling.
Biofactors.2018, 44(2):168-179
Biochem Biophys Res Commun.2020, 522(4):1052-1058
Food Funct.2021, 12(4):1469-1481.
Phytomedicine.2019, 61:152813
Front. Physiol.2022, 790345.
J Pain Res.2022, 15:3469-3478.
Molecules.2019, 25(1):E103
Phytomedicine.2019, 62:152962
J Cell Mol Med.2018, 22(9):4236-4242
Antioxidants (Basel).2021, 10(10):1638.
Phytother Res. 2015 Mar;29(3):407-14.
Anti-fibrotic and Anti-tumorigenic Effects of Rhein, a Natural Anthraquinone Derivative, in Mammalian Stellate and Carcinoma Cells.[Pubmed:
25510440
]
Anthraquinone compounds have been recognized to possess antiinflammatory, anti-fibrotic and anti-tumour properties and thus applied in human and veterinary therapeutics as active substances of medicinal products. Amongst the anthraquinones isolated from Rheum palmatum, also known as da-huang, Rhein was detected as one of the highest metabolite contents in the bloodstream of mammals. The biological activities of Rhein therefore deserve detailed investigation.
METHODS AND RESULTS:
In this study, we aimed to delineate the mechanism of inhibitory actions of Rhein on fibrotic and tumorigenic processes by means of various biochemical assays, such as immunofluorescent staining, real-time polymerase chain reaction (PCR) and western blotting analyses in rat pancreatic stellate cells (LTC-14), human pancreatic ductal adenocarcinoma cells (PANC-1) and human colon carcinoma cells (SW480 and SW620). Our results demonstrated that the application of Rhein notably suppressed the mRNA and protein levels of various fibrotic and tumorigenic mediators including alpha-smooth muscle actin, type I collagen, fibronectin, N-cadherin and matrix metalloproteinases in the testing mammalian cells. The mechanism of the suppressive actions of Rhein was associated with the modulation of the sonic hedgehog and serine-threonine kinase signalling pathways.
CONCLUSIONS:
In conclusion, we suggest that Rhein may serve as a therapeutic or an adjuvant agent in anti-fibrotic and anti-tumorigenic approaches.
Inflammation, 2003, 27(4):233-46.
Rhein inhibits interleukin-1 beta-induced activation of MEK/ERK pathway and DNA binding of NF-kappa B and AP-1 in chondrocytes cultured in hypoxia: a potential mechanism for its disease-modifying effect in osteoarthritis.[Pubmed:
14527176
]

METHODS AND RESULTS:
In the present report, we show that bovine articular chondrocytes cultured in low oxygen tension, i.e. in conditions mimicking their hypoxic in vivo environment, respond to IL-1beta (10 ng/mL) by an increased DNA binding activity of NF-kappaB and AP-1 transcription factors. Incubation of the cells with 10(-5) M Rhein for 24 h was found to reduce this activity, particularly in the case of AP-1. Mitogen activated kinases (ERK-1 and ERK-2) were activated by exposure of the chondrocytes to 1-h treatment with IL-1beta. This effect was greater in hypoxia (3% O2) than in normoxia (21% O2). Rhein was capable of reducing the IL-1beta-stimulated ERK1/ERK2 pathway whatever the tension of oxygen present in the environment. The level of c-jun protein, an element of AP-1 complex, was increased by exposure of the chondrocytes to IL-1beta after 2, 6, and 24 h. Addition of Rhein at 10(-5) M for 24 h did not reduce the c-jun protein amount. The mRNA steady-state levels of collagen type II (COL2A1) and aggrecan core protein were found to be significantly increased by a 24-h treatment with 10(-5) M Rhein. This stimulating effect was also observed in the presence of IL-1beta, suggesting that the drug could prevent or reduce the IL-1beta-induced inhibition of extracellular matrix synthesis. IL-1-induced collagenase (MMPI) expression was significantly decreased by Rhein in the same conditions. In conclusion, Rhein can effectively inhibit the IL-1-activated MAPK pathway and the binding of NF-kappaB and AP-1 transcription factors, two key factors involved in the expression of several proinflammatory genes by chondrocytes. In addition, the drug can reduce the procatabolic effect of the cytokine, by reducing the MMPI synthesis, and enhance the synthesis of matrix components, such as type II collagen and aggrecan.
CONCLUSIONS:
These results may explain the antiosteoarthritic properties of Rhein and its disease-modifying effects on OA cartilage, in spite of absence of inhibition at prostaglandin level.
Acta Pharmacol Sin. 2002 Aug;23(8):739-44.
Rhein inhibits liver fibrosis induced by carbon tetrachloride in rats.[Pubmed:
12147197
]
To investigate the effect of Rhein on liver fibrosis induced by the exposure of carbon tetrachloride (CCl4)/ethanol in rats.
METHODS AND RESULTS:
Male Wistar rats were divided into four study groups (n=10 each group): healthy controls, CCl4/ethanol-injured rats left untreated, and CCl4/ethanol-injured rats treated with Rhein of low-dose (25 mg/kg) and high-dose (100 mg/kg). Rhein was given once a day since rat received CCl4/ethanol injury. After administration of Rhein for 6 weeks rats were killed. The following parameters were determined: the activity of alanine aminotransferase (ALT), hyalauronic acid (HA) and procollagen type III (PC-III) concentrations in serum, liver malondialdehyde (MDA) level, the degree of liver fibrosis, and the expression of alpha-smooth muscle actin (alpha-SMA) and transforming growth factor-beta1 (TGF-beta1) in liver tissue. The treatment of Rhein markedly reduced the ALT activity, HA and PC-III concentrations, and liver MDA level in CCl4/ethanol-injured rats (P<0.01). It also improved significantly histological changes of fibrosis and decreased the expression of alpha-SMA and TGF-beta1 in liver of these rats (P<0.05 or P<0.01).
CONCLUSIONS:
Rhein has protective effect on liver injury and can inhibit liver fibrosis induced by CCl4/ethanol in rats. The mechanisms possibly contribute to its action of antioxidant and anti-inflammatory activity, also associated with its effect of inhibiting TGF-beta1 and suppressing the activation of hepatic stellate cells.
Anticancer Res. 2009 Jan;29(1):309-18.
The roles of endoplasmic reticulum stress and Ca2+ on rhein-induced apoptosis in A-549 human lung cancer cells.[Pubmed:
19331167
]
Although Rhein has been shown to induce apoptosis in several cancer cell lines, the mechanism of action of Rhein-induced cell cycle arrest and apoptosis at the molecular level is not well known.
METHODS AND RESULTS:
In this study, the mechanism of Rhein action on A-549 human lung cancer cells was investigated. Rhein induced G0/G1 arrest through inhibition of cyclin D3, Cdk4 and Cdk6. The efficacious induction of apoptosis was observed at 50 microM for 12 h and up to 72 h as examined by a flow cytometric method. Flow cytometric analysis demonstrated that Rhein increased the levels of GADD153 and GRP78, both hallmarks of endoplasmic reticulum stress, promoted ROS and Ca2+ production, induced the loss of mitochondrial membrane potential (delta psi(m)), promoted cytochrome c release from mitochondria, promoted capase-3 activation and led to apoptosis. Rhein also increased the levels of p53, p21 and Bax but reduced the level of Bcl-2. The Ca2+ chelator BAPTA was added to the cells before Rhein treatment, thus blocking the Ca2+ production and inhibiting Rhein-induced apoptosis in A-549 cells.
CONCLUSIONS:
Our data demonstrate that Rhein induces apoptosis in A-549 cells via a Ca2+ -dependent mitochondrial pathway.
Planta Med. 2015 Mar;81(4):279-85.
Anti-hyperuricemic and nephroprotective effects of rhein in hyperuricemic mice.[Pubmed:
25760382
]
Hyperuricemia has been considered to be a key risk factor for kidney disease. The formation of uric acid crystals in the kidney further stimulates an intensive inflammatory response. Rhein possesses various pharmacological activities, including anti-inflammatory, antioxidative, antitumor, purgative effects, and so on. To our knowledge, no previous work has been reported about the therapeutic effect of Rhein on urate nephropathy.
METHODS AND RESULTS:
In this study, a model of hyperuricemia and nephropathy induced by adenine and ethambutol in mice was established. Meanwhile, the potential beneficial effects and mechanisms of Rhein on hyperuricemia and nephropathy were also investigated. The results demonstrated that Rhein significantly decreased the serum uric acid level by inhibiting the xanthine oxidase activity and increasing the excretion of urinary uric acid. In addition, Rhein also markedly improved kidney damage related to hyperuricemia. Further investigation indicated that Rhein improved the symptoms of nephropathy through decreasing the production of proinflammatory cytokines, including interleukin 1β, prostaglandin E2, and tumor necrosis factor-α and inhibiting the expression of transforming growth factor-β1.
CONCLUSIONS:
The present study suggests that Rhein may have a considerable potential for development as an anti-hyperuricemic and nephroprotective agent for clinical application.