Rhein-8-glucoside
Rhein-8-glucoside has low laxative activity.
Inquire / Order: manager@chemfaces.com
Technical Inquiries: service@chemfaces.com
Tel: +86-27-84237783
Fax: +86-27-84254680

Address:
1 Building, No. 83, CheCheng Rd., Wuhan Economic and Technological Development Zone, Wuhan, Hubei 430056, PRC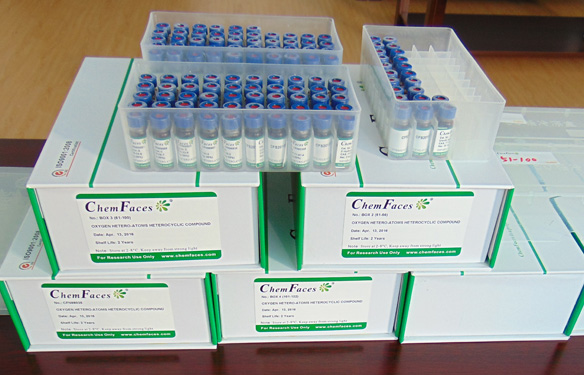 Providing storage is as stated on the product vial and the vial is kept tightly sealed, the product can be stored for up to
24 months(2-8C)
.
Wherever possible, you should prepare and use solutions on the same day. However, if you need to make up stock solutions in advance, we recommend that you store the solution as aliquots in tightly sealed vials at -20C. Generally, these will be useable for up to two weeks. Before use, and prior to opening the vial we recommend that you allow your product to equilibrate to room temperature for at least 1 hour.
Need more advice on solubility, usage and handling? Please email to: service@chemfaces.com
The packaging of the product may have turned upside down during transportation, resulting in the natural compounds adhering to the neck or cap of the vial. take the vial out of its packaging and gently shake to let the compounds fall to the bottom of the vial. for liquid products, centrifuge at 200-500 RPM to gather the liquid at the bottom of the vial. try to avoid loss or contamination during handling.
Biomed Chromatogr.2020, e5021.
Int J Mol Sci.2017, 19(1)
Cell Prolif.2021, 54(8):e13083.
Int J Mol Sci.2022, 23(10):5468.
Functional Ecology2020, doi: 10.1111.
Phytomedicine Plus2022, 2(1):100207.
Molecules.2021, 26(3):695.
Int J Oncol.2019, 55(1):320-330
Cells.2022, 11(8), 1311.
Sci Rep.2019, 9(1):4646
Pharmacology. 1988;36 Suppl 1:138-43.
New aspects on the metabolism of the sennosides.[Pubmed:
3368512
]
Pure sennoside B was administered to rats. On appearance of the first wet faeces, sennoside B and its metabolites were determined in different parts of the alimentary tract, in faeces and in the urine.
METHODS AND RESULTS:
The total recovery of unchanged sennoside B and its metabolites was determined by alkali fusion followed by colorimetry and high-pressure liquid chromatography (HPLC). Alkali fusion in 1 N sodium hydroxide solution formed red solutions with sennosides and sennoside derivatives. The molar absorbance of sennosides A and B, sennidin B monoglucoside, sennidins, rhein, danthron, dithranol, Rhein-8-glucoside and rhein anthrone at wavelengths of 505-530 nm related approximately to the number of ionizable hydroxy groups in the molecule. Brown polymerized products were isolated from the senna drug. The colour intensity of these products was approximately the same by weight as that of the sennosides themselves, although sennidins could no longer be freed from these by acid hydrolysis. After administration of sennoside B, the average sum of unchanged glucoside and known metabolites in different parts of the gastrointestinal tract and faeces of rats was 61.6% according to HPLC and 92.8% according to the alkali fusion procedure.
CONCLUSIONS:
This difference is indicative of the presence of substances which are no longer identifiable as sennoside derivatives, either by HPLC or by other classical chromatographic methods. Sennosides seem to be partly present in the alimentary tract in polymerized or bound form. The alkali fusion method may be useful in connection with the isolation of as yet unknown metabolites of the sennosides in the gastrointestinal tract.
Pharmacol Toxicol. 1987 Aug;61(2):153-6.
Laxative potency and acute toxicity of some anthraquinone derivatives, senna extracts and fractions of senna extracts.[Pubmed:
3671329
]
This paper investigates the laxative effect and acute toxicity of certain fractions of senna extracts in mice.
METHODS AND RESULTS:
The same tests were also carried out with several pure anthraquinone derivatives common in senna pods. The results show that the laxative and toxic components of senna pods and senna extracts can be separated. The most potent laxative components, sennosides A + B and Fraction V (relative potencies 1 and 0.9 respectively), have the lowest toxicity (relative intravenous toxicities 1 and less than 1).
CONCLUSIONS:
Fractions with very low laxative activity (Rhein-8-glucoside and Fraction IV, relative potencies 0.56 and 0.05) have the highest acute toxicity (relative toxicities 10 and 32 respectively).