Laccaic acid E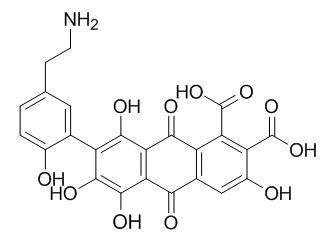 Laccaic acids A, B and E as coloring matters in the examined preparations of lac-dye.
Inquire / Order: manager@chemfaces.com
Technical Inquiries: service@chemfaces.com
Tel: +86-27-84237783
Fax: +86-27-84254680

Address:
1 Building, No. 83, CheCheng Rd., Wuhan Economic and Technological Development Zone, Wuhan, Hubei 430056, PRC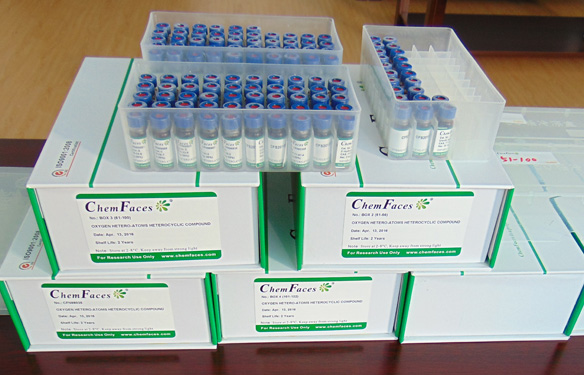 Providing storage is as stated on the product vial and the vial is kept tightly sealed, the product can be stored for up to
24 months(2-8C)
.
Wherever possible, you should prepare and use solutions on the same day. However, if you need to make up stock solutions in advance, we recommend that you store the solution as aliquots in tightly sealed vials at -20C. Generally, these will be useable for up to two weeks. Before use, and prior to opening the vial we recommend that you allow your product to equilibrate to room temperature for at least 1 hour.
Need more advice on solubility, usage and handling? Please email to: service@chemfaces.com
The packaging of the product may have turned upside down during transportation, resulting in the natural compounds adhering to the neck or cap of the vial. take the vial out of its packaging and gently shake to let the compounds fall to the bottom of the vial. for liquid products, centrifuge at 200-500 RPM to gather the liquid at the bottom of the vial. try to avoid loss or contamination during handling.
Evid Based Complement Alternat Med.2020, 2020:9416962.
J Biochem Mol Toxicol.2021, 35(5):e22731.
Auburn University2015, 1-58
Mol Biol Rep.2022, doi: 10.1007
Oncotarget.2016, 8(51):88386-88400
Int J Mol Sci.2019, 20(3):E651
Molecules.2021, 26(2):E255.
Evid Based Complement Alternat Med.2022, 9767292,2.
Phytomedicine.2018, 40:37-47
Biochemical Systematics and Ecology2018, 81
Shokuhin Eiseigaku Zasshi. 2002 Apr;43(2):110-3.
Analysis of lac color in diets and feces of rats for toxicity studies.[Pubmed:
12092412
]

METHODS AND RESULTS:
An analytical method was developed for lac color in diets fed to rats and in the feces, and the contents of lac color were determined. After lac color was extracted with 0.05% sodium carbonate and 50% ethanol containing 0.02% sodium lauryl sulfate from the diets and feces, the extracted color solutions were analyzed by HPLC. The recoveries of lac color from diets spiked at 1.25, 5.00% and that from feces spiked at 5.00% were 85.6, 93.4% and 69.5%, respectively. Contents of lac color in diets prepared to contain 1.25 and 5.00% were 1.1 and 5.2%, and dose levels were confirmed by these results. Contents of lac color in feces of male and female rats given lac color were 127.8 mg/g and 138.6 mg/g, respectively.
CONCLUSIONS:
By comparing the HPLC chromatograms of laccaic acids in the diet with those in feces of rats, laccaic acid A, laccaic acid B, laccaic acid C and Laccaic acid E were detected in both, and their content ratios were approximately determined.
J Mass Spectrom. 2003 Dec;38(12):1252-8.
Identification of anthraquinone coloring matters in natural red dyes by electrospray mass spectrometry coupled to capillary electrophoresis.[Pubmed:
14696204
]

METHODS AND RESULTS:
Capillary electrophoresis with UV/visible diode-array detection (DAD) and electrospray mass spectrometric (ESI-MS) detection were used for the identification of anthraquinone color components of cochineal, lac-dye and madder, natural red dyestuffs often used by ancient painters. For the purpose of such analysis, ESI-MS was found to be a much more appropriate detection technique than DAD one owing to its higher sensitivity (detection limits in the range 0.1-0.5 micro g ml(-1)) and selectivity. The method developed made it possible to identify unequivocally carminic acid and laccaic acid A, laccaic acid B and Laccaic acid E as coloring matters in the examined preparations of cochineal and lac-dye, respectively. In madder, European Rubia tinctorum, alizarin and purpurin were found.
CONCLUSIONS:
The method allows the rapid, direct and straightforward identification and quantification of components of natural products used in art and could be very helpful in restoration and conservation procedures.