Phyllanthusiin C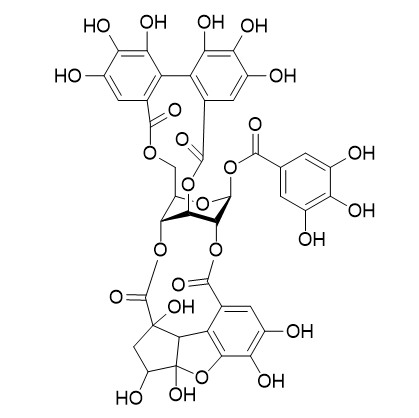 Reference standards.
Inquire / Order: manager@chemfaces.com
Technical Inquiries: service@chemfaces.com
Tel: +86-27-84237783
Fax: +86-27-84254680

Address:
1 Building, No. 83, CheCheng Rd., Wuhan Economic and Technological Development Zone, Wuhan, Hubei 430056, PRC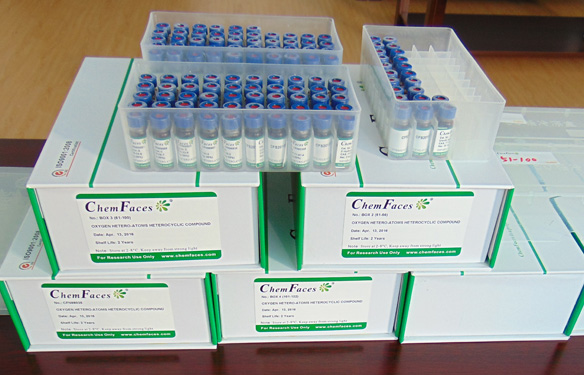 Providing storage is as stated on the product vial and the vial is kept tightly sealed, the product can be stored for up to
24 months(2-8C)
.
Wherever possible, you should prepare and use solutions on the same day. However, if you need to make up stock solutions in advance, we recommend that you store the solution as aliquots in tightly sealed vials at -20C. Generally, these will be useable for up to two weeks. Before use, and prior to opening the vial we recommend that you allow your product to equilibrate to room temperature for at least 1 hour.
Need more advice on solubility, usage and handling? Please email to: service@chemfaces.com
The packaging of the product may have turned upside down during transportation, resulting in the natural compounds adhering to the neck or cap of the vial. take the vial out of its packaging and gently shake to let the compounds fall to the bottom of the vial. for liquid products, centrifuge at 200-500 RPM to gather the liquid at the bottom of the vial. try to avoid loss or contamination during handling.
Int J Mol Sci.2020, 21(24):9369.
Front Pharmacol.2021, 12:607403.
J. of Agricultural Science2015, 1916-9760
VNU Journal of Science: Med.& Pharm. Sci.2022, 38(2):2588-1132.
Phytochemistry.2021, 181:112539.
Research on Crops.2017, 18(2)
Institute of Food Science & Technology2021, 56(11).
Int J Mol Sci.2019, 20(9):E2244
Applied Biological Chemistry2020, 63:33(2020)
Nutrients.2018, 10(10)
Complementary Medicine Research, 2009.
Phyllanthus urinaria Increases Apoptosis and Reduces Telomerase Activity in Human Nasopharyngeal Carcinoma Cells.[Reference:
WebLink
]
This study was designed to obtain the chemical fingerprint and to investigate the effect of Phyllanthus urinaria on telomerase activity and apoptotic pathways in the human nasopharyngeal carcinoma cell line (NPC-BM1).
METHODS AND RESULTS:
The polyphenol compounds in P. urinaria were investigated by HPLC/MS. Cell viability with the treatment of P. urinaria, gallic acid, ellagic acid, quercetin and cisplatin was detected by MTT assay. TUNEL assay, DNA fragmentation analysis and caspase3 activity were used to confirm apoptotic changes. Telomerase activity was determined using the TRAP assay. RNA isolation and RT-PCR were used to analyze the related genes expression. All experiments on treatments with P. urinaria from 0–3 mg/ml were carried out for 24 h. 5 major compounds including gallic acid, brevifolin carboxylic acid, corilagin, Phyllanthusiin C and ellagic acid were identified as a plant fingerprint by HPLC/MS. With the MTT assay, we demonstrated that P. urinaria, gallic acid and ellagic acid reduce cell viability. The apoptosis features showed DNA fragmentation and increased caspase-3 activity associated with the down-regulation of Bcl-2, but not of Bax, p53, and PCNA (proliferating cell nuclear antigen) in P. urinaria-treated NPC-BM1 cells. Furthermore, treatment of NPC-BM1 cells led to an inhibition of hTERT (human telomerase reverse transcriptase), hTP1 (human telomerase-associated protein 1) and c-myc mRNA expression and to decreased telomerase activity.
CONCLUSIONS:
This study suggests that P. urinaria induces the death of NPC-BM1 cells in vitro through the induction of apoptosis and inhibited telomerase activity.