Orthosiphol A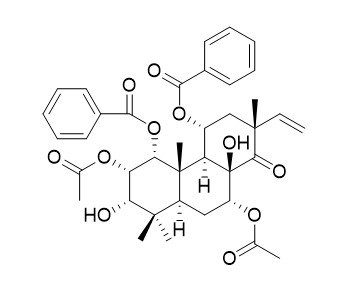 Orthosiphol A showed a significant dose-dependent inhibitory effect on nitric oxide (NO) production in lipopolysaccharide (LPS)-activated macrophage-like J774.1 cells. Orthosiphol A has anticancer effects. Orthosiphol A selectively inhibited intestinal maltase with an IC5o, value of 6.54 mM.
Inquire / Order: manager@chemfaces.com
Technical Inquiries: service@chemfaces.com
Tel: +86-27-84237783
Fax: +86-27-84254680

Address:
1 Building, No. 83, CheCheng Rd., Wuhan Economic and Technological Development Zone, Wuhan, Hubei 430056, PRC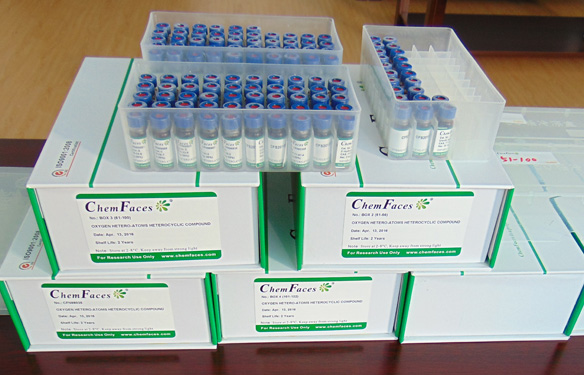 Providing storage is as stated on the product vial and the vial is kept tightly sealed, the product can be stored for up to
24 months(2-8C)
.
Wherever possible, you should prepare and use solutions on the same day. However, if you need to make up stock solutions in advance, we recommend that you store the solution as aliquots in tightly sealed vials at -20C. Generally, these will be useable for up to two weeks. Before use, and prior to opening the vial we recommend that you allow your product to equilibrate to room temperature for at least 1 hour.
Need more advice on solubility, usage and handling? Please email to: service@chemfaces.com
The packaging of the product may have turned upside down during transportation, resulting in the natural compounds adhering to the neck or cap of the vial. take the vial out of its packaging and gently shake to let the compounds fall to the bottom of the vial. for liquid products, centrifuge at 200-500 RPM to gather the liquid at the bottom of the vial. try to avoid loss or contamination during handling.
Plants (Basel).2020, 9(11):1555.
Eur J Pharmacol.2021, 899:174010.
J of L. Chroma.&Related Tech2017, 252-258
Food Chem.2019, 278:683-691
Phytother Res.2016, 30(12):2020-2026
US20170000760 A12016, 42740
J Agric Food Chem.2020, 68(43):12164-12172.
Journal of Ginseng Research2021, 3 June.
Oncotarget.2017, 8(64):108006-108019
Food Chem.2022, 373(Pt B):131364.
J Nat Prod. 2001 May;64(5):592-596.
Five novel highly oxygenated diterpenes of Orthosiphon stamineus from Myanmar[Pubmed:
11374950
]
Five novel highly oxygenated diterpenes, orthosiphols K (1), L (2), M (3), and N (4) and norstaminone A (5), were isolated from the aerial part of Orthosiphon stamineus, together with three known diterpenes, orthosiphols A (6) and B (7) and neoOrthosiphol A (8). Orthosiphol L (2) is an isopimarane-type diterpene with a hydroxyl group at C-12, which supports the biogenesis of staminane-type diterpenes, i.e., migration of a vinylic group from C-13 of isopimarane to C-12. Norstaminone A (5) has a staminane carbon framework and supports the biosynthetic pathway from staminols to norstaminols via staminolactones. All the isolated compounds showed mild to weak antiproliferative activities toward highly liver metastatic colon 26-L5 carcinoma and human HT-1080 fibrosarcoma cell lines.
Nat Prod Commun. 2014 May;9(5):639-641.
Orthosiphol A from the aerial parts of Orthosiphon aristatus is putatively responsible for hypoglycemic effect via alpha-glucosidase inhibition[Pubmed:
25026708
]
An infusion of Orthosiphon aristatus has long been used for diabetes therapy; however, the active principles remained unknown. Herein, we report the identification of the putative agents responsible for this antidiabetic activity using an a-glucosidase-guided isolation. Four flavonoids named sinensetin (1), salvigenin (2), tetramethylscutellarein (3) and 3,7,4'-tri-O-methylkaempferol (4), together with a diterpenoid named Orthosiphol A (5), were characterized, based on analysis of their spectroscopic data. Flavonoids 3 and 4 inhibited yeast a-glucosidase with IC,o values of 6.34 and 0.75 mM, respectively, whereas Orthosiphol A (5) selectively inhibited intestinal maltase with an IC5o, value of 6.54 mM. A kinetic investigation of 5 indicated that it retarded maltase function in a noncompetitive manner.
J Nat Prod . 2003 Feb;66(2):255-258.
Nitric oxide inhibitory isopimarane-type diterpenes from Orthosiphon stamineus of Indonesia[Pubmed:
12608860
]
A methanolic extract of Orthosiphon stamineus yielded six new highly oxygenated isopimarane-type diterpenes, orthosiphols U-Z (1-6), and 15 previously reported diterpenes. The isolated diterpenes all showed significant dose-dependent inhibitory effects on the nitric oxide (NO) production in lipopolysaccharide (LPS)-activated macrophage-like J774.1 cells. Orthosiphols A (7), B (8), D (9), and X (4) showed more potent inhibitory activities than a positive control, N(G)-monomethyl-l-arginine (l-NMMA), and 1 displayed the strongest activity with an IC(50) value of 6.4 microM.