Physalin G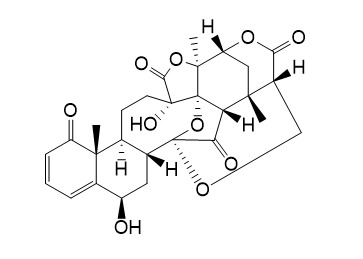 Physalin G has antinociceptive property.
Inquire / Order: manager@chemfaces.com
Technical Inquiries: service@chemfaces.com
Tel: +86-27-84237783
Fax: +86-27-84254680

Address:
1 Building, No. 83, CheCheng Rd., Wuhan Economic and Technological Development Zone, Wuhan, Hubei 430056, PRC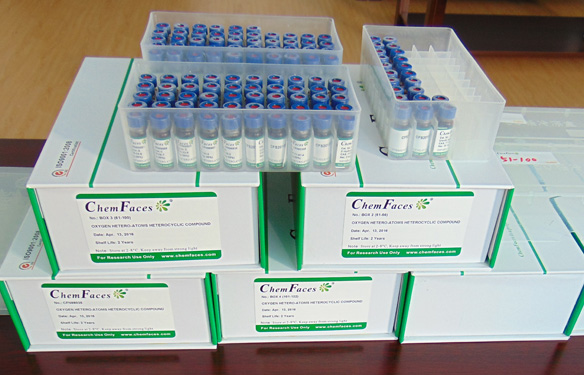 Providing storage is as stated on the product vial and the vial is kept tightly sealed, the product can be stored for up to
24 months(2-8C)
.
Wherever possible, you should prepare and use solutions on the same day. However, if you need to make up stock solutions in advance, we recommend that you store the solution as aliquots in tightly sealed vials at -20C. Generally, these will be useable for up to two weeks. Before use, and prior to opening the vial we recommend that you allow your product to equilibrate to room temperature for at least 1 hour.
Need more advice on solubility, usage and handling? Please email to: service@chemfaces.com
The packaging of the product may have turned upside down during transportation, resulting in the natural compounds adhering to the neck or cap of the vial. take the vial out of its packaging and gently shake to let the compounds fall to the bottom of the vial. for liquid products, centrifuge at 200-500 RPM to gather the liquid at the bottom of the vial. try to avoid loss or contamination during handling.
SBRAS2016, 12
Int J Mol Sci.2019, 20(3):E651
Appl. Sci.2020, 10(8),2804
J Sep Sci.2020, 43(22):4148-4161.
J of App. Res. on Med&Aromatic Plants2020, 100291.
Phytochemistry Letters2017, 449-455
Oxid Med Cell Longev2019, 9056845:13
J Nat Med.2017, 71(2):457-462
Inflammation.2021, doi: 10.1007
Biomed Pharmacother.2020, 131:110673.
Pharmacogn Mag. 2016 May;12(Suppl 2):S231-6.
Chemopreventive Agents from Physalis minima Function as Michael Reaction Acceptors.[Pubmed:
27279713
]
The fruits of some varieties of genus Physalis have been used as delicious fruits and functional food in the Northeast of China.
METHODS AND RESULTS:
To reveal the functional material basis, we performed bioactivity-guided phytochemical research and chemopreventive effect assay of the constituents from Physalis minima. It was demonstrated that the ethyl acetate extract of P. minima L. (EEPM) had potential quinone reductase (QR) inducing activity with induction ratio (IR, QR induction activity) value of 1.47 ± 0.24, and glutathione binding property as potential Michael reaction acceptors (with an α, β-unsaturated ketone moiety). Furthermore, bioactivity-guided phytochemical research led eight compounds (1-8), which were elucidated as 3-isopropyl-5-acetoxycyclohexene-2-one-1 (1), isophysalin B (2), Physalin G (3), physalin D (4), physalin I (5), physordinose B (6), stigmasterol-3-O-β-D-glucopyranoside (7) and 5α-6β-dihydroxyphysalin R (8) on the basis of nuclear magnetic resonance spectroscopy analyses and HRESIMS. Then, isophysalin B (2) and physordinose B (6) showed significant QR inducing activity with IR value of 2.80 ± 0.19 and 2.38 ± 0.46, respectively. An ultra-performance liquid chromatographic method with glutathione as the substrate was used to detect the Michael reaction acceptors in extracts of Physalis minima (EPM).We investigated the chemical constituents of EPM guided by biological activity methodIsophysalin B (1) and physordinose B (6) showed strong quinone reductase inducing activity with induction ratio values of 2.80 ± 0.19 and 2.38 ± 0.46.
CONCLUSIONS:
This study generated useful information for consumers and many encourage researchers to utilize edible fruits from Physalis as a source of phytochemicals.
J Nat Prod. 2014 Nov 26;77(11):2397-403.
Antinociceptive properties of physalins from Physalis angulata.[Pubmed:
25396337
]
Pain is the most common reason a patient sees a physician. Nevertheless, the use of typical painkillers is not completely effective in controlling all pain syndromes; therefore further attempts have been made to develop improved analgesic drugs. The present study was undertaken to evaluate the antinociceptive properties of physalin B (1), physalin D (2), physalin F (3), and Physalin G (4) isolated from Physalis angulata in inflammatory and centrally mediated pain tests in mice.
METHODS AND RESULTS:
Systemic pretreatment with 1-4 produced dose-related antinociceptive effects on the writhing and formalin tests, traditional screening tools for the assessment of analgesic drugs. On the other hand, only 3 inhibited inflammatory parameters such as hyperalgesia, edema, and local production of TNF-α following induction with complete Freund's adjuvant. Treatment with 1, 3, and 4 produced an antinociceptive effect on the tail flick test, suggesting a centrally mediated antinociception. Reinforcing this idea, 2-4 enhanced the mice latency reaction time during the hot plate test. Mice treated with physalins did not demonstrate motor performance alterations.
CONCLUSIONS:
These results suggest that 1-4 present antinociceptive properties associated with central, but not anti-inflammatory, events and indicate a new pharmacological property of physalins.