Asiaticoside B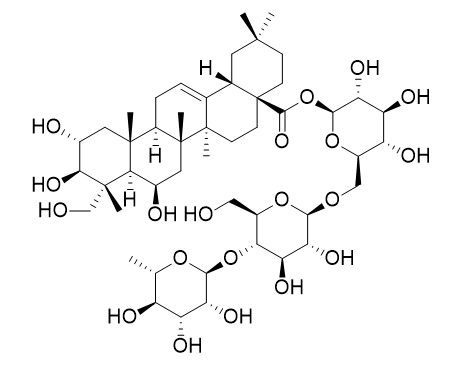 Asiaticoside B has notable cytotoxicity against HepG2 and MCF-7 cancer cell lines.
Inquire / Order: manager@chemfaces.com
Technical Inquiries: service@chemfaces.com
Tel: +86-27-84237783
Fax: +86-27-84254680

Address:
1 Building, No. 83, CheCheng Rd., Wuhan Economic and Technological Development Zone, Wuhan, Hubei 430056, PRC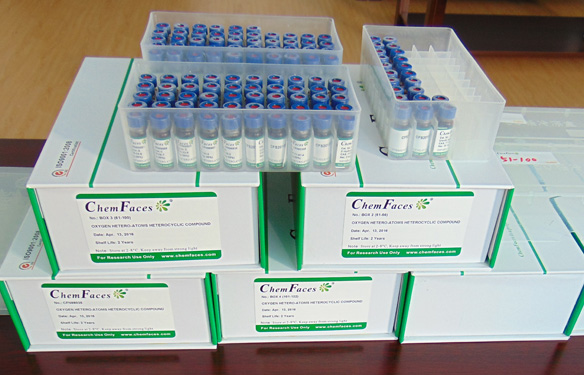 Providing storage is as stated on the product vial and the vial is kept tightly sealed, the product can be stored for up to
24 months(2-8C)
.
Wherever possible, you should prepare and use solutions on the same day. However, if you need to make up stock solutions in advance, we recommend that you store the solution as aliquots in tightly sealed vials at -20C. Generally, these will be useable for up to two weeks. Before use, and prior to opening the vial we recommend that you allow your product to equilibrate to room temperature for at least 1 hour.
Need more advice on solubility, usage and handling? Please email to: service@chemfaces.com
The packaging of the product may have turned upside down during transportation, resulting in the natural compounds adhering to the neck or cap of the vial. take the vial out of its packaging and gently shake to let the compounds fall to the bottom of the vial. for liquid products, centrifuge at 200-500 RPM to gather the liquid at the bottom of the vial. try to avoid loss or contamination during handling.
J Med Food.2019, 22(10):1067-1077
J Nat Prod.2018, 81(4):966-975
Plant Pathology2022, 13527
Biochem Pharmacol. 2020, 177:114014.
Cytotechnology.2017, 69(5):765-773
BMB Rep.2020, 53(4):218-222.
Pharmaceuticals (Basel).2022, 15(5):591.
Journal of Third Military Medical University2018, 40(12):1073-1078
Internoational J of Toxicology2020, 10.1177.
Applied Biological Chemistry2022, 65(12)
J Nat Prod. 2006 Oct;69(10):1500-2.
Cytotoxic cycloartane triterpene saponins from Actaea asiatica.[Pubmed:
17067171
]

METHODS AND RESULTS:
Three new 9,19-cycloartane triterpene glycosides, asiaticoside A (1), Asiaticoside B (2), and 25-O-ethylcimigenol-3-O-beta-D-xylopyranoside (3), together with cimiacemoside I (4), 25-O-acetylcimigenol-3-beta-O-D-xyloside (5), and 25-anhydrocimigenol-beta-O-D-xyloside (6) were isolated from the roots/rhizomes extract of Actaea asiatica, and their structures were established by spectroscopic methods (IR, HRESIMS, and NMR).
CONCLUSIONS:
Compounds 1-3, 5, and 6 had notable cytotoxicity against HepG2 and MCF-7 cancer cell lines.
Pharmazie. 2003 Jun;58(6):381-4.
An improved HPLC method for quantitative determination of six triterpenes in Centella asiatica extracts and commercial products.[Pubmed:
12856998
]

METHODS AND RESULTS:
An improved HPLC qualitative and quantitative method of six triterpenes (asiaticoside, madecassoside, asiatic acid, madecassic acid, terminolic acid, and Asiaticoside B) in Centella asiatica (raw plant material and preparations) is described in this paper. After 50 minutes the six active triterpenes were separated and detected in the methanolic extract at a limit of 0.01 microg/ml.
CONCLUSIONS:
The method uses a Phenomenex Aqua 5mu C18 (200 A) column as the stationary phase, a gradient mobile phase of water (0.1% TFA), acetonitrile (0.1% TFA), and methyl tert-butyl ether (0.1% TFA), and UV detection at 206 nm. The correlation coefficients for the calibration curves and the recovery rates ranged from 0.995 to 0.999 and from 98.39% to 100.02%, respectively. The qualitative and quantitative results are discussed.