Onjisaponin B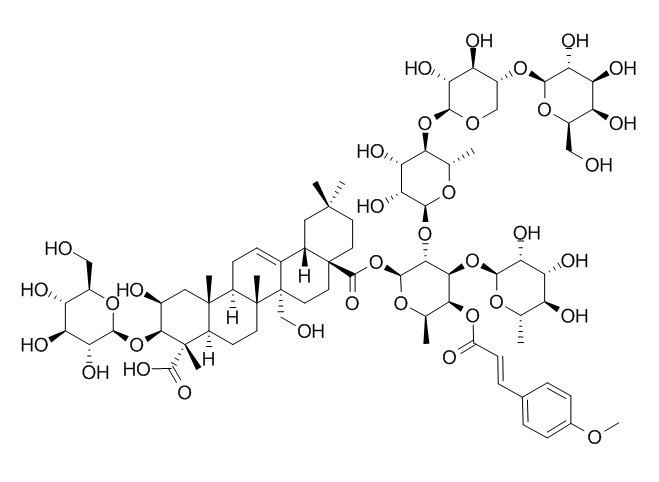 Onjisaponin B induces autophagy via the AMPK-mTOR signaling pathway, increases the NGF level and accelerates both the removal of mutant huntingtin and A53T α-synuclein, it may have potential therapeutic effects on Parkinson disease, Alzheimer disease and Huntington disease. Onjisaponins may provide safe and potent adjuvants for intranasal inoculation of influenza HA and DPT vaccines.
Inquire / Order: manager@chemfaces.com
Technical Inquiries: service@chemfaces.com
Tel: +86-27-84237783
Fax: +86-27-84254680

Address:
1 Building, No. 83, CheCheng Rd., Wuhan Economic and Technological Development Zone, Wuhan, Hubei 430056, PRC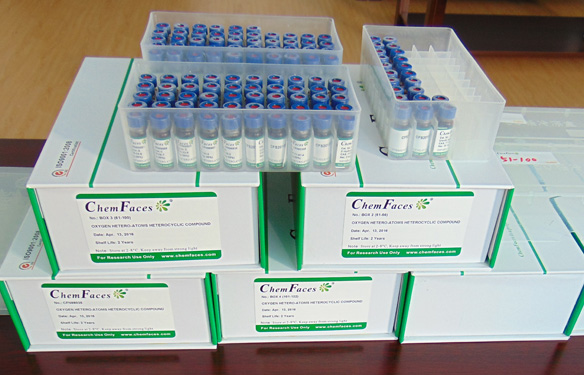 Providing storage is as stated on the product vial and the vial is kept tightly sealed, the product can be stored for up to
24 months(2-8C)
.
Wherever possible, you should prepare and use solutions on the same day. However, if you need to make up stock solutions in advance, we recommend that you store the solution as aliquots in tightly sealed vials at -20C. Generally, these will be useable for up to two weeks. Before use, and prior to opening the vial we recommend that you allow your product to equilibrate to room temperature for at least 1 hour.
Need more advice on solubility, usage and handling? Please email to: service@chemfaces.com
The packaging of the product may have turned upside down during transportation, resulting in the natural compounds adhering to the neck or cap of the vial. take the vial out of its packaging and gently shake to let the compounds fall to the bottom of the vial. for liquid products, centrifuge at 200-500 RPM to gather the liquid at the bottom of the vial. try to avoid loss or contamination during handling.
Ind Crops Prod.2014, 62:173-178
Mol Neurobiol.2022, 02873-9.
Korean J. Medicinal Crop Sci.2021, 29(6):425-433
Journal of Ginseng Research2022, j.jgr.2022.09.005.
Chem Biol Interact.2019, 298:1-7
Molecules.2020, 25(17):3783.
Molecules.2016, 21(10)
Phytomedicine.2022, 96:153877.
Plant Cell Physiol.2018, 59(1):128-141
J Sep Sci.2018, 41(9):1938-1946
Int J Mol Sci. 2013 Nov 15;14(11):22618-41.
Onjisaponin B derived from Radix Polygalae enhances autophagy and accelerates the degradation of mutant α-synuclein and huntingtin in PC-12 cells.[Pubmed:
24248062
]
Emerging evidence indicates important protective roles being played by autophagy in neurodegenerative disorders through clearance of aggregate-prone or mutant proteins.
METHODS AND RESULTS:
In the current study, we aimed to identify autophagy inducers from Chinese medicinal herbs as a potential neuroprotective agent that enhances the clearance of mutant huntingtin and α-synuclein in PC-12 cells. Through intensive screening using the green fluorescent protein-light chain 3 (GFP-LC3) autophagy detection platform, we found that the ethanol extracts of Radix Polygalae (Yuan Zhi) were capable of inducing autophagy. Further investigation showed that among three single components derived from Radix Polygalae--i.e., polygalacic acid, senegenin and Onjisaponin B--Onjisaponin B was able to induce autophagy and accelerate both the removal of mutant huntingtin and A53T α-synuclein, which are highly associated with Huntington disease and Parkinson disease, respectively. Our study further demonstrated that Onjisaponin B induces autophagy via the AMPK-mTOR signaling pathway.
CONCLUSIONS:
Therefore, findings in the current study provide detailed insights into the protective mechanism of a novel autophagy inducer, which is valuable for further investigation as a new candidate agent for modulating neurodegenerative disorders through the reduction of toxicity and clearance of mutant proteins in the cellular level.
Biomed Res Int. 2015;2015:918048.
The gastrointestinal irritation of polygala saponins and its potential mechanism in vitro and in vivo.[Pubmed:
25705699
]
Processing alters the pharmacological activity and reduces the gastrointestinal toxicity of the polygalae.
METHODS AND RESULTS:
To investigate the effect of processing, different glycosyl substituent products were tested. Hypnotic and subhypnotic doses of pentobarbital-induced sleep tests on mice were used to evaluate the sedative activity of polygala saponins with different glycosyl substituents; isolated gut motility experiment was employed to study excitatory effects of different polygala saponins; the gastrointestinal irritation effects of different polygala saponins were compared by measuring the levels of gastric PGE2 and intestinal TNF-α on mice. When compared with control, Onjisaponin B (OJB) and tenuifolin (TEN), but not senegenin (SNG), significantly increased the number of sleeping mice and prolonged the sleeping time (P < 0.05); 80, 40, and 20 mg/L of OJB and 80 mg/L of TEN, but not SNG, obviously changed the amplitude and frequency of isolated jejunum (P < 0.05); all the three compounds significantly decreased the level of gastric PGE2 but had no obvious influences on the reduction of intestinal TNF-α level. For sedative and hypnotic effects, OJB > TEN > SNG; for the protection form gastrointestinal irritation and damages, OJB > TEN > SNG.
CONCLUSIONS:
Therefore, in processing Polygala, glycosyl breaking may be related to the decline of pharmacological activity and gastrointestinal toxicity of polygala saponins.