Macranthoidin B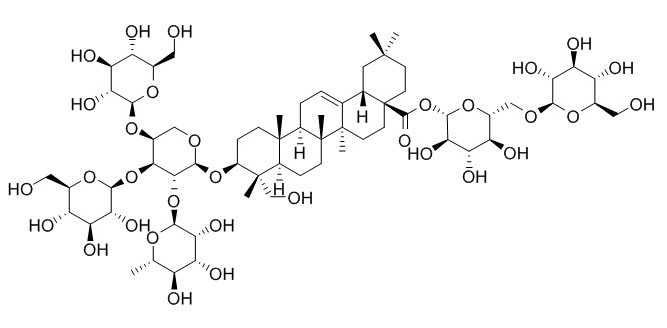 Macranthoidin B is a major bioactive saponin in rat plasma after oral administration of extraction of saponins from Flos Lonicerae.
Inquire / Order: manager@chemfaces.com
Technical Inquiries: service@chemfaces.com
Tel: +86-27-84237783
Fax: +86-27-84254680

Address:
1 Building, No. 83, CheCheng Rd., Wuhan Economic and Technological Development Zone, Wuhan, Hubei 430056, PRC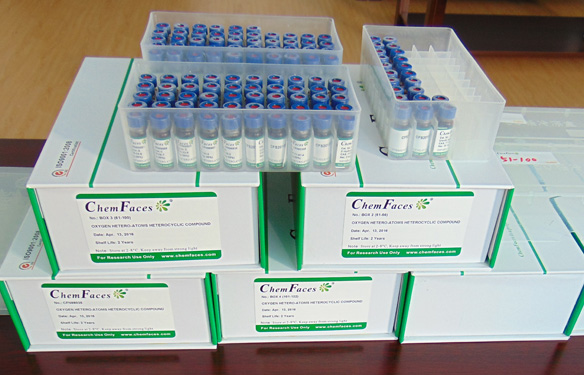 Providing storage is as stated on the product vial and the vial is kept tightly sealed, the product can be stored for up to
24 months(2-8C)
.
Wherever possible, you should prepare and use solutions on the same day. However, if you need to make up stock solutions in advance, we recommend that you store the solution as aliquots in tightly sealed vials at -20C. Generally, these will be useable for up to two weeks. Before use, and prior to opening the vial we recommend that you allow your product to equilibrate to room temperature for at least 1 hour.
Need more advice on solubility, usage and handling? Please email to: service@chemfaces.com
The packaging of the product may have turned upside down during transportation, resulting in the natural compounds adhering to the neck or cap of the vial. take the vial out of its packaging and gently shake to let the compounds fall to the bottom of the vial. for liquid products, centrifuge at 200-500 RPM to gather the liquid at the bottom of the vial. try to avoid loss or contamination during handling.
Integr Med Res.2017, 6(4):395-403
Biorxiv2019, 10.1101
Journal of Third Military Medical University2018, 40(12):1073-1078
Microchemical Journal2018, 137:168-173
Biomed Pharmacother.2019, 116:108987
ACS Chem Biol.2019, 14(5):873-881
Kor. J. Pharmacogn.2016, 47(1):62-72
J Agric Food Chem.2017, 65(13):2670-2676
Chem Biol Interact.2018, 283:59-74
Mol Microbiol.2019, 112(1):317-332
Zhongguo Zhong Yao Za Zhi. 2011 Jun;36(12):1613-9.
Chemical constitutents from pre-formulation of lonicerae japonicae flos in shuanghuanglian lyophilized powder for injection[Pubmed:
22007545
]
To research the chemical constitutents for the pre-formulation of Lonicerae Japonicae Flos (the dried buds of Lonicera japonica) in Shuanghuanglian lyophilized powder for injection and provide substance foundation for the adverse reaction of Shuanghuanglian lyophilized powder for injection.
METHODS AND RESULTS:
The chemical constituents were isolated by column chromatography and preparative HPLC. All structures were characterized by the spectroscopic methods including ESI-MS, 1H-NMR, 13C-NMR, and compared with data in the literature. Twenty compounds were isolated and identified as sophoraricoside(1), luteolin-7-O-beta-D-glucopyranoside(2), rutin(3), quercetin(4), 3,5-O-dicaffeoyl quinic acid methyl ester(5), 4,5-O-dicaffeoyl quinic acid methyl ester(6), 3,4-O-dicaffeoyl quinic acid methyl ester(7), 4,5-dicaffeoyl quinic acid(8), 3,4-dicaffeoyl quinic acid(9), chlorogenic acid(10), epi-vogeloside (11), sweroside(12), vogeloside(13), secoxyloganin(14), macranthoidin A(15), Macranthoidin B(16), loniceroside A(17), loniceroside B(18), loniceroside C(19), dipsacoside B(20).
CONCLUSIONS:
Compound 1 was identified in genus Lonicera for the first time and compounds 1-20 were isolated from the pre-formulation for the first time.