Platycoside E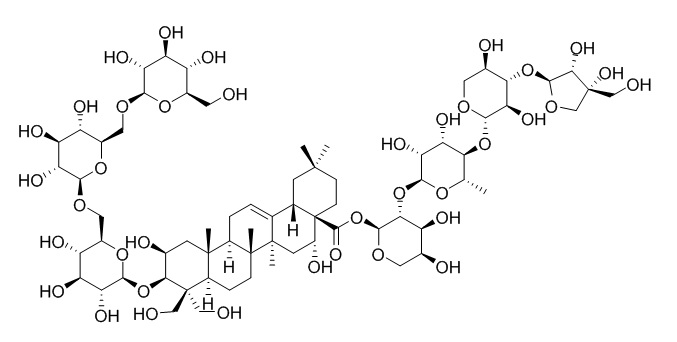 Platycoside E can significantly promote the production of the sera ovalbumin (OVA)-specific IgG2a and IgG2b antibody in the OVA-immunized mice.
Inquire / Order: manager@chemfaces.com
Technical Inquiries: service@chemfaces.com
Tel: +86-27-84237783
Fax: +86-27-84254680

Address:
1 Building, No. 83, CheCheng Rd., Wuhan Economic and Technological Development Zone, Wuhan, Hubei 430056, PRC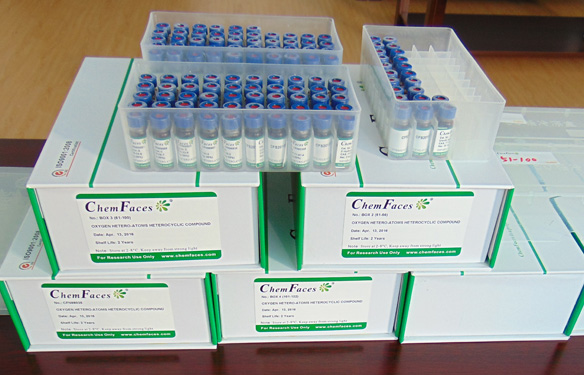 Providing storage is as stated on the product vial and the vial is kept tightly sealed, the product can be stored for up to
24 months(2-8C)
.
Wherever possible, you should prepare and use solutions on the same day. However, if you need to make up stock solutions in advance, we recommend that you store the solution as aliquots in tightly sealed vials at -20C. Generally, these will be useable for up to two weeks. Before use, and prior to opening the vial we recommend that you allow your product to equilibrate to room temperature for at least 1 hour.
Need more advice on solubility, usage and handling? Please email to: service@chemfaces.com
The packaging of the product may have turned upside down during transportation, resulting in the natural compounds adhering to the neck or cap of the vial. take the vial out of its packaging and gently shake to let the compounds fall to the bottom of the vial. for liquid products, centrifuge at 200-500 RPM to gather the liquid at the bottom of the vial. try to avoid loss or contamination during handling.
Foods.2021, 10(6):1378.
J Med Food.2020, 23(6):633-640.
Chem Biol Interact.2016, 260:168-175
Pharmacol Rep.2017, 69(6):1224-1231
Key Engineering Materials2022, 931(47-53).
Molecules.2022, 27(21):7514.
Int J Mol Sci.2017, 18(5)
Antibiotics.2022, 11(4), 510.
Anal Bioanal Chem.2016, 408(1):177-90.
Front Pharmacol.2021, 12:652860.
Vaccine, 2008, 26(27-28):3452-60.
Contribution of the glycidic moieties to the haemolytic and adjuvant activity of platycodigenin-type saponins from the root of Platycodon grandiflorum.[Pubmed:
18501482
]
Platycodin D (PD), platycodin D3 (PD3), and Platycoside E (PE) were the platycodigenin-type saponins isolated from the root of Platycodon grandiflorum.
METHODS AND RESULTS:
To assess the potential contribution of the glycidic chains to the biological activities and elucidate the structure-activity relationships of the platycodigenin-type saponins, these three saponins were evaluated for their haemolytic activities and adjuvant potentials on the cellular and humoral immune responses of mice against ovalbumin (OVA). Among three saponins, the ranking of the haemolytic activity was PD>PD3>PE (P<0.001). PD and PD3 could significantly enhance mitogen- and OVA-induced splenocyte proliferation in the OVA-immunized mice (P<0.001). The order of increasing OVA-stimulated splenocyte proliferation was PD>PD3>PE (P<0.05, P<0.01, or P<0.001). The sera OVA-specific IgG, IgG1, IgG2a and IgG2b antibody levels in the OVA-immunized mice were significantly enhanced by PD and PD3. However, PE only significantly promoted the production of the sera OVA-specific IgG2a and IgG2b antibody in the OVA-immunized mice. Adjuvant potentials of PD on antibody responses were higher than those of PD3 and PE (P<0.05, P<0.01, or P<0.001). Meanwhile, PD also significantly enhanced the mRNA expression of cytokines IL-2, IFN-gamma, IL-4, and IL-10 and transcription factors T-bet and GATA-3 in mice splenocyte induced by Con A (P<0.05, P<0.01, or P<0.001).
CONCLUSIONS:
These results suggested that the number of sugar residues in the glycidic chains attached to C-3 of aglycone could affect the haemolytic and adjuvant activities of platycodigenin-type saponins, and that PD had immunological adjuvant activity, and simultaneously elicited a Th1 and Th2 immune response by regulating gene expression of Th1/Th2 cytokines and transcription factors.