Nepetin-7-glucoside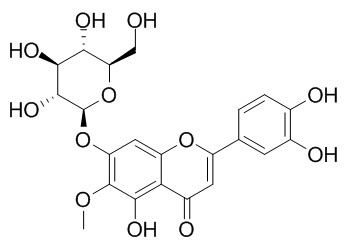 Nepetin-7-glucoside has antioxidant activity in human HL60 cells assessed as reduction of cytochrome-c release, DPPH free radical scavenging activity, and inhibition of TPA-induced free radical formation.
Inquire / Order: manager@chemfaces.com
Technical Inquiries: service@chemfaces.com
Tel: +86-27-84237783
Fax: +86-27-84254680

Address:
1 Building, No. 83, CheCheng Rd., Wuhan Economic and Technological Development Zone, Wuhan, Hubei 430056, PRC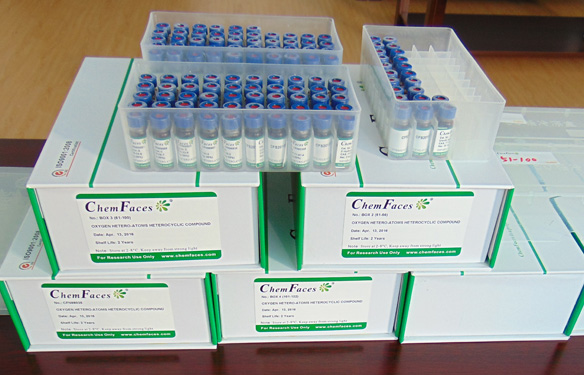 Providing storage is as stated on the product vial and the vial is kept tightly sealed, the product can be stored for up to
24 months(2-8C)
.
Wherever possible, you should prepare and use solutions on the same day. However, if you need to make up stock solutions in advance, we recommend that you store the solution as aliquots in tightly sealed vials at -20C. Generally, these will be useable for up to two weeks. Before use, and prior to opening the vial we recommend that you allow your product to equilibrate to room temperature for at least 1 hour.
Need more advice on solubility, usage and handling? Please email to: service@chemfaces.com
The packaging of the product may have turned upside down during transportation, resulting in the natural compounds adhering to the neck or cap of the vial. take the vial out of its packaging and gently shake to let the compounds fall to the bottom of the vial. for liquid products, centrifuge at 200-500 RPM to gather the liquid at the bottom of the vial. try to avoid loss or contamination during handling.
Pathogens.2018, 7(3):E62
Cancer Manag Res.2019, 11:483-500
Evid Based Complement Alternat Med.2016, 2016:1739760
Anal Chim Acta.2018, 1039:162-171
Molecules.2019, 24(10):E1926
Plant Growth Regulation2020, 90(2):383-392
BMC Complement Altern Med.2014, 14:242
Asian Journal of Chemistry2014, 26(22):7811-7816
International. J. of Food Properties 2017, 20:S131-S140
Biomolecules.2019, 9(11):E696
J Pharm Biomed Anal. 2008 Sep 10;48(1):100-4.
Chemical fingerprint and quantitative analysis of Salvia plebeia R.Br. by high-performance liquid chromatography.[Pubmed:
18678457
]

METHODS AND RESULTS:
To control the quality of Salvia plebeia R.Br., a simple and reliable method of high-performance liquid chromatography coupled with photodiode array detector (HPLC-DAD) was developed both for fingerprint analysis and quantitative determination of seven bioactive compounds, namely caffeic acid, luteolin-7-glucoside, Nepetin-7-glucoside, homoplantaginin, luteolin, nepetin and hispidulin. In fingerprint analysis, twelve peaks were selected as characteristic peaks. In quantitative analysis, seven compounds showed good regression (R2>0.9995) within test ranges and the recovery of the method was in the range of 91.7-103.2%. The content ranges (mg/g) of seven compounds in the collected samples of S. plebeia were 0.80-1.67 (hispidulin), 2.18-5.75 (homoplantaginin), 0.52-1.22 (nepetin), 1.56-3.48 (Nepetin-7-glucoside), 0.12-0.24 (luteolin), 0.97-2.22 (luteolin-7-glucoside) and 0.21-0.44 (caffeic acid), respectively.
CONCLUSIONS:
From the results obtained, the content of homoplantaginin was the highest. In addition, luteolin and luteolin-7-glucoside were isolated for the first time from S. plebeia.