Diosmin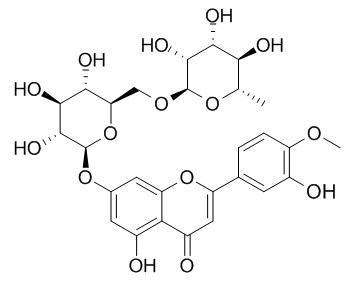 Diosmin is a semisynthetic phlebotropic agent, and also an agonist of the aryl hydrocarbon receptor (AhR). Diosmin can prevent the progression of early diabetic neuropathy in rats, it has cardioprotective effect by the free radical scavenging and anti-hyperlipidaemic effects .
Inquire / Order: manager@chemfaces.com
Technical Inquiries: service@chemfaces.com
Tel: +86-27-84237783
Fax: +86-27-84254680

Address:
1 Building, No. 83, CheCheng Rd., Wuhan Economic and Technological Development Zone, Wuhan, Hubei 430056, PRC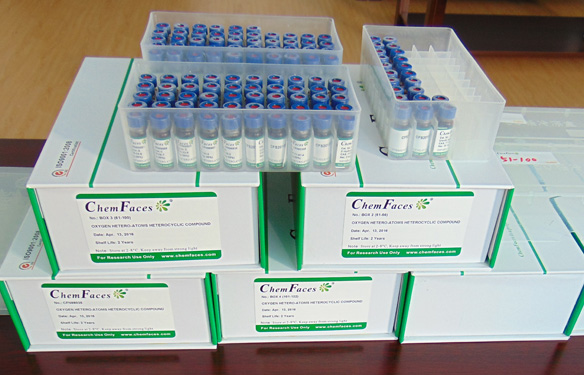 Providing storage is as stated on the product vial and the vial is kept tightly sealed, the product can be stored for up to
24 months(2-8C)
.
Wherever possible, you should prepare and use solutions on the same day. However, if you need to make up stock solutions in advance, we recommend that you store the solution as aliquots in tightly sealed vials at -20C. Generally, these will be useable for up to two weeks. Before use, and prior to opening the vial we recommend that you allow your product to equilibrate to room temperature for at least 1 hour.
Need more advice on solubility, usage and handling? Please email to: service@chemfaces.com
The packaging of the product may have turned upside down during transportation, resulting in the natural compounds adhering to the neck or cap of the vial. take the vial out of its packaging and gently shake to let the compounds fall to the bottom of the vial. for liquid products, centrifuge at 200-500 RPM to gather the liquid at the bottom of the vial. try to avoid loss or contamination during handling.
Evid Based Complement Alternat Med.2017, 2017:1583185
Oxid Med Cell Longev2020, 12
J Pharmaceut Biomed2020, 182:113110
RSC Advances2017, 86
Bio-protocol2018, 9(14):e3301
Front Immunol.2017, 8:1542
Chem Biol Interact.2019, 315:108910
Chemistry of Plant Raw Materials2019, 4:135-147
Molecules.2020, 25(3):734
Biochem Biophys Res Commun.2018, 505(4):1148-1153
Int J Pharm. 2014 Oct 1;473(1-2):407-13.
Electrospinning of diosmin from aqueous solutions for improved dissolution and oral absorption.[Pubmed:
25066074
]
A nanofibrous membrane carrier for nearly water insoluble drug Diosmin was formulated. The aim of this study was to evaluate the drug release and dissolution properties in an aqueous buffer of pH 7.8, and to compare the suitability of the drug carrier with the available drug forms and screen Diosmin absorption extent.
METHODS AND RESULTS:
The membranes were produced from HPC/PVA/PEO-drug water solutions and then evaluated by SEM and DSC measurements. The results showed that Diosmin was incorporated within the nanofibers in an amorphous state, and/or as a solid dispersion. The results of in vitro release experiments excerpt a very fast release of the drug, followed by the formation of an over saturated solution and partial precipitation of the drug (a "spring" effect). The enormous increases in dissolution of the drug from a nanofibrous carrier, compared to a micronized and crystalline form, was achieved. The in vivo bioavailability study carried out on rats showed higher initial drug plasma levels and higher AUC values after administration of the nanofibrous drug formulation, compared to the micronized form.
CONCLUSIONS:
The results of the study demonstrated that the improvement of the Diosmin in vitro dissolution also brought the enhanced in vivo absorption extent of the drug.
Eur J Pharmacol. 2014 Aug 5;736:131-7.
Diosmin pretreatment improves cardiac function and suppresses oxidative stress in rat heart after ischemia/reperfusion.[Pubmed:
24769512
]
Reperfusion of ischemic tissue leads to the generation of oxygen derived free radicals which plays an important role in cellular damage. Objective of the current study is to evaluate the cardio-protective and antioxidant effect of Diosmin on ischemia-reperfusion related cardiac dysfunction, oxidative stress and apoptosis.
METHODS AND RESULTS:
Diosmin (50 and 100 mg/kg body weight (bw)) was given every day to the rats orally throughout the experimental period. Ischemia/reperfusion protocol was carried out ex vivo using langendorff perfusion method and the cardiac functional recovery was assessed in terms of percentage rate pressure product. Coronary effluents of LDH and CK-MB activities, antioxidant enzyme activities, lipid peroxidation products, activity of TCA cycle enzymes were evaluated. Moreover, in vitro superoxide anion and hydroxyl radical scavenging potential of Diosmin was also quantified. Finally, quantitative real-time PCR was used for assessing Bcl-2 mRNA expression in heart. Cardiac functional recovery was impaired after reperfusion compared with continuously perfused heart. It was significantly prevented by Diosmin treatment. Impaired antioxidant enzyme activities and elevated lipid peroxidation products level were also significantly suppressed. The activity of TCA cycle enzymes was protected against reperfusion stress. Down regulated Bcl-2 was also significantly increased.
METHODS AND RESULTS:
This study concluded that Diosmin pretreatment prevents all the impaired patterns including cardiac function, oxidative stress and apoptosis associated with reperfusion in control heart by its antioxidant role.
Eur J Pharmacol. 2013 Oct 15;718(1-3):213-8.
Diosmin exhibits anti-hyperlipidemic effects in isoproterenol induced myocardial infarcted rats.[Pubmed:
24036254
]
The aim of the present study was to evaluate the protective effects of Diosmin on experimentally induced myocardial infarcted rats.
METHODS AND RESULTS:
Diosmin (5 and 10mg/kg body weight) was administered orally as pretreatment daily for a period of 10 days. Then isoproterenol (100mg/kg) was injected subcutaneously into rats at an interval of 24h for 2 days (on 11th and 12th day). Isoproterenol-induced myocardial infarcted rats showed significant changes in electrocardiogram and an increase in the levels of cardiac markers, compared with normal rats. Additionally, increased plasma lipid peroxidation products and altered lipid metabolism in the plasma were observed in the isoproterenol-induced myocardial infarcted rats. Pretreatment with Diosmin (5 and 10mg/kg body weight) minimized the electrocardiographic changes, decreased the levels of serum cardiac marker enzymes reduced plasma lipid peroxidation and minimized the alterations in the lipid metabolism of isoproterenol-induced myocardial infarcted rats. Also, Diosmin inhibited the enhanced activity of liver HMG CoA reductase.
CONCLUSIONS:
The in vitro study revealed the free radical scavenging activity of Diosmin. The free radical scavenging and anti-hyperlipidaemic effects are the reasons for the cardioprotective effects of Diosmin.
J Integr Med. 2014 Jan;12(1):35-41.
Protective effect of diosmin against diabetic neuropathy in experimental rats.[Pubmed:
24461593
]
The present study was undertaken to evaluate the effect of Diosmin in diabetic neuropathy in type 2 diabetic rats.
METHODS AND RESULTS:
Type 2 diabetes was induced in male Sprague-Dawley rats by single intraperitoneal injection of streptozotocin (35 mg/kg) and high-fat diet. Four weeks after the confirmation of diabetes, diabetic rats were treated with Diosmin (50 and 100 mg/kg, p.o.) for next 4 weeks. Rats were evaluated for biochemical, behavioral and oxidative stress parameters. Eddy's hot plate and tail immersion test were performed on 6th, 7th, 8th, 9th and 10th weeks of experiment to assess thermal hyperalgesia and cold allodynia respectively. Further, the walking function test was performed for assessing the motor responses at the end of the treatment schedule. Rats were fed with high-fat diet throughout the experiment schedule and administration of low-dose streptozotocin induced significant elevation in blood glucose level and insulin resistance which was confirmed by oral glucose tolerance test. Treatment with Diosmin at doses of 50 and 100 mg/kg significantly restored the reduced body weight, elevated blood sugar and lipid profiles. Further the dose-dependent improvement was observed in thermal hyperalgesia, cold allodynia and walking function in diabetic rats treated with Diosmin. Elevated levels of malondialdehyde, and nitric oxide and decreased glutathione levels and superoxide dismutase activity in diabetic rats were restored significantly after the 4 weeks of Diosmin treatment.
CONCLUSIONS:
Diosmin has shown beneficial effect in preventing the progression of early diabetic neuropathy in rats.
Biochimie. 2013 Nov;95(11):2042-9.
Diosmin binding to human serum albumin and its preventive action against degradation due to oxidative injuries.[Pubmed:
23886889
]
Diosmin is a glycosylated polyphenolic compound, commonly found in fruits and vegetables, which is utilized for the pharmacological formulation of some drugs.
METHODS AND RESULTS:
The interactions of Diosmin to human serum albumin have been investigated by fluorescence, UV-visible, FTIR spectroscopy, native electrophoresis and protein-ligand docking studies. The fluorescence studies indicate that the binding site of the additive involves modifications of environment around Trp214 at the level of subdomain IIA. Combining the curve-fitting results of infrared Amide I' band, the modifications of protein secondary structure have been estimated, indicating a decrease in α-helix structure following flavonoid binding. Data obtained by fluorescence and UV-visible spectroscopy, FTIR experiments and molecular modeling afforded a clear picture of the association mode of Diosmin to HSA, suggesting that the primary binding site of Diosmin is located in Sudlow's site I.
CONCLUSIONS:
Computational mapping confirms this observation suggesting that the possible binding site of Diosmin is located in the hydrophobic cavity of subdomain IIA, whose microenvironment is able to help and stabilize the binding of the ligand in non-planar conformation. Moreover the binding of Diosmin to HSA significantly contributes to protect the protein against degradation due to HCLO and Fenton reaction.