Yuankanin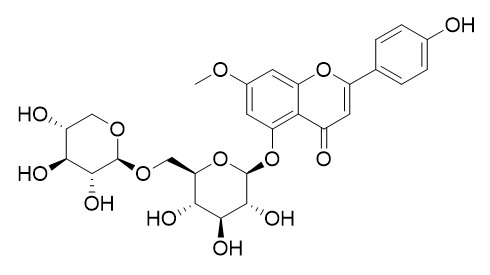 Reference standards.
Inquire / Order: manager@chemfaces.com
Technical Inquiries: service@chemfaces.com
Tel: +86-27-84237783
Fax: +86-27-84254680

Address:
1 Building, No. 83, CheCheng Rd., Wuhan Economic and Technological Development Zone, Wuhan, Hubei 430056, PRC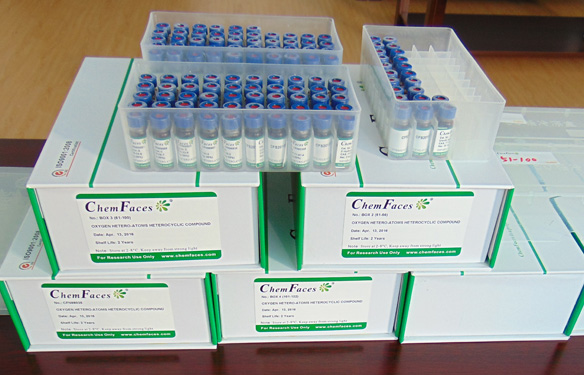 Providing storage is as stated on the product vial and the vial is kept tightly sealed, the product can be stored for up to
24 months(2-8C)
.
Wherever possible, you should prepare and use solutions on the same day. However, if you need to make up stock solutions in advance, we recommend that you store the solution as aliquots in tightly sealed vials at -20C. Generally, these will be useable for up to two weeks. Before use, and prior to opening the vial we recommend that you allow your product to equilibrate to room temperature for at least 1 hour.
Need more advice on solubility, usage and handling? Please email to: service@chemfaces.com
The packaging of the product may have turned upside down during transportation, resulting in the natural compounds adhering to the neck or cap of the vial. take the vial out of its packaging and gently shake to let the compounds fall to the bottom of the vial. for liquid products, centrifuge at 200-500 RPM to gather the liquid at the bottom of the vial. try to avoid loss or contamination during handling.
Pharmaceuticals (Basel).2021, 14(3):260.
JLiquid Chromatography & Related Tech.2021, 10826076.
J Funct Foods2019, 54:449-456
J Mol Histol.2019, 50(4):343-354
Food Science and Biotechnology2015, 2205-2212
Int J Biol Macromol.2020, 161:1230-1239.
Virulence.2018, 9(1):588-603
Cytotechnology.2017, 69(5):765-773
Kor. J. Herbol.2019, 34(2):59-66
Nutrients.2021, 13(10):3414.
Phytochemistry. 2008 Jan;69(2):541-5.
Flavones from Struthiola argentea with anthelmintic activity in vitro.[Pubmed:
17923139
]
Parasitic diseases caused by helminthes lead to significant health hazards to animals resulting in enormous economic impact. While a number of anthelmintics are currently available, all are encountering resistance and ones with a mode of action are needed.
METHODS AND RESULTS:
We report herein bioassay-guided isolation of three anthelmintic flavones 1-3, including the flavone, 5,6,2',5',6'-pentamethoxy-3',4'-methylenedioxyflavone (3) from the methanol extract of Struthiola argentea (Thymelaeaceae). The structure of 3 was elucidated by analysis of its 1D and 2D NMR and MS data. The two major flavones produced by this plant were also isolated and identified as Yuankanin (4) and amentoflavone (5). A number of flavones related to the compounds isolated from S. argentea were acquired and tested to ascertain structure activity relationships. The isolation, structure, anthelmintic activity and structure activity relationships of the flavones are described.
CONCLUSIONS:
Compound 3 exhibited the most potent in vitro activity with 90% inhibition of larval motility at 3.1 microg/mL and compound 15 showed modest in vivo activity.