5-O-Feruloylquinic acid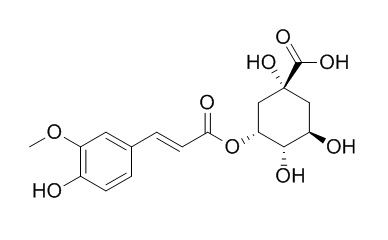 5-O-feruloylquinic acid is a potent Sirt1 agonist, it is a potential lead compound that can be further tested in drug development process for diseases associated with aging.
Inquire / Order: manager@chemfaces.com
Technical Inquiries: service@chemfaces.com
Tel: +86-27-84237783
Fax: +86-27-84254680

Address:
1 Building, No. 83, CheCheng Rd., Wuhan Economic and Technological Development Zone, Wuhan, Hubei 430056, PRC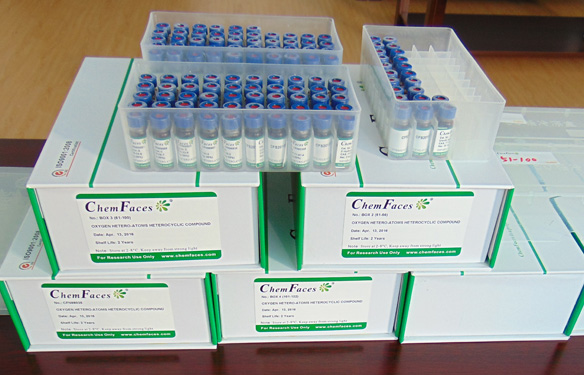 Providing storage is as stated on the product vial and the vial is kept tightly sealed, the product can be stored for up to
24 months(2-8C)
.
Wherever possible, you should prepare and use solutions on the same day. However, if you need to make up stock solutions in advance, we recommend that you store the solution as aliquots in tightly sealed vials at -20C. Generally, these will be useable for up to two weeks. Before use, and prior to opening the vial we recommend that you allow your product to equilibrate to room temperature for at least 1 hour.
Need more advice on solubility, usage and handling? Please email to: service@chemfaces.com
The packaging of the product may have turned upside down during transportation, resulting in the natural compounds adhering to the neck or cap of the vial. take the vial out of its packaging and gently shake to let the compounds fall to the bottom of the vial. for liquid products, centrifuge at 200-500 RPM to gather the liquid at the bottom of the vial. try to avoid loss or contamination during handling.
Nutrients.2019, 11(4):E936
Nat Prod Sci.2019, 25(3):238
Biol Pharm Bull.2018, 41(11):1645-1651
Int J Anal Chem.2017, 2017:1254721
Drug Test Anal.2018, 10(10):1579-1589
J Ethnopharmacol.2019, 236:31-41
Food Chem.2019, 279:80-87
Phytomedicine.2019, 55:229-237
J Chromatogr B Analyt Technol Biomed Life Sci.2019, 1113:1-13
Chemistry of Natural Compounds2019, 55(1):127-130
Journal of Biomolecular Structure and Dynamics, 2013, 31(11):1207-1218.
Investigation of silent information regulator 1 (Sirt1) agonists from Traditional Chinese Medicine.[Pubmed:
23075283
]
Silent information regulator 1 (Sirt1), a class III nicotinamide adenine dinucleotide dependent histone deacetylases, is important in cardioprotection, neuroprotection, metabolic disease, calorie restriction, and diseases associated with aging.
METHODS AND RESULTS:
Traditional Chinese Medicine (TCM) compounds from TCM Database@Taiwan ( http://tcm.cmu.edu.tw/ ) were employed for screening potent Sirt1 agonists, and molecular dynamics (MD) simulation was implemented to simulate ligand optimum docking poses and protein structure under dynamic conditions. TCM compounds such as (S)-tryptophan-betaxanthin, 5-O-Feruloylquinic acid, and RosA exhibited good binding affinity across different computational methods, and their drug-like potential were validated by MD simulation. Docking poses indicate that the carboxylic group of the three candidates generated H-bonds with residues in the protein chain from Ser441 to Lys444 and formed H-bond, π-cation interactions, or hydrophobic contacts with Phe297 and key active residue, His363. During MD, stable π-cation interactions with residues Phe273 or Arg274 were formed by (S)-tryptophan-betaxanthin and RosA.
CONCLUSIONS:
All candidates were anchored to His363 by stable π- or H-bonds. Hence, we propose (S)-tryptophan-betaxanthin, 5-O-Feruloylquinic acid, and RosA as potential lead compounds that can be further tested in drug development process for diseases associated with aging.
European Journal of Horticultural Science, 2008, 73(1):20-27.
Concentration and composition of flavonol glycosides and phenolic acids in aerial parts of stinging nettle (Urtica dioica L.) are affected by nitrogen fertilization and by harvest time.[Reference:
WebLink
]

METHODS AND RESULTS:
Plants of Urtica dioica were cultivated in three years with four different nitrogen (N) levels (0, 100, 200 and 400 kg N ha-1) and the aerial parts were harvested three times per year to investigate if the content of flavonoids and phenolic acids were affected. The flavonol glycosides quercetin-3-O-glucoside, quercetin-3-O-rutinoside, isorhamnetin-3-O-rutinoside, and kaempferol-3-O-rutinoside and the phenolic acids 5-O-caffeoylquinic acid, 3-O-caffeoylquinic acid, 5-O-Feruloylquinic acid and 2-O-caffeoylmalic acid were identified and quantified in extracts of the aerial parts of U. dioica by LC-DAD-MS and RP-HPLC-DAD, respectively. High N-levels reduced the concentration of total flavonoids significantly from an average of 10 mg g-1 dry matter (DM) at 0 kg N ha-1 to 5 mg g-1 at 400 kg N. The effect of N levels on total phenolic acids was only significant in the second harvest each year with a reduction from an average of 30 mg g-1 DM at 0 kg N ha-1 to 23 mg g-1 at 400 kg N ha-1. The composition of flavonoids changed significantly among the major flavonoids with later harvest time resulting in an increase in the content of quercetin-3-O-rutinoside and a decrease of the quercetin-3-O-glucoside content.
CONCLUSIONS:
From the present study it appears that cultivation of U. dioica herba for medicinal purposes with a high yield of bioactive compounds is a compromise between a high yield of plant material and the content of flavonol glycosides and phenolic acids in the harvested product.