Kuguacin N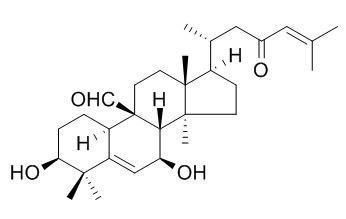 Kuguacin N has antioxidant activity.
Inquire / Order: manager@chemfaces.com
Technical Inquiries: service@chemfaces.com
Tel: +86-27-84237783
Fax: +86-27-84254680

Address:
1 Building, No. 83, CheCheng Rd., Wuhan Economic and Technological Development Zone, Wuhan, Hubei 430056, PRC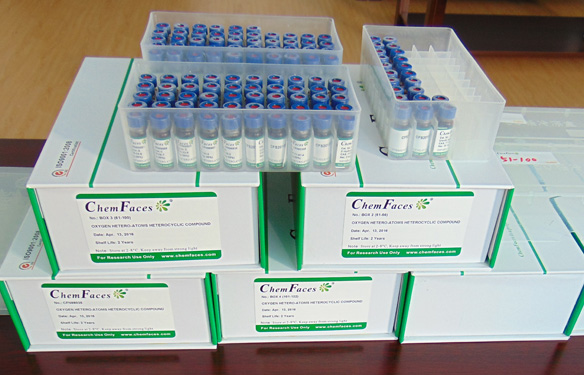 Providing storage is as stated on the product vial and the vial is kept tightly sealed, the product can be stored for up to
24 months(2-8C)
.
Wherever possible, you should prepare and use solutions on the same day. However, if you need to make up stock solutions in advance, we recommend that you store the solution as aliquots in tightly sealed vials at -20C. Generally, these will be useable for up to two weeks. Before use, and prior to opening the vial we recommend that you allow your product to equilibrate to room temperature for at least 1 hour.
Need more advice on solubility, usage and handling? Please email to: service@chemfaces.com
The packaging of the product may have turned upside down during transportation, resulting in the natural compounds adhering to the neck or cap of the vial. take the vial out of its packaging and gently shake to let the compounds fall to the bottom of the vial. for liquid products, centrifuge at 200-500 RPM to gather the liquid at the bottom of the vial. try to avoid loss or contamination during handling.
Acta Chromatographica2016, 29(3)
Food Chem.2019, 276:768-775
J Cell Physiol.2020, 10.1002
Asian J Beauty Cosmetol2019, 17(3):287-294
Exp Biol Med (Maywood).2019, 244(16):1463-1474
Curr Eye Res.2018, 43(1):27-34
Tumour Biol.2015, 36(9):7027-34
Food Quality and Safety2018, 2:213-219
Biochem Biophys Res Commun.2017, 494(3-4):587-593
Oncotarget.2016, 8(51):88386-88400
Scientia Agricultura Sinica, 2017.
Saponion Profiles and Antioxidant Activity,α-Glucosidase Inhibitory Activity of Momordica charantia of Different Varieties[Reference:
WebLink
]
The content and composition of saponion of 13 different M. charantia varieties as well as the antioxidant activity and inhibitory effect of α-glucosidase were studied.
METHODS AND RESULTS:
Perchloric acid-vanilin-glacial method was used to determine saponin content, while HPLC method was used to measure the contents of 7 saponin components. In addition, their antioxidant activity was evaluated by oxygen radical absorbance capacity (ORAC). The 4-nitrophenyl-2-β-D-glucopyranoside method was used to measure the a-glucosidase inhibitory activity and to analyze the relationship between the components and the corresponding activity. There is a significant difference in contents of saponin in 13 different varieties of M charantia.The content ranges of saponin were 0.52-1.20 g/100g DW, with an average value being 0.79 g/100g DW, and the coefficient of variability being 21.65%. The average contents of components were as follows: momorcharaside A 5.32 μg•g⁻¹ DW, momordicoside A 25.42 (μg•g⁻¹ DW, karaviloside XI 3.96 μg•g⁻¹ DW, momordicoside F2 66.95 μg•g⁻¹ DW, momordicoside K 183.70 μg•g⁻¹ DW, (23E)-3p,7p,25-trihydroxycucubita-5,23-dien-19-al 40.13 μg•g⁻¹ DW, and Kuguacin N 3.87 μg•g⁻¹ DW. ORAC values of the 13 M. charantia varieties varied from 2 747.76 to 15 584.07 μmol Trolox•g⁻¹, the average value being 8 879.48 mol Trolox•g⁻¹, the coefficient of variability being 34.91% and the IC50 value of alpha glucosidase varied from 1.55 to 4.96 mg•mL⁻¹.
CONCLUSIONS:
Significant differences in the components of saponin and the antioxidant activity and the inhibitory effect on α-glucosidase of different varieties of M. charantia were detected. Saponin is the main active basis of a-glucosidase activity in M. charantia, but not the main antioxidant substance. (23E)-3p,7p,25-trihydroxycucubita-5,23-dien-19-al is the major active compound.