Cyclocurcumin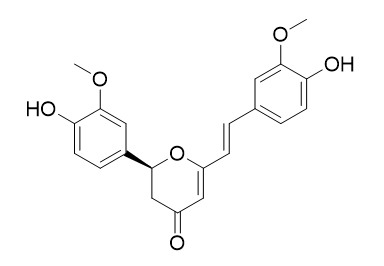 Cyclocurcumin, a curcumin derivative, exhibits anticancer, anti-inflammatory, and immune-modulating abilities and is a potential compound for the treatment of rheumatoid arthritis as predicted by the MM-PBSA method. It may have a therapeutic potential as a novel antivasoconstrictive natural product. Cyclocurcumin offers higher neuronal protection than curcumin, they both reduced the level of ROS caused by MPP+ treatment.
Inquire / Order: manager@chemfaces.com
Technical Inquiries: service@chemfaces.com
Tel: +86-27-84237783
Fax: +86-27-84254680

Address:
1 Building, No. 83, CheCheng Rd., Wuhan Economic and Technological Development Zone, Wuhan, Hubei 430056, PRC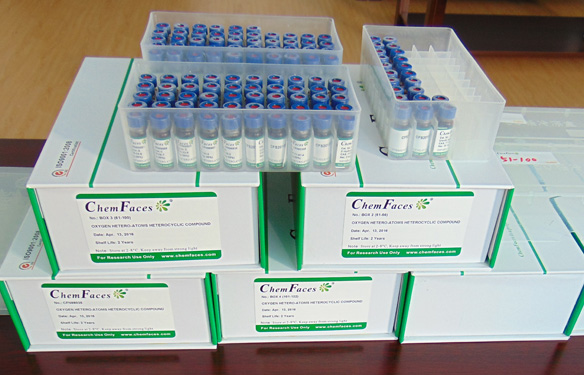 Providing storage is as stated on the product vial and the vial is kept tightly sealed, the product can be stored for up to
24 months(2-8C)
.
Wherever possible, you should prepare and use solutions on the same day. However, if you need to make up stock solutions in advance, we recommend that you store the solution as aliquots in tightly sealed vials at -20C. Generally, these will be useable for up to two weeks. Before use, and prior to opening the vial we recommend that you allow your product to equilibrate to room temperature for at least 1 hour.
Need more advice on solubility, usage and handling? Please email to: service@chemfaces.com
The packaging of the product may have turned upside down during transportation, resulting in the natural compounds adhering to the neck or cap of the vial. take the vial out of its packaging and gently shake to let the compounds fall to the bottom of the vial. for liquid products, centrifuge at 200-500 RPM to gather the liquid at the bottom of the vial. try to avoid loss or contamination during handling.
Appl. Sci. 2021, 11(22), 10552
J Sci Food Agric.2018, 98(3):1153-1161
The Journal of Internal Korean Medicine2015, 36(4):486-497
Nutrients.2019, 11(11):E2694
BMC Complement Altern Med.2019, 19(1):367
J Pharmaceut Biomed2020, 178:112894
Toxicol In Vitro.2018, 52:94-105
Asian Pac J Cancer Prev.2021, 22(S1):97-106.
Biochem Biophys Res Commun.2018, 505(1):194-200
Evid Based Complement Alternat Med.2017, 2017:1583185
Sci Rep. 2017 Dec 5;7(1):16977.
Inhibitory effects of curcumin and cyclocurcumin in 1-methyl-4-phenylpyridinium (MPP+) induced neurotoxicity in differentiated PC12 cells.[Pubmed:
29209088
]
Development and progression of neurodegenerative diseases like Parkinson's disease (PD) involve multiple pathways. Thus, effective therapeutic treatments should intervene to address all these pathways simultaneously for greater success. Most of the current pharmacotherapeutic approaches just supplement striatal dopamine. Hence, natural extracts of plants with therapeutic potential have been explored. Curcuminoids belong to one such group of polyphenol which show immense therapeutic effects.
METHODS AND RESULTS:
Here, we have used intracellular reactive oxygen species (ROS) measurement, and two-photon fluorescence lifetime imaging microscopy (2P-FLIM) of cellular autofluorescent co-enzyme reduced nicotinamide adenine dinucleotide (NADH) to study the inhibitory effects of curcumin and Cyclocurcumin in alleviating PD like neurotoxicity of 1-methyl-4-phenylpyridinium (MPP+) in neuronal growth factor (NGF) induced differentiated PC12 cells. Our results showed that both Cyclocurcumin and curcumin reduced the level of ROS caused by MPP+ treatment. Moreover, a significant increase in the free, protein-bound, and average NADH fluorescence lifetimes along with a decrease in the relative contribution of free- vs. protein-bound NADH components in curcuminoids treated cells (pretreated with MPP+) were observed compared with those treated with MPP+ only.
CONCLUSIONS:
This study, which indicates that Cyclocurcumin offers higher neuronal protection than curcumin, may initiate further studies of these compounds in the cure of neurodegenerative diseases.
Int J Mol Med. 2017 May;39(5):1164-1172.
Cyclocurcumin, a curcumin derivative, exhibits immune-modulating ability and is a potential compound for the treatment of rheumatoid arthritis as predicted by the MM-PBSA method.[Pubmed:
28339004
]
The control and treatment of rheumatoid arthritis is a challenge in today's world. Therefore, the pursuit of natural disease-modifying antirheumatic drugs (DMRDs) remains a top priority in rheumatology. The present study focused on curcumin and its derivatives in the search for new DMRDs. We focused on prominent p38 mitogen-activated protein (MAP) kinase p38α which is a prime regulator of tumor necrosis factor-α (TNF-α), a key mediator of rheumatoid arthritis.
METHODS AND RESULTS:
In the present study, we used the X-ray crystallographic structure of p38α for molecular docking simulations and molecular dynamic simulations to study the binding modes of curcumin and its derivatives with the active site of p38α. The ATP-binding domain was used for evaluating curcumin and its derivatives. Molecular docking simulation results were used to select 4 out of 8 compounds. These 4 compounds were simulated using GROMACS molecular simulation platform; the results generated were subjected to molecular mechanics-Poisson Boltzmann surface area (MM-PBSA) calculations.
CONCLUSIONS:
The results showed Cyclocurcumin as a potential natural compound for development of a potent DMRD. These data were further supported by inhibition of TNF-α release from lipopolysaccharide (LPS)-stimulated human macrophages following Cyclocurcumin treatment.
J Nat Prod. 2017 Jan 27;80(1):196-200.
Cyclocurcumin, an Antivasoconstrictive Constituent of Curcuma longa (Turmeric).[Pubmed:
28068085
]
Despite the increasing attention on the therapeutic potential of Curcuma longa (turmeric), the biological activities of curcuminoids other than curcumin are not well understood.
METHODS AND RESULTS:
Here, we investigated antivasoconstrictive activities of C. longa extract and its ingredients using freshly isolated rat aortic rings. C. longa extract significantly suppressed agonist-stimulated vasoconstriction, and Cyclocurcumin was found to be the most potent (IC50 against phenylephrine-induced vasoconstriction: 14.9 ± 1.0 μM) among the 10 tested ingredients including four curcuminoids. Cyclocurcumin significantly inhibited contraction of vascular smooth muscle, which was mediated by the suppression of myosin-light-chain phosphorylation and calcium influx via the L-type calcium channel. The inhibitory effect of Cyclocurcumin was observed to be reversible and without cytotoxicity.
CONCLUSIONS:
Taken together, we demonstrated that Cyclocurcumin, a bioactive ingredient in C. longa, may have a therapeutic potential as a novel antivasoconstrictive natural product.
Mol Nutr Food Res. 2013 Sep;57(9):1529-42.
Curcumin-free turmeric exhibits anti-inflammatory and anticancer activities: Identification of novel components of turmeric.[Pubmed:
23847105
]
Turmeric, a dried powder derived from the rhizome of Curcuma longa, has been used for centuries in certain parts of the world and has been linked to numerous biological activities including antioxidant, anti-inflammatory, anticancer, antigrowth, anti-arthritic, anti-atherosclerotic, antidepressant, anti-aging, antidiabetic, antimicrobial, wound healing, and memory-enhancing activities. One component of turmeric is curcumin, which has been extensively studied, as indicated by more than 5600 citations, most of which have appeared within the past decade. Recent research has identified numerous chemical entities from turmeric other than curcumin. It is unclear whether all of the activities ascribed to turmeric are due to curcumin or whether other compounds in turmeric can manifest these activities uniquely, additively, or synergistically with curcumin.
METHODS AND RESULTS:
However, studies have indicated that turmeric oil, present in turmeric, can enhance the bioavailability of curcumin. Studies over the past decade have indicated that curcumin-free turmeric (CFT) components possess numerous biological activities including anti-inflammatory, anticancer, and antidiabetic activities. Elemene derived from turmeric is approved in China for the treatment of cancer.
CONCLUSIONS:
The current review focuses on the anticancer and anti-inflammatory activities exhibited by CFT and by some individual components of turmeric, including turmerin, turmerone, elemene, furanodiene, curdione, bisacurone, Cyclocurcumin, calebin A, and germacrone.
J Bioenerg Biomembr. 2018 Dec;50(6):447-459.
An integrated molecular modeling approach for the tryptase monomer-curcuminoid recognition analysis: conformational and bioenergetic features.[Pubmed:
30415460
]
Human mast cell tryptase has been shown as an activating enzyme in matrix degradation process. The previous study suggest that tryptase either alone or in joining with activation of metalloproteinases, can associate in extra cellular matrix damage and the possible destruction of the basement membrane resulting in photoaging. Therefore the inhibition of tryptase activity is one of the most important therapeutic strategies against the photoaging. Curcumin has been shown to be a potential agent for preventing and/or treating the photoaging induced by UV radiation. However, the protective effect of curcumin against the photoaging through the tryptase inhibition is still inadequately understood.
METHODS AND RESULTS:
In this work, computational methods to characterize the structural framework and define the atomistic details of the determinants for the tryptase inhibition mechanism by curcuminoids were performed. By molecular docking, three putative binding models able to efficiently bind all curcuminoids were identified. Analysis of molecular dynamics simulations revealed that Cyclocurcumin, curcumin glucuronide, and curcumin, the most effective inhibitors from the three models, modified significant tryptase monomer rigidity by binding in all the possible sites. The result of these binding events is the suppression of the functional enzymatic motions involving the binding of substrates to the catalytic site.
CONCLUSIONS:
On the basis of this finding may thus be beneficial for the development of new natural inhibitors for the therapeutic remedy of photoaging, targeting and modulating the activity of tryptase.