Momordicine II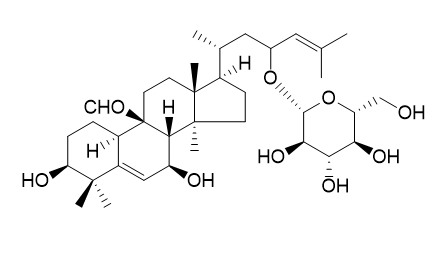 Momordicine II may have antidiabetic activity, it significantly stimulated insulin secretion. It also can deter oviposition by L. trifolii significantly.
Inquire / Order: manager@chemfaces.com
Technical Inquiries: service@chemfaces.com
Tel: +86-27-84237783
Fax: +86-27-84254680

Address:
1 Building, No. 83, CheCheng Rd., Wuhan Economic and Technological Development Zone, Wuhan, Hubei 430056, PRC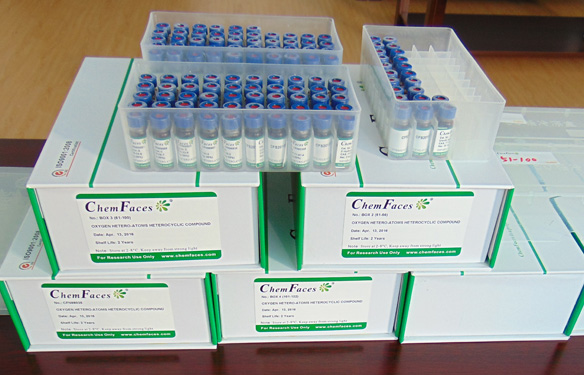 Providing storage is as stated on the product vial and the vial is kept tightly sealed, the product can be stored for up to
24 months(2-8C)
.
Wherever possible, you should prepare and use solutions on the same day. However, if you need to make up stock solutions in advance, we recommend that you store the solution as aliquots in tightly sealed vials at -20C. Generally, these will be useable for up to two weeks. Before use, and prior to opening the vial we recommend that you allow your product to equilibrate to room temperature for at least 1 hour.
Need more advice on solubility, usage and handling? Please email to: service@chemfaces.com
The packaging of the product may have turned upside down during transportation, resulting in the natural compounds adhering to the neck or cap of the vial. take the vial out of its packaging and gently shake to let the compounds fall to the bottom of the vial. for liquid products, centrifuge at 200-500 RPM to gather the liquid at the bottom of the vial. try to avoid loss or contamination during handling.
Korean Journal of Pharmacognosy.2020, 51(2):100-106
Int J Mol Sci.2017, 19(1)
Biochem Systematics and Ecology2017, 11-18
JABS2020, 14:2(2020)
Oxid Med Cell Longev.2021, 2021:6647107.
Int J Mol Sci.2021, 22(21):11447.
Cell Chem Biol.2019, 26(1):27-34
BMC Cancer. 2021, 21(1):91.
Mol Pharmacol.2021, 99(2):163-174.
Appl. Sci.2023, 13(17), 9653.
Phytomedicine. 2011 Dec 15;19(1):32-7.
Saponins from the traditional medicinal plant Momordica charantia stimulate insulin secretion in vitro.[Pubmed:
22133295
]
The antidiabetic activity of Momordica charantia (L.), Cucurbitaceae, a widely-used treatment for diabetes in a number of traditional medicine systems, was investigated in vitro. Antidiabetic activity has been reported for certain saponins isolated from M. charantia.
METHODS AND RESULTS:
In this study insulin secretion was measured in MIN6 β-cells incubated with an ethanol extract, saponin-rich fraction, and five purified saponins and cucurbitane triterpenoids from M. charantia, 3β,7β,25-trihydroxycucurbita-5,23(E)-dien-19-al (1), momordicine I (2), Momordicine II (3), 3-hydroxycucurbita-5,24-dien-19-al-7,23-di-O-β-glucopyranoside (4), and kuguaglycoside G (5). Treatments were compared to incubation with high glucose (27 mM) and the insulin secretagogue, glipizide (50 μM). At 125 μg/ml, an LC-ToF-MS characterized saponin-rich fraction stimulated insulin secretion significantly more than the DMSO vehicle, p=0.02. At concentrations 10 and 25 μg/ml, compounds 3 and 5 also significantly stimulated insulin secretion as compared to the vehicle, p≤0.007, and p=0.002, respectively.
CONCLUSIONS:
This is the first report of a saponin-rich fraction, and isolated compounds from M. charantia, stimulating insulin secretion in an in vitro, static incubation assay.
Z Naturforsch C. 2006 Jan-Feb;61(1-2):81-6.
Cucurbitane glucosides from Momordica charantia leaves as oviposition deterrents to the leafminer, Liriomyza trifolii.[Pubmed:
16610222
]

METHODS AND RESULTS:
The American serpentine leaf mining fly, Liriomyza trifolii, whose larva feeds on more than 120 plant species is well characterized by its high degree of polyphagy. Observations on the oviposition behavior by L. trifolii demonstrated that among cucurbitaceous plants, Momordica charantia is rarely attacked by L. trifolii. The methanol extract of M. charantia leaves strongly deterred the females from ovipositing on kidney bean leaves treated at a concentration of 1 g leaf equivalent extract/ml. Analysis of the polar fraction of the methanol extract of M. charantia leaves resulted in the isolation of a novel cucurbitane glucoside, 7-O-beta-D-glucopyranosyl-3,23-dihydroxycucurbita-5,24-dien-19-al, named momordicine IV, along with another known compound, Momordicine II.
CONCLUSIONS:
Momordicine II and IV deterred oviposition by L. trifolii significantly when bioassays were carried out on kidney bean leaves treated at 75.6 and 20.3 microg/cm2 leaf surface, respectively. There was no synergistic effect on oviposition deterrent when the two compounds were combined in their natural abundance.
Planta Med. 2014 Jul;80(11):907-11.
Transport in Caco-2 cell monolayers of antidiabetic cucurbitane triterpenoids from Momordica charantia fruits.[Pubmed:
25116119
]
Bitter melon, the fruit of Momordica charantia L. (Cucurbitaceae), is a widely-used treatment for diabetes in traditional medicine systems throughout the world. Various compounds have been shown to be responsible for this reputed activity, and, in particular, cucurbitane triterpenoids are thought to play a significant role. The objective of this study was to investigate the gastrointestinal transport of a triterpenoid-enriched n-butanol extract of M. charantia using a two-compartment transwell human intestinal epithelial cell Caco-2 monolayer system, simulating the intestinal barrier.
METHODS AND RESULTS:
Eleven triterpenoids in this extract were transported from the apical to basolateral direction across Caco-2 cell monolayers, and were identified or tentatively identified by HPLC-TOF-MS. Cucurbitane triterpenoids permeated to the basolateral side with apparent permeability coefficient (P app) values for 3-β-7-β,25-trihydroxycucurbita-5,23(E)-dien-19-al and momordicine I and Momordicine II at 9.02 × 10(-6), 8.12 × 10(-6), and 1.68 × 10(-6)cm/s, respectively. Also, small amounts of these triterpenoids were absorbed inside the Caco-2 cells.
CONCLUSIONS:
This is the first report of the transport of the reputed antidiabetic cucurbitane triterpenoids in human intestinal epithelial cell monolayers. Our findings, therefore, further support the hypothesis that cucurbitane triterpenoids from bitter melon may explain, at least in part, the antidiabetic activity of this plant in vivo.