Isomartynoside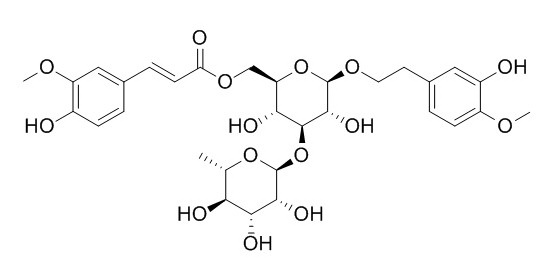 Isomartynoside has inhibition against the angiotensin converting enzyme (ACE) activities, the IC 50 value is 505±26.7μg/ml, it may have antihypertensive effect. Isomartynoside also shows obvious anti-fatigue activity.
Inquire / Order: manager@chemfaces.com
Technical Inquiries: service@chemfaces.com
Tel: +86-27-84237783
Fax: +86-27-84254680

Address:
1 Building, No. 83, CheCheng Rd., Wuhan Economic and Technological Development Zone, Wuhan, Hubei 430056, PRC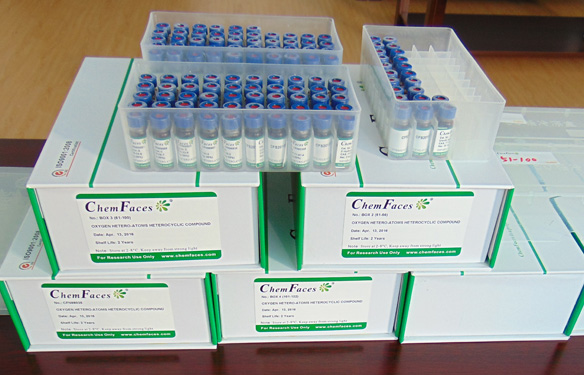 Providing storage is as stated on the product vial and the vial is kept tightly sealed, the product can be stored for up to
24 months(2-8C)
.
Wherever possible, you should prepare and use solutions on the same day. However, if you need to make up stock solutions in advance, we recommend that you store the solution as aliquots in tightly sealed vials at -20C. Generally, these will be useable for up to two weeks. Before use, and prior to opening the vial we recommend that you allow your product to equilibrate to room temperature for at least 1 hour.
Need more advice on solubility, usage and handling? Please email to: service@chemfaces.com
The packaging of the product may have turned upside down during transportation, resulting in the natural compounds adhering to the neck or cap of the vial. take the vial out of its packaging and gently shake to let the compounds fall to the bottom of the vial. for liquid products, centrifuge at 200-500 RPM to gather the liquid at the bottom of the vial. try to avoid loss or contamination during handling.
Int J Mol Med.2016, 37(2):501-8
Metabolites.2019, 9(11):E271
J Mol Histol.2019, 50(4):343-354
Molecules.2019, 24(2):E343
J Cell Mol Med.2018, 22(9):4236-4242
Food Res Int.2017, 96:40-45
RSC Advances2017, 86
J-STAGE2015, 249-255
Pest Manag Sci.2019, 75(9):2530-2541
Postharvest Biol Tec2019, 149:18-26
J. Ethnopharmacol., 2003, 89(1):151-4.
Angiotensin converting enzyme inhibitory phenylpropanoid glycosides from Clerodendron trichotomum.[Pubmed:
14522447
]
The stems of Clerodendron trichotomum have been traditionally used for treatment of hypertension in far East Asia including China, Korea, and Japan.
METHODS AND RESULTS:
Bioassay-guided fractionation and purification of the EtOAc-soluble extract of Clerodendron trichotomum afforded acteoside (1), leucosceptoside A (2), martynoside (3), acteoside isomer (4), and Isomartynoside (5). The angiotensin converting enzyme (ACE) activities were significantly inhibited by the addition of these phenylpropanoid glycosides (1-5) in a dose-dependent manner of which IC(50) values were 373+/-9.3 microg/ml, 423+/-18.8 microg/ml, 524+/-28.1 microg/ml, 376+/-15.6 microg/ml, 505+/-26.7 microg/ml, respectively.
CONCLUSIONS:
These results suggest that the antihypertensive effect of Clerodendron trichotomum may be, at least in part, due to ACE inhibitory effect of phenylpropanoid glycosides.
Chinese Traditional & Herbal Drugs, 2014, 45(9):1223-7.
Phenylpropanoids constituents of Pedicularis dichotoma.[Reference:
WebLink
]
To study the phenylpropanoid constituents from the whole plants of Pedicularis dichotoma and the anti-fatigue activities in vivo.
METHODS AND RESULTS:
The n-BuOH fraction of 95% ethanol extract from P. dichotoma was separated and purified by silica gel, re-phase and Sephadex LH-20 column chromatography. The structures of the compounds were identified by physicochemical properties and various spectroscopic methods. The compounds were tested on anti-fatigue activity using mice in swimming model. Twelve phenylpropanoid compounds were isolated and purified. Their structures were identified as verbascoside (1), isoverbascoside (2), leucoseptoside A (3), jionoside D (4), martynoside (5), Isomartynoside (6), cis-martynoside (7), citrusin C (8), robustaside B (9), darendoside B (10), zizybeoside I (11), and salidroside (12). Verbascoside could obviously prolong the swimming time of mice.
CONCLUSIONS:
Compounds 1-12 are obtained from the plant for the first time, and compound 11 is reported from the plants of Pedicularis Linn. for the first time. Phenylpropanoids show obvious anti-fatigue activities.
Zhong Yao Cai. 2012 Dec;35(12):1959-61.
Study on the chemical constituents of Buddleja davidii.[Pubmed:
23705361
]
To study the chemical constituents of Buddleja davidii.
METHODS AND RESULTS:
The constituents were isolated and purified by silica gel column chromatography, polyamide column chromatography and macroporous adsorption resin and their structures were identified by spectroscopic analysis. Eight compounds were elucidated as : Cranioside A (1), Eutigoside A (2), 1-O-4-Dimethoxyphenylethyl-4-O-3,4-dimethoxyphenylethy-beta-D-glucopyranoside (3), Isomartynoside (4'), 4"-O-Acetylmartynoside (5), Stigmasterol glueoside (6), beta-Sitosterol (7), Daucosterol (8).
CONCLUSIONS:
All these compounds are obtained from this plant for the first time.