Plantamajoside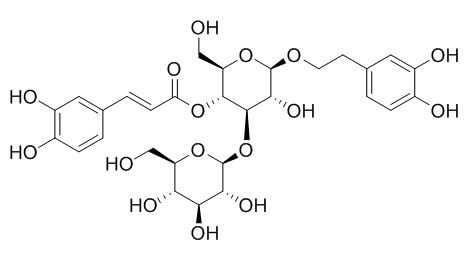 Plantamajoside has antibacterial, antioxidant, anti-tumor, anti-inflammatory and anti-skin photoaging effects, it has protective activities against Cadmium-induced renal injury. Plantamajoside ameliorates lipopolysaccharide-induced acute lung injury via suppressing NF-κB and MAPK activation, it can inhibit UVB and advanced glycation end products‐induced MMP-1 Expression by suppressing the MAPK and NF‐ĸB pathways in HaCaT cells, and attenuate the upregulation of receptor for AGEs (RAGE) by glycer-AGEs with UVB irradiation.
Inquire / Order: manager@chemfaces.com
Technical Inquiries: service@chemfaces.com
Tel: +86-27-84237783
Fax: +86-27-84254680

Address:
1 Building, No. 83, CheCheng Rd., Wuhan Economic and Technological Development Zone, Wuhan, Hubei 430056, PRC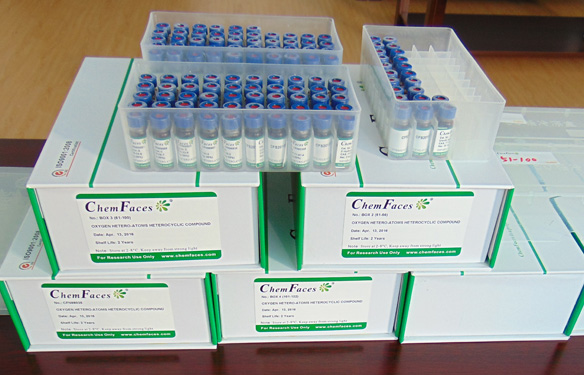 Providing storage is as stated on the product vial and the vial is kept tightly sealed, the product can be stored for up to
24 months(2-8C)
.
Wherever possible, you should prepare and use solutions on the same day. However, if you need to make up stock solutions in advance, we recommend that you store the solution as aliquots in tightly sealed vials at -20C. Generally, these will be useable for up to two weeks. Before use, and prior to opening the vial we recommend that you allow your product to equilibrate to room temperature for at least 1 hour.
Need more advice on solubility, usage and handling? Please email to: service@chemfaces.com
The packaging of the product may have turned upside down during transportation, resulting in the natural compounds adhering to the neck or cap of the vial. take the vial out of its packaging and gently shake to let the compounds fall to the bottom of the vial. for liquid products, centrifuge at 200-500 RPM to gather the liquid at the bottom of the vial. try to avoid loss or contamination during handling.
Int. J. of Food Properties2017, S108-S118
Malaysian J of Fundamental and Applied Sciences 2018, 14(3):368-373
Molecules.2016, 21(10)
Food Sci Biotechnol.2016, 25(5):1437-1442
Int. Conference on Med. Sci. and Bio.2017, 17973
Eur J Pharmacol.2018, 832:96-103
PLoS One.2015, 10(5):e0127060
J Nat Prod.2019, 82(4):1002-1008
Oncotarget.2017, 9(3):4161-4172
Sci Rep.2018, 8:9267
Photochem Photobiol. 2016 Sep;92(5):708-19.
Plantamajoside Inhibits UVB and Advanced Glycation End Products-Induced MMP-1 Expression by Suppressing the MAPK and NF-κB Pathways in HaCaT Cells.[Pubmed:
27346084
]
Photoaging and glycation stress are major causes of skin deterioration. Oxidative stress caused by ultraviolet B (UVB) irradiation can upregulate matrix metalloprotease 1 (MMP-1), a major enzyme responsible for collagen damage in the skin. Advanced glycation end products (AGEs) accumulate via gradual formation from skin proteins, especially from long-lived proteins such as dermal elastin and collagen. Plantamajoside (PM), isolated from Plantago asiatica, has various biological effects including anti-inflammatory and antioxidant effects.
METHODS AND RESULTS:
In this study, we assessed the protective effects of PM on a human keratinocyte cell line (HaCaT) and primary human dermal fibroblasts (HDF) against stress caused by glyceraldehyde-induced AGEs (glycer-AGEs) with UVB irradiation. We found that PM attenuated UVB- and-glycer-AGEs-induced MMP-1 expression in HaCaT and HDF cells and proinflammatory cytokines expression by inhibiting the phosphorylation of mitogen-activated protein kinases (MAPKs) activated by reactive oxygen species. Specific inhibitors of NF-κB and MAPKs attenuated the induced expression of MMP-1. PM also inhibited the phosphorylation of IκBα, and reduced nuclear translocation of NF-κB in these cells. Furthermore, PM attenuated the upregulation of receptor for AGEs (RAGE) by glycer-AGEs with UVB irradiation.
CONCLUSIONS:
Therefore, our findings strongly suggest that PM is a promising inhibitor of skin photoaging.
Environ Toxicol Pharmacol. 2015 Jan;39(1):125-36.
Nephroprotection of plantamajoside in rats treated with cadmium.[Pubmed:
25499790
]
Cadmium (Cd), an environmental and industrial pollutant, generates free radicals responsible for oxidative stress. Cd can also lead to various renal toxic damage such as the proximal tubules and glomerulus dysfunction. Plantamajoside (PMS), a major compound of Plantago asiatica (PA), was reported to have the antioxidant effects.
METHODS AND RESULTS:
In this study, we investigated the protective effects of PMS on Cd-induced renal damage in the NRK-52E cell and rat kidney tissue. Cd exposure increased the ROS generation, lipid peroxidation, serum biochemical values of renal damage, and mRNA and protein expressions of KIM-1 in vitro and in vivo. The significant reduction in glutathione (GSH)/glutathione disulfide (GSSG) ratio and activities of antioxidant enzymes were also observed in the rats treated with Cd. PMS significantly decreased the ROS generation and lipid peroxidation, thus enhancing GSH/GSSG ratio, antioxidant enzyme activities in the cells and rats, and improved histochemical appearances.
CONCLUSIONS:
Indicating that PMS has protective activities against Cd-induced renal injury.
Phytother Res. 2007 Dec;21(12):1118-23.
A 90 day repeated oral toxicity study on plantamajoside concentrate from Plantago asiatica.[Pubmed:
17622978
]
Plantago asiatica is distributed widely in East Asia. Since ancient times it has been used as a diuretic to treat acute urinary infections, and as an antiinflammatory, antiasthmatic, antioxidant, antibacterial, antihyperlipidemic and antihepatitis drug. The major compound, Plantamajoside from P. asiatica, which is used as a marker compound in chemotaxonomic studies, was reported to have antibacterial activity, inhibition activity against cAMP phosphodiesterase and 5-lipoxygenase and antioxidant activity. However, there are no reports on the safety of Plantamajoside.
METHODS AND RESULTS:
This study assessed the toxic effects of Plantamajoside concentrate (PC), the purity of which was above 80%, in rats following administration at dose levels of 0, 500, 1000 and 2000 mg/kg body weight/day for 13 weeks, as recommended by the OECD guidelines. The results showed that there were no differences in body weight, food intake, water consumption, relative organ weight or the hematological and serum biochemical values among the different dosage groups. No death or abnormal clinical signs were observed during the experimental period.
CONCLUSIONS:
Therefore, the results suggested that no observed adverse effect level (NOAEL) of the PC in rats after oral administration is considered to be greater than 2000 mg/kg in rats under the conditions employed in this study.
BMC Cancer. 2015 Dec 16;15:965.
Plantamajoside, a potential anti-tumor herbal medicine inhibits breast cancer growth and pulmonary metastasis by decreasing the activity of matrix metalloproteinase-9 and -2.[Pubmed:
26674531
]
Metastasis is the major cause of death in breast cancers. MMPs play a key role in tumor microenvironment that facilitates metastasis. The existing researches suggest that the high expression of gelatinase A and B (MMP2 and MMP9) promote the metastasis of breast cancer. Therefore, gelatinase inhibitor can effectively suppress tumor metastasis. However, at present, there is no dramatically effective gelatinase inhibitor against breast cancer.
METHODS AND RESULTS:
We screened gelatinase inhibitor among Chinese herbal medicine by molecular docking technology; investigated the proliferation, migration and invasion of MDA-MB-231 human breast cancer cell line and 4T1 mouse breast cancer cell line in response to the treatment with the screened inhibitor by wound assay, invasion assay and gelatin zymography; then further examined the effects of inhibitor on allograft mammary tumors of mice by immunohistochemistry. We successfully screened an Chinese herbal medicine-Plantamajoside(PMS)-which can reduce the gelatinase activity of MMP9 and MMP2. In vitro, PMS can inhibit the proliferation, migration and invasion of MDA-MB-231 human breast cancer cell line and 4T1 mouse breast cancer cell line by decreasing MMP9 and MMP2 activity. In vivo, oral administration of PMS to the mice bearing 4T1 cells induced tumors resulted in significant reduction in allograft tumor volume and weights, significant decrease in microvascular density and significant lower lung metastasis rate.
CONCLUSIONS:
Our results indicate that as a promising anti-cancer agent, PMS may inhibit growth and metastasis of breast cancer by inhibiting the activity of MMP9 and MMP2.
Int Immunopharmacol. 2016 Jun;35:315-322.
Plantamajoside ameliorates lipopolysaccharide-induced acute lung injury via suppressing NF-κB and MAPK activation.[Pubmed:
27089391
]
Despite developments in the knowledge and therapy of acute lung injury in recent decades, mortality remains high, and there is usually a lack of effective therapy. Plantamajoside, a major ingredient isolated from Plantago asiatica L. (Plantaginaceae), has been reported to have potent anti-inflammatory properties. However, the effect of Plantamajoside on lipopolysaccharide (LPS)-induced acute lung injury (ALI) in mice has not been investigated.
METHODS AND RESULTS:
The present study aimed to reveal the potential mechanism responsible for the anti-inflammatory effects of Plantamajoside on LPS-induced acute lung injury in mice and in RAW264.7 cells. The results of histopathological changes as well as the lung wet-to-dry ratio and myeloperoxidase (MPO) activity showed that Plantamajoside ameliorated the lung injury that was induced by LPS. qPCR and ELISA assays demonstrated that Plantamajoside suppressed the production of IL-1β, IL-6 and TNF-α in a dose-dependent manner. TLR4 is an important sensor in LPS infection. Molecular studies showed that the expression of TLR4 was inhibited by Plantamajoside administration. Further study was conducted on nuclear factor (NF)-κB and mitogen-activated protein kinase (MAPK) using pathways using western blots. The results showed that Plantamajoside inhibited the phosphorylation of IκBα, p65, p38, JNK and ERK. All results indicated that Plantamajoside has protective effect on LPS-induced ALI in mice and in RAW264.7 cells.
CONCLUSIONS:
Thus, Plantamajoside may be a potential therapy for the treatment of pulmonary inflammation.