Magnoloside A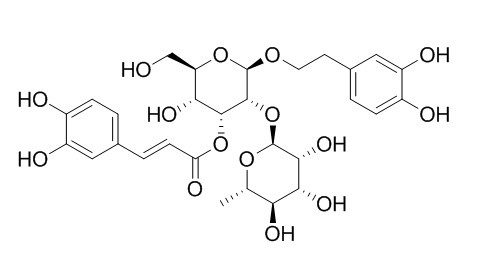 Magnoloside A has potent antifungal activities against various Cryptococcus strains with minimum inhibitory concentration values ranging from 1.0 to 4.0 ug/ml.
Inquire / Order: manager@chemfaces.com
Technical Inquiries: service@chemfaces.com
Tel: +86-27-84237783
Fax: +86-27-84254680

Address:
1 Building, No. 83, CheCheng Rd., Wuhan Economic and Technological Development Zone, Wuhan, Hubei 430056, PRC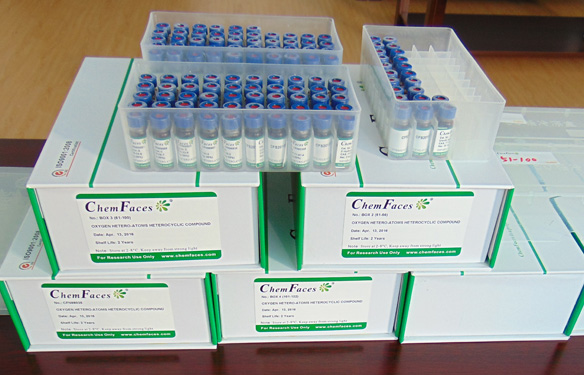 Providing storage is as stated on the product vial and the vial is kept tightly sealed, the product can be stored for up to
24 months(2-8C)
.
Wherever possible, you should prepare and use solutions on the same day. However, if you need to make up stock solutions in advance, we recommend that you store the solution as aliquots in tightly sealed vials at -20C. Generally, these will be useable for up to two weeks. Before use, and prior to opening the vial we recommend that you allow your product to equilibrate to room temperature for at least 1 hour.
Need more advice on solubility, usage and handling? Please email to: service@chemfaces.com
The packaging of the product may have turned upside down during transportation, resulting in the natural compounds adhering to the neck or cap of the vial. take the vial out of its packaging and gently shake to let the compounds fall to the bottom of the vial. for liquid products, centrifuge at 200-500 RPM to gather the liquid at the bottom of the vial. try to avoid loss or contamination during handling.
J Sep Sci.2019, 42(21):3352-3362
Polytechnic University of Catalonia2017, 105826
Biochem Biophys Res Commun.2020, 522(1):40-46
Acta Chromatographica2016, 29(3)
Journal of Life Science2018, 917-922
Molecules.2019, 24(12):E2286
Phytomedicine.2019, 62:152962
J Mater Chem B.2019, 7(39):5896-5919
Front Plant Sci.2020, 10:1705
Drug Test Anal.2018, 10(10):1579-1589
J Microbiol Biotechnol. 2015 Sep;25(9):1429-32.
A Phenylpropanoid Glycoside as a Calcineurin Inhibitor Isolated from Magnolia obovata Thunb.[Pubmed:
26174771
]

METHODS AND RESULTS:
To identify plant-derived cell signaling inhibitors with antifungal properties, a twocomponent screening system using both wild-type Cryptococcus neoformans and a calcineurin mutant was employed owing to their counter-regulatory actions on the Hog1 mitogenactivated protein kinase and calcineurin pathways. Of the 2,000 plant extracts evaluated, a single bioactive compound from M. obovata Thunb. was found to act specifically on the calcineurin pathway of C. neoformans.
CONCLUSIONS:
This compound was identified as Magnoloside A, and had potent antifungal activities against various Cryptococcus strains with minimum inhibitory concentration values ranging from 1.0 to 4.0 μg/ml.
J Chromatogr Sci. 2015 Apr;53(4):598-602.
An HPLC-DAD Method for Simultaneous Quantitative Determination of Four Active Hydrophilic Compounds in Magnoliae Officinalis Cortex.[Pubmed:
25085894
]
Magnoliae officinalis cortex (MOC), derived from Magnolia officinalis and its variation M. officinalis var. biloba, is an important traditional Chinese medicine.
METHODS AND RESULTS:
In our previous work, 11 hydrophilic ingredients of MOC were isolated and structurally elucidated and four, namely syringin (SG), Magnoloside A (MA), magnoloside B (MB) and magnoflorine (MF), showed bioactive effects. Herein, we describe an HPLC-DAD method for the simultaneous quantitative determination of MA, MB, MF and SG in MOC for the first time. The chromatographic separation of samples was performed on an Agilent Zorbax SB-C18 column (250 × 4.6 mm i.d., 5 µm) by gradient elution with water-acetic acid (pH 3.0) and methanol at a flow rate of 1.0 mL/min. The wavelengths were set at 265 nm for MF and SG, and 328 nm for MA and MB. The average recovery of the four compounds was from 97.63 to 103.84%. Nearly 100 MOC samples harvested from eight habitats were analyzed in which the contents of the tested compound varied in the range of 0.016-0.350% (MF), 0.010-0.337% (SG), 0.017-3.009% (MB) and 0.077-2.529% (MA).
CONCLUSIONS:
The analysis also indicated that MOC contains a significant amount of phenylethanoid glycosides. This was an unexpected finding because previously lignan was considered to be the main component of MOC.