Epimedin B1
Reference standards.
Inquire / Order: manager@chemfaces.com
Technical Inquiries: service@chemfaces.com
Tel: +86-27-84237783
Fax: +86-27-84254680

Address:
1 Building, No. 83, CheCheng Rd., Wuhan Economic and Technological Development Zone, Wuhan, Hubei 430056, PRC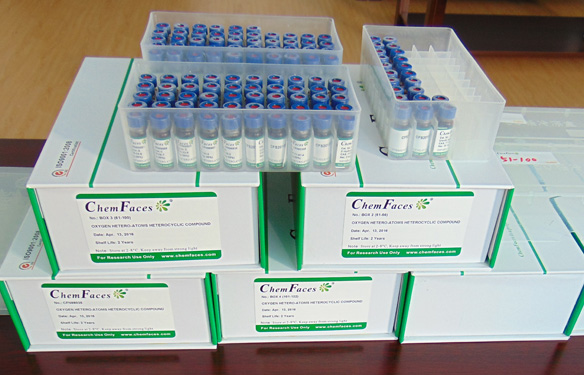 Providing storage is as stated on the product vial and the vial is kept tightly sealed, the product can be stored for up to
24 months(2-8C)
.
Wherever possible, you should prepare and use solutions on the same day. However, if you need to make up stock solutions in advance, we recommend that you store the solution as aliquots in tightly sealed vials at -20C. Generally, these will be useable for up to two weeks. Before use, and prior to opening the vial we recommend that you allow your product to equilibrate to room temperature for at least 1 hour.
Need more advice on solubility, usage and handling? Please email to: service@chemfaces.com
The packaging of the product may have turned upside down during transportation, resulting in the natural compounds adhering to the neck or cap of the vial. take the vial out of its packaging and gently shake to let the compounds fall to the bottom of the vial. for liquid products, centrifuge at 200-500 RPM to gather the liquid at the bottom of the vial. try to avoid loss or contamination during handling.
Foods.2020, 9(10):1348.
Chemistry of Natural Compounds2019, 55(1):127-130
Anticancer Res.2018, 38(4):2127-2135
Oncotarget.2017, 8(53):90925-90947
The Journal of Internal Korean Medicine2015, 36(4):486-497
Pharmacognosy Journal.2020, 12(2), p232-235.
United States Patent Application2020, 20200038363
Pharmacol Rep.2017, 69(6):1224-1231
Eur Endod J.2020, 5(1):23-27.
Ind Crops Prod.2015, 67:185-191
Molecules, 2014, 19(1):686-698.
Study on the Mechanism of Intestinal Absorption of Epimedins A, B and C in the Caco-2 Cell Model.[Reference:
WebLink
]
Epimedium spp. is commonly used in Traditional Chinese Medicine. Epimedin A, Epimedin B(Epimedin B1 ), and Epimedin C are three major bioactive flavonoids found in Epimedium spp. that share similar chemical structures.
METHODS AND RESULTS:
In this study, the intestinal absorption mechanism of these three compounds was investigated using the Caco-2 cell monolayer model in both the apical-to-basolateral (A-B) and the basolateral-to-apical (B-A) direction. The absorption permeability (PAB) of epimedin A, epimedin B0, and epimedin C were extremely low and increased as the concentration of the epimedins increased from 5 to 20 μM, but, at 40 μM, the PAB values were reduced. Meanwhile, the amount of transported compounds increased in a time-dependent manner. The PAB of epimedins A and C were significantly increased and efflux ratios decreased in the presence of verapamil (an inhibitor of P-glycoprotein) and dipyridamole (an inhibitor of breast cancer resistance protein) while, in the presence of MK571 (an inhibitor of multidrug resistance proteins), the absorption of epimedins A and C did not change significantly, indicating that P-gp and BCRP might be involved in the transport of epimedins A and C. The PAB of epimedin B significantly increased while its secretory permeability (PBA) significantly decreased in the presence of dipyridamole, indicating that BCRP might be involved in the transport of epimedin B. No obvious changes in the transport of epimedin B were observed in the presence of verapamil and MK571.
CONCLUSIONS:
In summary, our results clearly demonstrate, for the first time, that poor bioavailability of these three prenylated flavonoids is the result of poor intrinsic permeability and efflux by apical efflux transporters.