Isoastragaloside I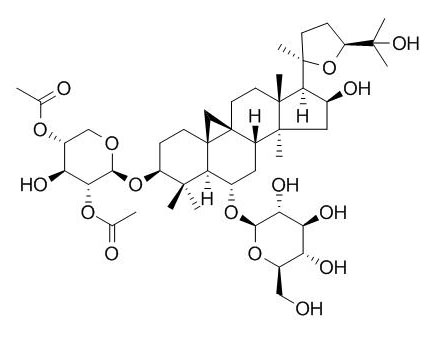 Isoastragaloside I may be promising in modulating CCl4-induced lethality and most of its toxic effects. Astragaloside II and Isoastragaloside I are sufficient to ameliorate insulin resistance, they may provide the lead as a novel class of therapeutics for obesity-related diseases.
Inquire / Order: manager@chemfaces.com
Technical Inquiries: service@chemfaces.com
Tel: +86-27-84237783
Fax: +86-27-84254680

Address:
1 Building, No. 83, CheCheng Rd., Wuhan Economic and Technological Development Zone, Wuhan, Hubei 430056, PRC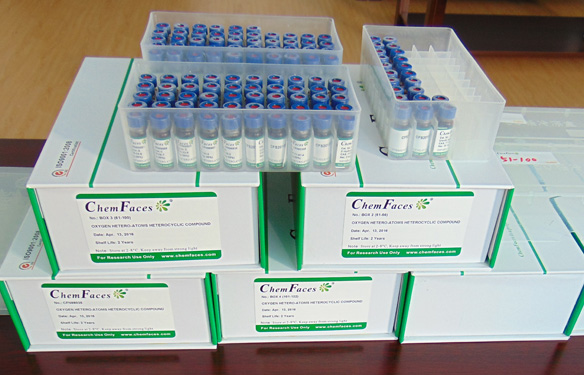 Providing storage is as stated on the product vial and the vial is kept tightly sealed, the product can be stored for up to
24 months(2-8C)
.
Wherever possible, you should prepare and use solutions on the same day. However, if you need to make up stock solutions in advance, we recommend that you store the solution as aliquots in tightly sealed vials at -20C. Generally, these will be useable for up to two weeks. Before use, and prior to opening the vial we recommend that you allow your product to equilibrate to room temperature for at least 1 hour.
Need more advice on solubility, usage and handling? Please email to: service@chemfaces.com
The packaging of the product may have turned upside down during transportation, resulting in the natural compounds adhering to the neck or cap of the vial. take the vial out of its packaging and gently shake to let the compounds fall to the bottom of the vial. for liquid products, centrifuge at 200-500 RPM to gather the liquid at the bottom of the vial. try to avoid loss or contamination during handling.
University of Central Lancashire2017, 20472
Oncology Letters2018, 4690-4696
Front Pharmacol.2019, 10:1025
BMC Microbiol.2019, 19(1):78
Journal of Functional Foods2017, 30:30-38
Sci Rep.2019, 9:12132
Molecules.2019, 24(12):E2286
J Agric Food Chem.2016, 64(35):6783-90
ARPN Journal of Eng.& Applied Sci.2016, 2199-2204
New Zealand J. Forestry Sci.2014, 44:17
J. Med. Sci., 2002,2(3):119-23.
Phytochemical Investigation of Biologically Active Fractions of Astragalus spinosus Roots Grown in Egypt[Reference:
WebLink
]
The research work was undertaken to asses activity directed isolation of plant extracts, column fractions and isolated glycosides of Astragalus spinosus roots (Fabaceae) in the treatment of induced hepatic, renal and cardiac toxicities.
METHODS AND RESULTS:
A single subcutaneous dose of CCl4 (5.93 ml kg-1 b.wt. which represents 24h LD100) served as a toxicant, was used during this study. Ethyl acetate fraction was the most active fraction, then butanol, aqueous and dichloromethane fraction. By subjecting the ethyl acetate fraction to column chromatography (CC) it afforded two column fractions A and B which have effect in reducing CCl4-induced mortalities. Rechromatography of fractions A and B on medium pressure liquid chromatography (MPLC) and CC, respectively, afforded (a mixture of Isoastragaloside I and trigonoside I) and cycloastragenol-6-0-glucoside. The structure of the isolated glycosides was determined by 1H, 13C NMR, EIMS and FABMS spectral data, together with co-TLC with reference materials. The efficacy of the isolated glycosides (Isoastragaloside I and trigonoside I), cycloastragenol-6-0-glycoside and adsurgenic acid (recently isolated from the ether extract) in reducing CCl4-induced mortalities and some disturbances in biochemical parameters (liver transaminases AST, ALT and creatine kinase CK activities, serum urea and serum creatinine) were investigated in adult female Bufo regularis (Egyptian toads). The bioassay studies revealed that the effect of the glycosides on reducing CCl4-induced mortality have the following order (cycloastragenol-6-0-glycoside > Isoastragaloside I and trigonoside I > adsurgenic acid. The biochemical studies confirmed the bioassay studies.
CONCLUSIONS:
This is the first report on the identification of trigonoside I in Astragalus spinosus plant and the presence of Isoastragaloside I and cylcoastragenol-6-0-glycoside in A. spinosus roots. This suggested that these saponin glycosides may be promising in modulating CCl4-induced lethality and most of its toxic effects.