Magnaldehyde B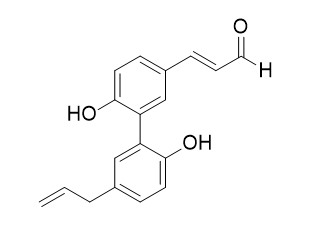 Magnaldehyde B is a natural lipase inhibitor(IC50= 96.96 uM). Magnaldehyde B can inhibit the proliferation of tumor cells, and might be an anti-tumoric agent.
Inquire / Order: manager@chemfaces.com
Technical Inquiries: service@chemfaces.com
Tel: +86-27-84237783
Fax: +86-27-84254680

Address:
1 Building, No. 83, CheCheng Rd., Wuhan Economic and Technological Development Zone, Wuhan, Hubei 430056, PRC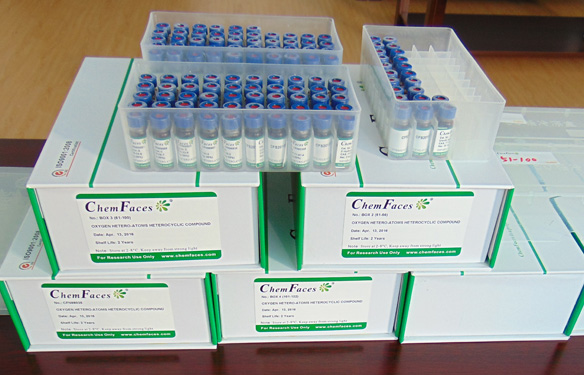 Providing storage is as stated on the product vial and the vial is kept tightly sealed, the product can be stored for up to
24 months(2-8C)
.
Wherever possible, you should prepare and use solutions on the same day. However, if you need to make up stock solutions in advance, we recommend that you store the solution as aliquots in tightly sealed vials at -20C. Generally, these will be useable for up to two weeks. Before use, and prior to opening the vial we recommend that you allow your product to equilibrate to room temperature for at least 1 hour.
Need more advice on solubility, usage and handling? Please email to: service@chemfaces.com
The packaging of the product may have turned upside down during transportation, resulting in the natural compounds adhering to the neck or cap of the vial. take the vial out of its packaging and gently shake to let the compounds fall to the bottom of the vial. for liquid products, centrifuge at 200-500 RPM to gather the liquid at the bottom of the vial. try to avoid loss or contamination during handling.
Int J Mol Sci.2018, 19(9):E2528
Int J Mol Sci.2021, 22(21):11836.
Neurochem Int.2018, 121:114-124
American Association for Anatomy2020, doi: 10.1002.
J Pharm Biomed Anal.2018, 151:32-41
J.Acta Agriculturae Scandinavica2017, 571-575
J Sci Food Agric.2018, 98(3):1153-1161
Evid Based Complement Alternat Med.2017, 2017:6360836
Food Quality and Safety2018, 2:213-219
Oxid Med Cell Longev.2020, 2020:8887251.
J Chromatogr A. 2015 May 1;1392:20-7.
Fabrication of enzyme-immobilized halloysite nanotubes for affinity enrichment of lipase inhibitors from complex mixtures.[Pubmed:
25798866
]
Lipase is the key enzyme for catalyzing triglyceride hydrolysis in vivo, and lipase inhibitors have been used in the management of obesity.
METHODS AND RESULTS:
We present the first report on the use of lipase-adsorbed halloysite nanotubes as an efficient medium for the selective enrichment of lipase inhibitors from natural products. A simple and rapid approach was proposed to fabricate lipase-adsorbed nanotubes through electrostatic interaction. Results showed that more than 85% lipase was adsorbed into nanotubes in 90 min, and approximately 80% of the catalytic activity was maintained compared with free lipase. The specificity and reproducibility of the proposed approach were validated by screening a known lipase inhibitor (i.e., orlistat) from a mixture that contains active and inactive compounds. Moreover, we applied this approach with high performance liquid chromatography-mass spectrometry technique to screen lipase inhibitors from the Magnoliae cortex extract, a medicinal plant used for treating obesity. Two novel biphenyl-type natural lipase inhibitors magnotriol A and Magnaldehyde B were identified, and their IC50 values were determined as 213.03 and 96.96 μM, respectively.
CONCLUSIONS:
The ligand-enzyme interactions of Magnaldehyde B were further investigated by molecular docking. Our findings proved that enzyme-adsorbed nanotube could be used as a feasible and selective affinity medium for the rapid screening of enzyme inhibitors from complex mixtures.
Phytother Res. 2013 Sep;27(9):1419-22.
Apoptosis-inducing and antitumor activity of neolignans isolated from Magnolia officinalis in HeLa cancer cells.[Pubmed:
23192855
]
Two neolignans, 4'-methoxymagndialdehyde (1) and Magnaldehyde B (2), were isolated from the stem bark of Magnolia officinalis (Magnoliaceae), evaluated for apoptosis-inducing effects in human cervical epitheloid carcinoma HeLa cells.
METHODS AND RESULTS:
The apoptosis-inducing activity of compounds 1 and 2 were assessed by DNA content using flow cytometric analysis. In the immunoblotting analysis, the treatment with 1 and 2 resulted in the cleavage of procaspase-8 and -3 and poly(ADP-ribose)polymerase into active forms. In addition, in vivo, the administration of 2 to Lewis lung carcinoma-inoculated mice evidenced a significant inhibition of tumor growth (volume) with reduction of 28.7% at concentration of 20 mg/kg, as compared with the control mice.
CONCLUSIONS:
These findings suggest that 2 can inhibit the proliferation of tumor cells, and might be an anti-tumoric agent.