Vicinin 2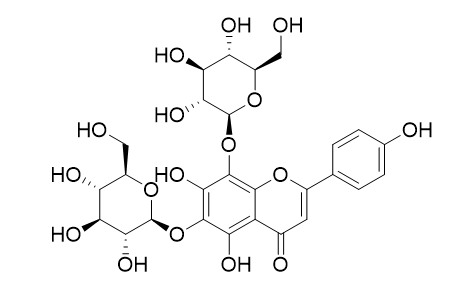 Reference standards.
Inquire / Order: manager@chemfaces.com
Technical Inquiries: service@chemfaces.com
Tel: +86-27-84237783
Fax: +86-27-84254680

Address:
1 Building, No. 83, CheCheng Rd., Wuhan Economic and Technological Development Zone, Wuhan, Hubei 430056, PRC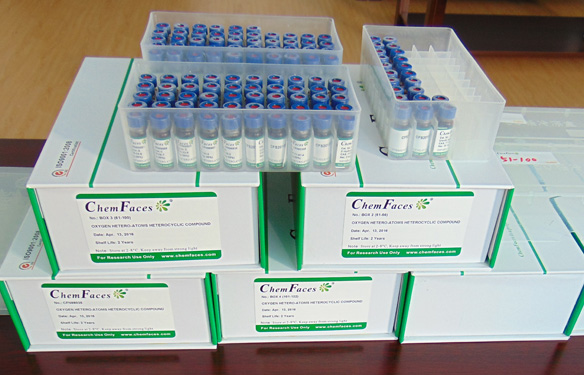 Providing storage is as stated on the product vial and the vial is kept tightly sealed, the product can be stored for up to
24 months(2-8C)
.
Wherever possible, you should prepare and use solutions on the same day. However, if you need to make up stock solutions in advance, we recommend that you store the solution as aliquots in tightly sealed vials at -20C. Generally, these will be useable for up to two weeks. Before use, and prior to opening the vial we recommend that you allow your product to equilibrate to room temperature for at least 1 hour.
Need more advice on solubility, usage and handling? Please email to: service@chemfaces.com
The packaging of the product may have turned upside down during transportation, resulting in the natural compounds adhering to the neck or cap of the vial. take the vial out of its packaging and gently shake to let the compounds fall to the bottom of the vial. for liquid products, centrifuge at 200-500 RPM to gather the liquid at the bottom of the vial. try to avoid loss or contamination during handling.
J Basic Clin Physiol Pharmacol.2016, 27(1):1-8
Cells.2021, 10(10):2633.
Acta Physiologiae Plantarum2015, 37:1736
Food Chemistry2023, 137837.
J Pharm Biomed Anal.2021, 196:113931.
Oncotarget.2017, 9(3):4161-4172
Antioxidants.2022, 11(4), 67.
J Funct Foods2019, 54:449-456
Integr Med Res.2017, 6(4):395-403
J Cell Mol Med.2020, 24(21):12308-12317.
European scientific journal, 2013,9(18):217-228.
BIOACTIVITY OF ANTIDESMA BUNIUS LEAVES (EUPHORBIACEAE) AND THEIR MAJOR PHENOLIC CONSTITUENTS.[Reference:
WebLink
]

METHODS AND RESULTS:
Chromatographic fractionation of the methanol extract of Antidesma bunius leaves afforded six polyphenols, namely, corilagin (1), gallic (2), ferrulic (3) and ellagic (4) acids in addition to the flavone vicinin II [(Vicinin 2), 5] and the dimmer amentoflavone (6). Their structures were elucidated by NMR and HRESI analysis. This is the first reported occurrence of the biflavone (amentoflavone) and vicinin in this species. The total phenolic content was estimated at 90 mg/ml of gallic acid equivalent (GAE) per 100 g plant extract using the Folin-Ciocalteu method. Antioxidant biochemical assay of the plant methanol extract was carried out using culture medium of hepatocyte cell lines. An increase in glutathione reductase enzyme and a reduction of the nitric oxide level in the cell culture revealed that A. bunius leaf extract possesses significant antioxidant activity in comparing with quercetine as a reference. The hepatotoxicity and hepatoprotective activities of A.bunius leaf extract and the pure isolated compounds: 1 , 2 and 5 were evaluated by adopting the MTT colorimetric assay.
CONCLUSIONS:
Compounds 1 and 2 revealed a margin of safety on the monolayer hepatocyte with an IC50 > 1000 μg/ml while for 5, IC50 was at 125 μg/ml. The hepatoprotective activities for A.bunius leaf extract, 1 and 2 in comparison to Silymarin (50 μg/ml) were at 6.5, <12.5 and 12.5 μg/ml respectively while 5 did not show hepatoprotective activity at the tested concentrations.