Leachianol G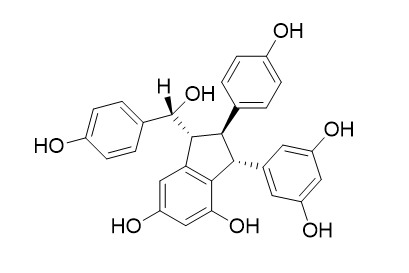 Reference standards.
Inquire / Order: manager@chemfaces.com
Technical Inquiries: service@chemfaces.com
Tel: +86-27-84237783
Fax: +86-27-84254680

Address:
1 Building, No. 83, CheCheng Rd., Wuhan Economic and Technological Development Zone, Wuhan, Hubei 430056, PRC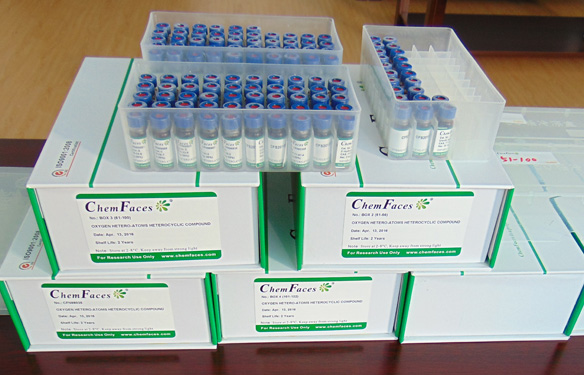 Providing storage is as stated on the product vial and the vial is kept tightly sealed, the product can be stored for up to
24 months(2-8C)
.
Wherever possible, you should prepare and use solutions on the same day. However, if you need to make up stock solutions in advance, we recommend that you store the solution as aliquots in tightly sealed vials at -20C. Generally, these will be useable for up to two weeks. Before use, and prior to opening the vial we recommend that you allow your product to equilibrate to room temperature for at least 1 hour.
Need more advice on solubility, usage and handling? Please email to: service@chemfaces.com
The packaging of the product may have turned upside down during transportation, resulting in the natural compounds adhering to the neck or cap of the vial. take the vial out of its packaging and gently shake to let the compounds fall to the bottom of the vial. for liquid products, centrifuge at 200-500 RPM to gather the liquid at the bottom of the vial. try to avoid loss or contamination during handling.
Mol Pharm.2017, 14(9):3164-3177
Oncotarget.2015, 6(31):30831-49
Biosci Biotechnol Biochem.2020, 84(3):621-632
Planta Med.2019, 85(4):347-355
Pharmacognosy Journal2019, 11,6:1235-1241
Ind Crops Prod.2014, 62:173-178
BMC Complement Altern Med.2019, 19(1):339
Cell Physiol Biochem.2017, 44(4):1381-1395
Biomed Chromatogr.2019, 8:e4774
Enzyme Microb Technol.2019, 122:64-73
J Agric Food Chem. 2007 Sep 19;55(19):7753-7.
Oligomers of resveratrol and ferulic acid prepared by peroxidase-catalyzed oxidation and their protective effects on cardiac injury.[Pubmed:
17696480
]

METHODS AND RESULTS:
Peroxidase extracted from Momordica charantia was used for the oligomerization of trans-resveratrol and ferulic acid on a preparative scale. One new heterocoupling oligomer, trans-3 E-3-[(4-hydroxy-3-methoxyphenyl)methylene]-4-(3,5-dihydroxyphenyl)-5-(4-hydroxyphenyl)tetrahydro-2-franone (6), and six resveratrol dimers, Leachianol G (1), restrytisol B (2), parthenostilbenins A (3) and B (5), 7- O-acetylated Leachianol G (4), and resveratrol trans-dehydrodimer (8), and one known ferulic acid dehydrodimer, (3alpha,3aalpha,6alpha,6aalpha)tetrahydro-3,6-bis(4-hydroxy-3-methoxyphenyl)-1 H,4 H-furo[3,4-c]furan-1,4-dione (7) were obtained.
CONCLUSIONS:
Bioactive experiments showed that compounds 6- 8 have strong free radical scavenging effects and also have protective effects on doxorubicin-induced cardiac cell injury when tested in vitro.
Molecules. 2017 Mar 16;22(3). pii: E474.
Anti-Cancer Activity of Resveratrol and Derivatives Produced by Grapevine Cell Suspensions in a 14 L Stirred Bioreactor.[Pubmed:
28300789
]
In the present study, resveratrol and various oligomeric derivatives were obtained from a 14 L bioreactor culture of elicited grapevine cell suspensions (Vitis labrusca L.).
METHODS AND RESULTS:
The crude ethyl acetate stilbene extract obtained from the culture medium was fractionated by centrifugal partition chromatography (CPC) using a gradient elution method and the major stilbenes contained in the fractions were subsequently identified by using a 13C-NMR-based dereplication procedure and further 2D NMR analyses including HSQC, HMBC, and COSY. Beside δ-viniferin (2), leachianol F (4) and Leachianol G (4'), four stilbenes (resveratrol (1), ε-viniferin (5), pallidol (3) and a newly characterized dimer (6)) were recovered as pure compounds in sufficient amounts to allow assessment of their biological activity on the cell growth of three different cell lines, including two human skin malignant melanoma cancer cell lines (HT-144 and SKMEL-28) and a healthy human dermal fibroblast HDF line. Among the dimers obtained in this study, the newly characterized resveratrol dimer (6) has never been described in nature and its biological potential was evaluated here for the first time.
CONCLUSIONS:
ε-viniferin as well as dimer (6) showed IC50 values on the three tested cell lines lower than the ones exerted by resveratrol and pallidol. However, activities of the first two compounds were significantly decreased in the presence of fetal bovine serum although that of resveratrol and pallidol was not. The differential tumor activity exerted by resveratrol on healthy and cancer lines was also discussed.