Isolappaol A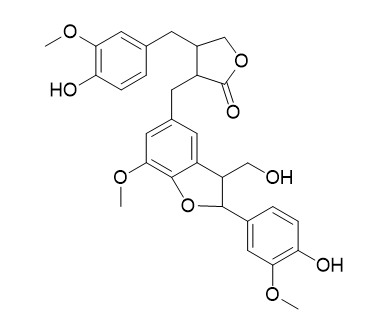 Isolappaol A can up-regulate the expression of jnk-1, it may promote the Caenorhabditis elegans longevity and stress resistance through a JNK-1-DAF-16 cascade.
Inquire / Order: manager@chemfaces.com
Technical Inquiries: service@chemfaces.com
Tel: +86-27-84237783
Fax: +86-27-84254680

Address:
1 Building, No. 83, CheCheng Rd., Wuhan Economic and Technological Development Zone, Wuhan, Hubei 430056, PRC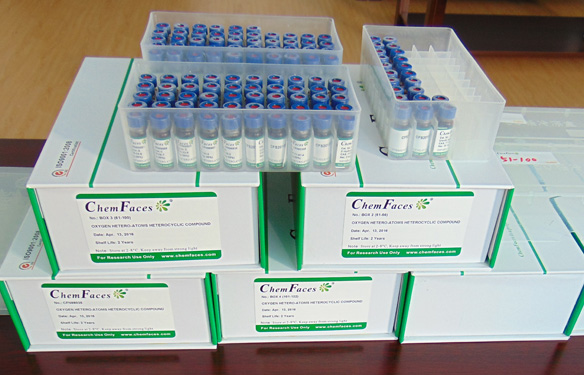 Providing storage is as stated on the product vial and the vial is kept tightly sealed, the product can be stored for up to
24 months(2-8C)
.
Wherever possible, you should prepare and use solutions on the same day. However, if you need to make up stock solutions in advance, we recommend that you store the solution as aliquots in tightly sealed vials at -20C. Generally, these will be useable for up to two weeks. Before use, and prior to opening the vial we recommend that you allow your product to equilibrate to room temperature for at least 1 hour.
Need more advice on solubility, usage and handling? Please email to: service@chemfaces.com
The packaging of the product may have turned upside down during transportation, resulting in the natural compounds adhering to the neck or cap of the vial. take the vial out of its packaging and gently shake to let the compounds fall to the bottom of the vial. for liquid products, centrifuge at 200-500 RPM to gather the liquid at the bottom of the vial. try to avoid loss or contamination during handling.
Comparative Clinical Pathology 2021, 30:961-971.
Pathogens.2018, 7(3):E62
J Traditional Thai Medical Res.2022, 8(1):pp1-14.
Biochem Systematics and Ecology2017, 11-18
Drug Chem Toxicol.2020, 1-14.
Chin Med.2022, 17(1):66.
Oncol Rep.2019, 41(4):2453-2463
Front Immunol. 2020, 11:62.
Front Pharmacol.2021, 12:762829.
Appl. Sci.2020, 10(20),7374.
Phytochemistry, 01 Jul 2015, 117:340-350.
Natural lignans from Arctium lappa as antiaging agents in Caenorhabditis elegans.[Reference:
WebLink
]
Arctium lappa is a well-known traditional medicinal plant in China (TCM) and Europe that has been used for thousands of years to treat arthritis, baldness or cancer. The plant produces lignans as secondary metabolites, which have a wide range of bioactivities. Yet, their antiaging potential has not been explored.
METHODS AND RESULTS:
In this study, we isolated six lignans from A. lappa seeds, namely arctigenin, matairesinol, arctiin, Isolappaol A, lappaol A, lappaol C, and lappaol F. The antioxidant and antiaging properties of the isolated lignans were studied using Caenorhabditis elegans as a relevant animal model. All lignans at concentrations of 10 and 100 μM significantly extended the mean life span of C. elegans. The strongest effect was observed with matairesinol, which at a concentration of 100 μM extended the life span of worms by 25%. Additionally, we observed that five lignans are strong free radical-scavengers in vitro and in vivo and all lignans can improve survival of C. elegans under oxidative stress. Furthermore, the lignans can induce the nuclear translocation of the transcription factor DAF-16 and up-regulate its expression, suggesting that a possible underlying mechanism of the observed longevity-promoting activity of lignans depends on DAF-16 mediated signaling pathway.
CONCLUSIONS:
All lignans up-regulated the expression of jnk-1, indicating that lignans may promote the C. elegans longevity and stress resistance through a JNK-1-DAF-16 cascade. Our study reports new antiaging activities of lignans, which might be candidates for developing antiaging agents.
Microchemical Journal, 2014, 114:238-246.
Identification and quantification of lignans and sesquilignans in the fruits of Cnicus benedictus L.: Quantitative chromatographic and spectroscopic approaches.[Reference:
WebLink
]

METHODS AND RESULTS:
Identification, quantification and isolation of lignans (Lig-s: arctiin, arctigenin and matairesinol) and sesquilignans (SLig-s: lappaol A, Isolappaol A, lappaol C and isolappaol C), in Cnicus benedictus L. fruit (CBfr) were performed for the first time. Identity of Lig-s and SLig-s was confirmed by gas chromatography–mass spectrometry (GC–MS) and by high performance liquid chromatography–time-of-flight (HPLC–TOF) MS, while their detailed structures were defined by nuclear magnetic resonance (NMR) spectroscopy. As a novelty to the field, fruit part-specific accumulation of Lig-s and SLig-s under germination and their transformation during acidic and enzymatic hydrolyses were followed in a quantitative manner by HPLC–UV. It was shown that during germination, the spontaneous separation of Lig-s and SLig-s occurs: the fruit wall part accumulates SLig-s, while the embryo accumulates the Lig arctiin. It was confirmed that under optimized mild acidic conditions (50 °C, 2 M trifluoroacetic acid, TFA), lappaol C and isolappaol C can be transformed into lappaol A and Isolappaol A, quantitatively. Analytical performance characteristics (reliability and reproducibility), in the HPLC–UV quantifications of Lig-s and SLig-s were defined by the relative standard deviation percentages (RSD%-s) of analyses (averages of RSD%-s ≤ 3.7).
CONCLUSIONS:
Due to our new harmonized analysis system, CBfr proved to be a new and rich source of SLig-s: levels as high as 5.8 mmol/100 g were determined compared to the highest level (0.72 mmol/100 g) reported so far.