Euphorbia factor L9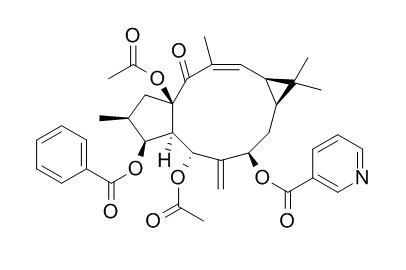 Reference standards.
Inquire / Order: manager@chemfaces.com
Technical Inquiries: service@chemfaces.com
Tel: +86-27-84237783
Fax: +86-27-84254680

Address:
1 Building, No. 83, CheCheng Rd., Wuhan Economic and Technological Development Zone, Wuhan, Hubei 430056, PRC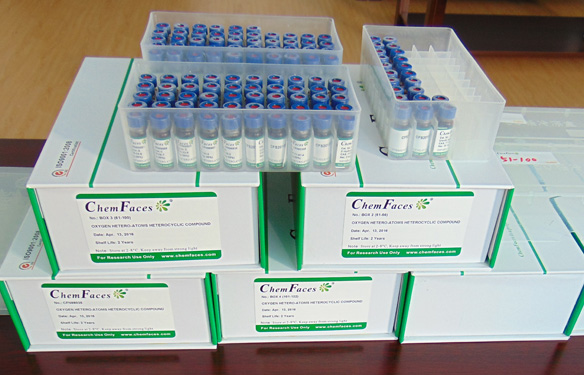 Providing storage is as stated on the product vial and the vial is kept tightly sealed, the product can be stored for up to
24 months(2-8C)
.
Wherever possible, you should prepare and use solutions on the same day. However, if you need to make up stock solutions in advance, we recommend that you store the solution as aliquots in tightly sealed vials at -20C. Generally, these will be useable for up to two weeks. Before use, and prior to opening the vial we recommend that you allow your product to equilibrate to room temperature for at least 1 hour.
Need more advice on solubility, usage and handling? Please email to: service@chemfaces.com
The packaging of the product may have turned upside down during transportation, resulting in the natural compounds adhering to the neck or cap of the vial. take the vial out of its packaging and gently shake to let the compounds fall to the bottom of the vial. for liquid products, centrifuge at 200-500 RPM to gather the liquid at the bottom of the vial. try to avoid loss or contamination during handling.
Pharmaceuticals (Basel).2021, 14(6):588.
J Integr Plant Biol.2023, 13564.
Phytomedicine.2020, 79, 153351
Journal of Oil Palm Research2019, 31(2):238-247
Metabolites2023, 13(1), 3.
Molecules2022, 27(12):3903.
Exp Parasitol.2018, 194:67-78
Acta Agriculturae Scandinavica2015, 381-383
Viruses.2021, 13(11):2118.
Chemistry of Vegetable Raw Materials2019, 3:119-127
Phytochemical Analysis, 2001, 12(4):255–262.
HPLC‐UV and HPLC‐positive‐ESI‐MS analysis of the diterpenoid fraction from caper spurge  (Euphorbia lathyris) seed oil.[Reference:
WebLink
]

METHODS AND RESULTS:
Caper spurge (Euphorbia lathyris L.) seed oil contains a series of diterpenoids known as Euphorbia factors, or L‐factors, L1–L9(Euphorbia factor L1,Euphorbia factor L2, Euphorbia factor L3, Euphorbia factor L4 ,Euphorbia factor L5, Euphorbia factor L6, Euphorbia factor L7, Euphorbia factor L8, Euphorbia factor L9 ). They are esters of several polyols (lathyrol, epoxylathyrol, hydroxylathyrol and ingenol) and account for about 3–5% of the oil. The percentage of ingenol‐based L‐factors is very low, less than 5% of the diterpenoid fraction, but some of them (factors L5 and L6) are responsible for the irritant and co‐carcinogenic activities of the oil.
CONCLUSIONS:
This paper reports an HPLC‐UV and HPLC‐positive‐ESI‐MS analysis of the diterpenoid fraction of caper spurge seed oil before and after selective hydrolysis of ingenol‐based L‐factors. Separation of lathyrane polyols and esters, and ingenol and its esters was achieved using a chromatographic system consisting of a C18 stationary phase and acetonitrile:water as mobile phase. A new macrocyclic constituent, the deoxy Euphorbia factor L1, was identified in the oil.