9-Octadecenedioic acid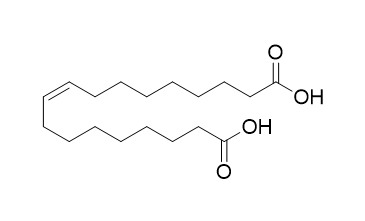 Inquire / Order: manager@chemfaces.com
Technical Inquiries: service@chemfaces.com
Tel: +86-27-84237783
Fax: +86-27-84254680

Address:
1 Building, No. 83, CheCheng Rd., Wuhan Economic and Technological Development Zone, Wuhan, Hubei 430056, PRC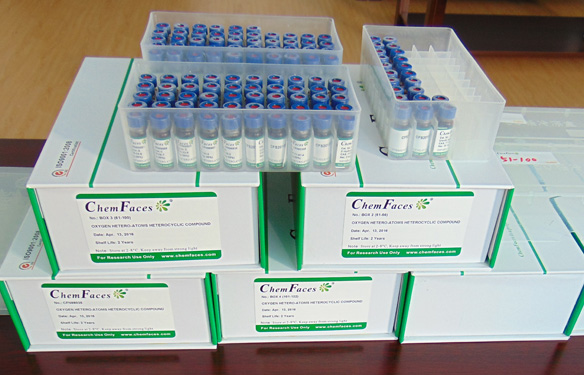 Providing storage is as stated on the product vial and the vial is kept tightly sealed, the product can be stored for up to
24 months(2-8C)
.
Wherever possible, you should prepare and use solutions on the same day. However, if you need to make up stock solutions in advance, we recommend that you store the solution as aliquots in tightly sealed vials at -20C. Generally, these will be useable for up to two weeks. Before use, and prior to opening the vial we recommend that you allow your product to equilibrate to room temperature for at least 1 hour.
Need more advice on solubility, usage and handling? Please email to: service@chemfaces.com
The packaging of the product may have turned upside down during transportation, resulting in the natural compounds adhering to the neck or cap of the vial. take the vial out of its packaging and gently shake to let the compounds fall to the bottom of the vial. for liquid products, centrifuge at 200-500 RPM to gather the liquid at the bottom of the vial. try to avoid loss or contamination during handling.
Planta Med.2022, a-1876-3009.
Front Pharmacol.2017, 8:205
Ecol Evol.2022, 12(11):e9459.
Molecules.2017, 22(6)
Korean J. Crop Sci.2018, 63(2):131-139
Food Chem.2019, 275:746-753
Anat Rec (Hoboken).2021, 304(2):323-332.
J Chromatogr B Analyt Technol Biomed Life Sci.2018, 1080:27-36
Phytother Res.2022, 10.1002:ptr.7592.
J AOAC Int.2021, 104(6):1634-1651.
Biochemical Engineering Journal Volume 166, February 2021, 107872
Kinetic modelling of the biochemical 9-octadecenedioic acid production and lipid accumulation using differently functionalised C18:1 substrates[Reference:
WebLink
]
The potential use of different hydrophobic substrates (oleic acid, oleyl alcohol, methyl oleate and rapeseed oil) for the production of high concentrations of 9-Octadecenedioic acid by the genetically engineered C. tropicalis ATCC-20962 yeast was researched. For comparison purposes, data for growth, intracellular triacylglyceride (TAG) accumulation and dicarboxylic acid (DCA) production were obtained for mathematical description using both known and newly adapted models. Fermentations were carried out in an aerated, stirred 2L-fermenter in which temperature (30°C) and pH (8.2) were controlled automatically. Using oleic acid resulted in the highest DCA production, i.e. 31.3 g.L−1 in 144 h, as well as the highest intracellular TAG concentration (60.5 m%). Mass balance calculations proved that 35 % of the consumed oleic acid was used for TAG accumulation. The oleyl alcohol and rapeseed oil substrates showed high initial DCA production rates as well, however, after 80 h, DCA production stopped to reach a maximum. In contrast, with methyl oleate substrate, a very slow production was observed without approaching a maximum within the experimental time.