Epicatechin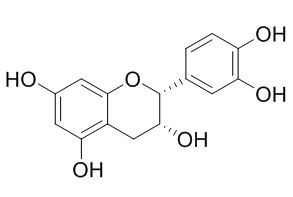 (−)Epicatechin is a flavonoid present in cocoa, green tea and red wine. It is a strong antioxidant, has antinociceptive, insulin mimic actions and improves heart health; it has the potential to increase CREB-regulated gene expression and increase GluR2 levels and thus modulate neurotransmission, plasticity and synaptogenesis. (-)-Epicatechin inhibits cyclooxygenase-1 (COX-1) with an IC50 of 3.2 μM; it inhibits the IL-1β-induced expression of iNOS by blocking the nuclear localization of the p65 subunit of NF-κB.
Inquire / Order: manager@chemfaces.com
Technical Inquiries: service@chemfaces.com
Tel: +86-27-84237783
Fax: +86-27-84254680

Address:
1 Building, No. 83, CheCheng Rd., Wuhan Economic and Technological Development Zone, Wuhan, Hubei 430056, PRC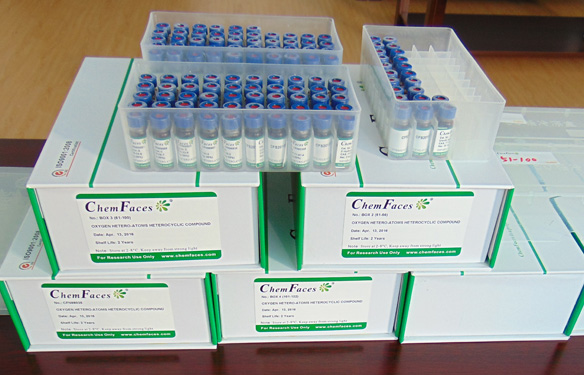 Providing storage is as stated on the product vial and the vial is kept tightly sealed, the product can be stored for up to
24 months(2-8C)
.
Wherever possible, you should prepare and use solutions on the same day. However, if you need to make up stock solutions in advance, we recommend that you store the solution as aliquots in tightly sealed vials at -20C. Generally, these will be useable for up to two weeks. Before use, and prior to opening the vial we recommend that you allow your product to equilibrate to room temperature for at least 1 hour.
Need more advice on solubility, usage and handling? Please email to: service@chemfaces.com
The packaging of the product may have turned upside down during transportation, resulting in the natural compounds adhering to the neck or cap of the vial. take the vial out of its packaging and gently shake to let the compounds fall to the bottom of the vial. for liquid products, centrifuge at 200-500 RPM to gather the liquid at the bottom of the vial. try to avoid loss or contamination during handling.
J Pharmaceut Biomed2020, 182:113110
Microb Pathog.2019, 131:128-134
Int J Mol Sci.2019, 20(9):E2244
J Chromatogr B Analyt Technol Biomed Life Sci.2020, 1149:122123.
CZECH MYCOLOGY2021, 73(1):1-19.
J Pharm Biomed Anal.2016, 129:50-59
Front Plant Sci.2017, 8:723
Tropical J. of Pha. Research2017, 16(3):543-552
Chin J Appl. Physiol.2019, 35(3):283-288
Plant J.2017, 90(3):535-546
J Agric Food Chem. 2012 Jul 4;60(26):6515-23.
Antioxidant activity and diffusion of catechin and epicatechin from antioxidant active films made of poly(L-lactic acid).[Pubmed:
22681400
]
Active membranes and food packaging containing antioxidants like catechin and Epicatechin, combined with the use of materials made of biopolymers obtained from renewable sources, could create a novel alternative to reduce oxidation in food, pharmaceutical, and cosmetic products.
METHODS AND RESULTS:
Poly(94% L-lactic acid) films containing 1.28% catechin and 1.50% Epicatechin were extruded in a pilot plant-scale extrusion machine. The diffusion kinetics of catechin and Epicatechin into 95% ethanol at 20, 30, 40, and 50 °C and 50% ethanol at 40 °C displayed Fickian release behavior and diffusion coefficients between 0.5 and 50 × 10(-11) cm(2)/s. According to the Arrhenius equation, the energy of activation for the diffusion of catechin and Epicatechin in the films was 110.43 and 98.92 kJ/mol, respectively. The antioxidant activity of the films was measured in methanol extracts containing 46.42 μg/mL of catechin and 57.52 μg/mL of Epicatechin as 32.90 and 36.68% of scavenging the 2,2-diphenyl-1-picrylhydrazyl radical, respectively.
Proc Natl Acad Sci U S A. 2006 Jan 24;103(4):1024-9.
(-)-Epicatechin mediates beneficial effects of flavanol-rich cocoa on vascular function in humans.[Pubmed:
16418281
]
Epidemiological and medical anthropological investigations suggest that flavanol-rich foods exert cardiovascular health benefits. Endothelial dysfunction, a prognostically relevant key event in atherosclerosis, is characterized by a decreased bioactivity of nitric oxide (NO) and impaired flow-mediated vasodilation (FMD).
METHODS AND RESULTS:
We show in healthy male adults that the ingestion of flavanol-rich cocoa was associated with acute elevations in levels of circulating NO species, an enhanced FMD response of conduit arteries, and an augmented microcirculation. In addition, the concentrations and the chemical profiles of circulating flavanol metabolites were determined, and multivariate regression analyses identified (-)-Epicatechin and its metabolite, Epicatechin-7-O-glucuronide, as independent predictors of the vascular effects after flavanol-rich cocoa ingestion. A mixture of flavanols/metabolites, resembling the profile and concentration of circulating flavanol compounds in plasma after cocoa ingestion, induced a relaxation in preconstricted rabbit aortic rings ex vivo, thus mimicking acetylcholine-induced relaxations. Ex vivo flavanol-induced relaxation, as well as the in vivo increases in FMD, were abolished by inhibition of NO synthase. Oral administration of chemically pure (-)-Epicatechin to humans closely emulated acute vascular effects of flavanol-rich cocoa. Finally, the concept that a chronic intake of high-flavanol diets is associated with prolonged, augmented NO synthesis is supported by data that indicate a correlation between the chronic consumption of a cocoa flavanol-rich diet and the augmented urinary excretion of NO metabolites.
CONCLUSIONS:
Collectively, our data demonstrate that the human ingestion of the flavanol (-)-Epicatechin is, at least in part, causally linked to the reported vascular effects observed after the consumption of flavanol-rich cocoa.
2015;2015:181260.
Molecular Mechanisms and Therapeutic Effects of (-)-Epicatechin and Other Polyphenols in Cancer, Inflammation, Diabetes, and Neurodegeneration[Pubmed:
26180580
]
With recent insight into the mechanisms involved in diseases, such as cardiovascular disease, cancer, stroke, neurodegenerative diseases, and diabetes, more efficient modes of treatment are now being assessed. Traditional medicine including the use of natural products is widely practiced around the world, assuming that certain natural products contain the healing properties that may in fact have a preventative role in many of the diseases plaguing the human population. This paper reviews the biological effects of a group of natural compounds called polyphenols, including apigenin, epigallocatechin gallate, genistein, and (-)-Epicatechin, with a focus on the latter. (-)-Epicatechin has several unique features responsible for a variety of its effects. One of these is its ability to interact with and neutralize reactive oxygen species (ROS) in the cell. (-)-Epicatechin also modulates cell signaling including the MAP kinase pathway, which is involved in cell proliferation. Mutations in this pathway are often associated with malignancies, and the use of (-)-Epicatechin holds promise as a preventative agent and as an adjunct for chemotherapy and radiation therapy to improve outcome. This paper discusses the potential of some phenolic compounds to maintain, protect, and possibly reinstate health.
Life Sci. 2013 Oct 17;93(17):637-45.
Analysis of the mechanisms underlying the antinociceptive effect of epicatechin in diabetic rats.[Pubmed:
24012613
]
The purpose of this study was to investigate the antinociceptive effect of Epicatechin as well as the possible mechanisms of action in diabetic rats.
METHODS AND RESULTS:
Rats were injected with streptozotocin to produce hyperglycemia. The formalin test was used to assess the nociceptive activity. Acute pre-treatment with Epicatechin (0.03-30 mg/kg, i.p.) prevented formalin-induced nociception in diabetic rats. Furthermore, daily or every other day treatment for 2 weeks with Epicatechin (0.03-30 mg/kg, i.p.) also prevented formalin-induced nociception in diabetic rats. Acute Epicatechin-induced antinociception was prevented by l-NAME (N(ω)-nitro-l-arginine methyl ester hydrochloride, 1-10mg/kg, non-selective nitric oxide synthesis inhibitor), 7-nitroindazole (0.1-1mg/kg, selective neuronal nitric oxide synthesis inhibitor), ODQ (1H-(1,2,4)-oxadiazolo(4,2-a)quinoxalin-1-one, 0.2-2mg/kg, guanylyl cyclase inhibitor) or glibenclamide (1-10mg/kg, ATP-sensitive K(+) channel blocker). Moreover, Epicatechin (3mg/kg)-induced antinociception was fully prevented by methiothepin (0.1-1mg/kg, serotonergic receptor antagonist), WAY-100635 (0.03-0.3mg/kg, selective 5-HT1A receptor antagonist) or SB-224289 (0.03-0.3mg/kg, selective 5-HT1B receptor antagonist). In contrast, BRL-15572 (0.03-0.3mg/kg, selective 5-HT1D receptor antagonist) only slightly prevented the antinociceptive effect of Epicatechin. Naloxone (0.1-1mg/kg, opioid antagonist) did not modify Epicatechin's effect.
CONCLUSIONS:
Data suggest the involvement of the nitric oxide-cyclic GMP-K(+) channel pathway as well as activation of 5-HT1A and 5HT1B, and at a lesser extent, 5-HT1D, but not opioid, receptors in the antinociceptive effect of Epicatechin in diabetic rats. Our data suggest that acute or chronic treatment with Epicatechin may prove to be effective to treat nociceptive hypersensitivity in diabetic patients.
Oxid Med Cell Longev. 2014;2014:691015.
Epicatechin and catechin modulate endothelial activation induced by platelets of patients with peripheral artery disease.[Pubmed:
25180068
]
Platelet activation contributes to the alteration of endothelial function, a critical initial step in atherogenesis through the production and release of prooxidant mediators. There is uncertainty about the precise role of polyphenols in interaction between platelets and endothelial cells (ECs). We aimed to investigate whether polyphenols are able to reduce endothelial activation induced by activated platelets.
METHODS AND RESULTS:
First, we compared platelet activation and flow-mediated dilation (FMD) in 10 healthy subjects (HS) and 10 patients with peripheral artery disease (PAD). Then, we evaluated the effect of Epicatechin plus catechin on platelet-HUVEC interaction by measuring soluble cell adhesion molecules (CAMs), NOx production, and eNOS phosphorylation (p-eNOS) in HUVEC. Compared to HS, PAD patients had enhanced platelet activation. Conversely, PAD patients had lower FMD than HS. Supernatant of activated platelets from PAD patients induced an increase of sCAMs release and a decrease of p-eNOS and nitric oxide (NO) bioavailability compared to unstimulated HUVEC. Coincubation of HUVEC, with supernatant of PAD platelets patients, pretreated with a scalar dose of the polyphenols, resulted in a decrease of sCAMs release and in an increase of p-eNOS and NO bioavailability.
CONCLUSIONS:
This study demonstrates that Epicatechin plus catechin reduces endothelial activation induced by activated platelets.
J Neurochem. 2007 Jun;101(6):1596-606.
(-)Epicatechin stimulates ERK-dependent cyclic AMP response element activity and up-regulates GluR2 in cortical neurons.[Pubmed:
17298385
]
Emerging evidence suggests that the cellular actions of flavonoids relate not simply to their antioxidant potential but also to the modulation of protein kinase signalling pathways.
METHODS AND RESULTS:
We investigated in primary cortical neurons, the ability of the flavan-3-ol, (-)Epicatechin, and its human metabolites at physiologically relevant concentrations, to stimulate phosphorylation of the transcription factor cAMP-response element binding protein (CREB), a regulator of neuronal viability and synaptic plasticity. (-)Epicatechin at 100-300 nmol/L stimulated a rapid, extracellular signal-regulated kinase (ERK)- and PI3K-dependent, increase in CREB phosphorylation. At micromolar concentrations, stimulation was no longer apparent and at the highest concentration tested (30 mumol/L) (-)Epicatechin was inhibitory. (-)Epicatechin also stimulated ERK and Akt phosphorylation with similar bell-shaped concentration-response characteristics. The human metabolite 3'-O-methyl-(-)Epicatechin was as effective as (-)Epicatechin at stimulating ERK phosphorylation, but (-)Epicatechin glucuronide was inactive. (-)Epicatechin and 3'-O-methyl-(-)Epicatechin treatments (100 nmol/L) increased CRE-luciferase activity in cortical neurons in a partially ERK-dependent manner, suggesting the potential to increase CREB-mediated gene expression. mRNA levels of the glutamate receptor subunit GluR2 increased by 60%, measured 18 h after a 15 min exposure to (-)Epicatechin and this translated into an increase in GluR2 protein.
CONCLUSIONS:
Thus, (-)Epicatechin has the potential to increase CREB-regulated gene expression and increase GluR2 levels and thus modulate neurotransmission, plasticity and synaptogenesis.
Eur J Nutr. 2013 Apr;52(3):1243-50.
Effect of catechin/epicatechin dietary intake on endothelial dysfunction biomarkers and proinflammatory cytokines in aorta of hyperhomocysteinemic mice.[Pubmed:
22899103
]
Hyperhomocysteinemia is well recognized as an independent risk factor for the development of premature atherosclerosis. Atherosclerosis, however, may be prevented by polyphenols, potent antioxidant compounds with anti-atherogenic properties. Previously, we used cystathionine beta synthase-deficient mice [Cbs (±)] fed a high-methionine diet-a murine model of hyperhomocysteinemia-to show that daily intake of a red wine polyphenolic extract, mainly comprised of catechin and Epicatechin, has a beneficial effect on aortic expression of endothelial dysfunction biomarkers and pro-inflammatory cytokines. The aim of the present study was to understand whether catechin and Epicatechin, in purified forms, have anti-atherogenic effects in hyperhomocysteinemia.
METHODS AND RESULTS:
Cbs (±) mice received 50 μg of catechin and/or Epicatechin daily in drinking water for 1 month. Plasma homocysteine (Hcy) level and aortic expression of several endothelial dysfunction biomarkers (Vcam-1, Icam-1, E-selectin, and Lox-1) and pro-inflammatory cytokines (Tnf-α, Il-6) were assessed. We found that both catechin and Epicatechin had a beneficial effect on plasma homocysteine levels and endothelial dysfunction biomarker expression; however, only catechin had a beneficial effect on pro-inflammatory cytokine expression. Further, when both polyphenols were given, a beneficial effect was observed only on pro-inflammatory cytokine expression.
CONCLUSIONS:
Catechin seems to be a more potent anti-atherogenic compound than Epicatechin in hyperhomocysteinemia and should be considered as a novel therapeutic approach against endothelial dysfunction induced by this condition.
J Neurosci. 2007 May 30;27(22):5869-78.
Plant-derived flavanol (-)epicatechin enhances angiogenesis and retention of spatial memory in mice.[Pubmed:
17537957
]
Diet and exercise have a profound impact on brain function. In particular, natural nutrients found in plants may influence neuronal survival and plasticity.
METHODS AND RESULTS:
Here, we tested whether consumption of a plant-derived flavanol, (-)Epicatechin, enhances cognition in sedentary or wheel-running female C57BL/6 mice. Retention of spatial memory in the water maze was enhanced by ingestion of (-)Epicatechin, especially in combination with exercise. Improved spatial memory was associated with increased angiogenesis and neuronal spine density, but not newborn cell survival, in the dentate gyrus of the hippocampus. Moreover, microarray analysis showed upregulation of genes associated with learning and downregulation of markers of neurodegeneration in the hippocampus.
CONCLUSIONS:
Together, our data show that ingestion of a single flavanol improves spatial memory retention in adult mammals.